Features
Picard Season 2 Episode 5: The Biggest Star Trek Easter Eggs
There are lots of familiar names and faces to Star Trek fans in the latest episode of Picard.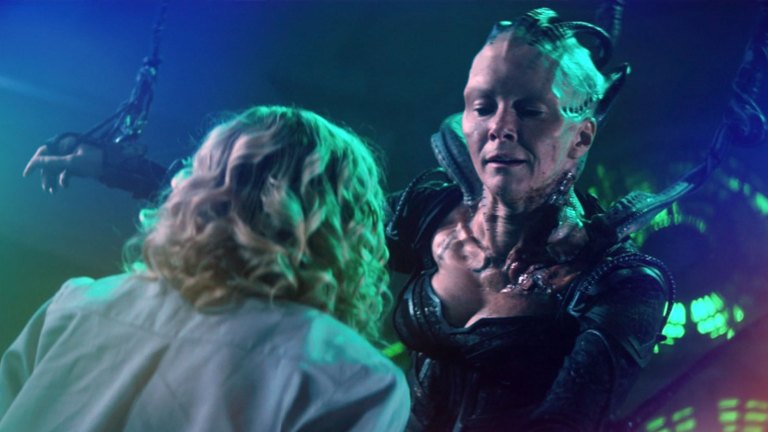 This article contains Star Trek: Picard spoilers.
Star Trek Picard Season 2 Episode 5
With Star Trek: Picard episode 5, "Fly Me to the Moon," Star Trek: Picard we've reached the midpoint of the season, and well into its third episode set in the year 2024. At this point, our time travel crew is doing their best to stay undercover, but they keep talking about old Star Trek plots nonetheless. Although this run of episodes has dabbled in referencing Star Trek IV: The Voyage Home, at this point, the Trek Easter eggs are getting decidedly more obscure.
Here are the five biggest, and deepest cuts in Picard Season 2, Episode 5. Spoilers ahead.
The Borg Queen Imitating Voices 
When the Borg Queen hijacks the voice controls of La Sirena's computer, she tries out various voices first. Although the Borg Queen is not an android, this concept seems to reference the idea of different androids in Trek canon, doing the exact same thing. Next Generation fans might consider this a reference to the episode "Brothers," in which Data hijacks the Enterprise, and famously imitates Picard's voice and then locks the computer using a complicated password which goes like this: "173467321476charlie32789777643tango732victor73117888732476789764376 — lock."
Sadly, the Borg Queen doesn't do any fancy (or hilarious) long numerical statements like that, but she does imitate several voices of the crew, including Picard, Jurati, and, eventually, Rios. This toggling of different voices is probably a deeper cut to the original series episode, "What Are Little Girls Made Of?" in which the ancient android Ruk, easily imitates the voices of Nurse Chapel and Captain Kirk. 
Gary Seven
As hinted at in the previous episode, Tallinn (Orla Brady) is part of the same organization of "Supervisors," that Gary Seven was a part of in "Assignment: Earth." Picard says, "Kirk's Enterprise crossed paths with a human called Gary…Gary Seven!" Tallinn vaguely nods at this reference, which could imply that she either knew Gary Seven or was aware of that incident.
Tallinn also mentions that she "doesn't like time travelers," which echoes Gary Seven's disapproval of Kirk and Spock hanging around in 1968 in the TOS episode "Assignment: Earth." In that episode, Gary wasn't exactly assigned to watch over one person, but like Tallinn, he was assigned to prevent any interference in the timeline from melders. However, in "Assignment: Earth," it was eventually revealed that Kirk, Spock, and the Enterprise were (probably) part of some kind of predestination paradox because history seemed to record everything happening exactly as it happened in the episode.
What Picard has established is that the Supervisors were embedded in Earth to a much greater extent than "Assignment: Earth" revealed. The only question now is, what happened to that shape-shifting cat, Isis? 
Lea Thompson and Dr. Vassily Roshenko
As Adam Soong (Brent Spiner) is pitching his ideas about genetic research to some kind of board of trustees, two of the members should be very familiar. The woman who shuts down Soong is "Dr. Diane Verner," played by Lea Thompson. Most famous for her role as Lorraine McFly in all three Back to the Future films, Lea Thompson is also the director of the two previous episodes of Picard Season 2 (this episode is directed by Jonathan Frakes). Her directing credits just previous to Picard include DC's Stargirl, which, on the aftershow, The Ready Room, she partially attributed to her being hired by the Star Trek team.
Sitting right next to her is a man with a placard that reads, "Dr. Vassily Rozhenko." This is a clear reference to the human family who adopted Worf in The Next Generation. Worf's parents were Sergey and Helana Rozhenko. Those two characters — played by Theodore Bikel and Georgia Brown — first appeared in the TNG episode, "Family," which was also the first Trek episode that established the existence of Chateau Picard, not to mention a relative of Jean-Luc's named René. 
Spearhead Operations and Ramse 
When Soong is shut down by Lea Thompson's character, she mentions that he was "running genetic experiments with a privatized military organization, Spearhead Operations."
Like previous episodes, this is a reference to the SyFy series 12 Monkeys, Terry Matalas' show before he became the current showrunner of Picard. In 12 Monkeys, Spearhead is a private military organization that is doing all sorts of experiments to try and cure a plague that is ravaging the Earth. Within the narrative of 12 Monkeys, Spearhead is depicted as less-than-ethical, and the heroes of that series are often at odds with members (and former members) of Spearhead. 
But, the 12 Monkeys connections don't end there!  At the very end of the episode, when Jurati is captured by security at the gala, the two security guards mention that "She's a trespasser, Ramse said to get her prints." This is a reference to the 12 Monkeys character José Ramse (Kirk Acevedo) who was the best friend of "Time Jesus" James Cole (Aaron Stanford).
In Season 1 of 12 Monkeys, Ramse was accidentally sent back in time and lived as a quasi-immortal from the 1980s well into the 2040s. At one point, he was erroneously identified as "the Witness," which sounds a lot like "the Watcher." Ramse also briefly worked for the Army of the 12 Monkeys, who wanted to eradicate linear time and create "the Red Forest." In Picard Season 2, the Borg Queen is muttering about the red forest in episode 2.
Renné Picard's Passport
When Jean-Luc's ancestor, Renné Picard (Penelope Mitchell) shows her passport to get into the gala, we briefly get a glimpse at her birthday, which is November 22, 1996. In our universe, that's the date Star Trek: First Contact hit theaters. It also looks like Renné renewed her passport on September 24, 2017, which is the date that Star Trek: Discovery debuted its first two episodes. Obviously, without the film First Contact and the series Star Trek: Discovery, the inception of Star Trek: Picard, and thus, the character of Renné Picard, wouldn't exist.
Star Trek: Picard airs on Thursdays on Paramount+.