Features
How Star Trek: Picard Keeps Its Trek Continuity Together
Akiva Goldsman reveals the challenges of not stepping on other Star Trek series' toes, how they've tried to improve Picard season 2, and what Patrick Stewart thought when they pitched the story to him.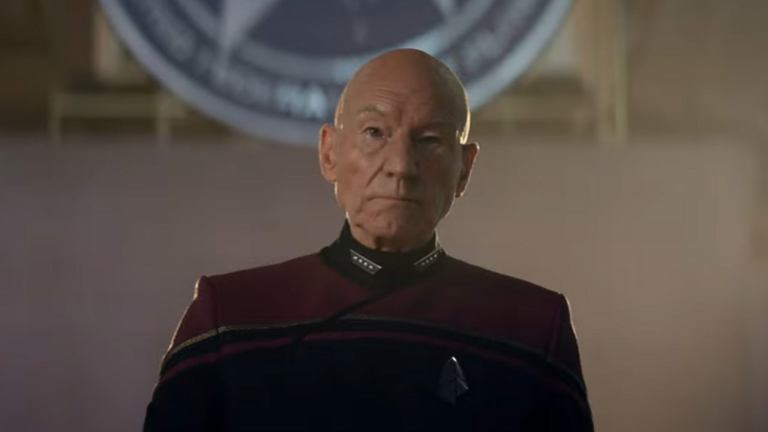 Being an executive producer on any television show is never easy. Being one that's part of the Star Trek universe is a challenge few have ever experienced. Not only are you entrusted with crafting a show that needs to be better every season but, in the case of Star Trek: Picard, you also work with a legendary lead actor as executive producer and make sure you don't step on the toes of the other Star Trek shows on the air
Akiva Goldsman, who juggles work as executive producer on both Star Trek: Picard and the upcoming Star Trek: Strange New Worlds (after previously working on Star Trek: Discovery and Star Trek: Short Treks) describes the process of working alongside the other currently airing Trek shows as sometimes being akin to dealing with traffic cops. Thankfully however that process has smoothed out, with the other Trek showrunners reading each other's scripts and having meetings to talk out what they're planning.
"We've had a couple of absolute overlap conflicts," Goldsman recalls, "but we turned them into a kind of cross pollination."
One example was Star Trek: Discovery utilizing the synthetic bodies introduced in Picard as a way to give one character a new body. Another was Lower Decks briefly using Q before he was set to return in live-action form in the new season of Picard.
"If somebody does a thing in their show, it's canon," Goldsman says. "We're constantly, in a fun way, going, 'oh, I guess that happens!'"
Thankfully though the shows aren't bumping into each other as much since they all take place in different time periods. Discovery has jumped from the 23rd century to the 32nd so it's not bumping up against Strange New Worlds which is still set in the 23rd, or Picard in the 24th.
While Picard is close in the timeline to the animated Lower Decks and Prodigy, Goldsman isn't worried about that. He does tease however that later on in the second season of Picard there will be a "very specific" tie-in to one of the other Trek shows on air.
If balancing the complicated and evolving Trek canon wasn't enough, Goldsman and the rest of the Picard staff have also been working on applying lessons they learned from season one to try and make season two stronger. Goldsman admits, with a smile, that this season, "we learned to have scripts earlier. We learned to try our best to work within the budget. We didn't succeed."
Still, the production and actors had more of a familiarity this season that Goldsman says helped to make the process a little bit more expeditious but, at the end of the day it's still hard to produce a whole season where each episode is, "like a giant ass movie."
One of the people helping that whole process along is Picard himself, Patrick Stewart, who serves as executive producer on the series. Goldsman says he and the producers first talk about themes with him and then pitch out their ideas for the story of the season. Stewart also gives notes on all the episodes but those tend to focus on the character of Picard.
"Patrick is not the biggest sci-fi guy in the room," Goldsman says with some humor, "but he is the keeper of Picard. He'll say, 'I wouldn't say that! I'd say this!' And you go, 'yes you would!'"
But that doesn't mean Stewart isn't open to new ideas for the character. Goldsman teases that later in the second season; Picard will "go deep into a place that has not been explored [within the character]." Stewart responded with enthusiasm to this and as Goldsman describes it, rubbed his hands together in delight and stated, "let's see what's there!"

Star Trek: Picard Season 2 premieres March 3rd on Paramount Plus.