News
Star Trek: Picard Explains Major Changes to Captain Shaw's New USS Titan
The first episode of Star Trek: Picard's third season introduces not just a new Captain for the USS Titan in the form of Todd Stashwick's Liam Shaw, but a new look for the ship itself.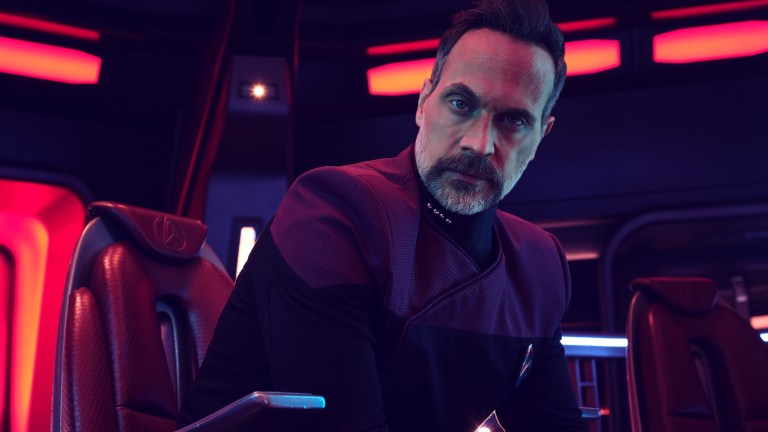 This Star Trek: Picard article contains spoilers.
If you only know Star Trek through its movies and TV shows, then the USS Titan might not seem like a big deal. After all, the ship only first appeared in the finale of Lower Decks season one, not even three years ago, despite first being referenced all the way back in 2002's Star Trek: Nemesis. But to fans of the expanded universe of books and comics that stretches beyond the big and small screens, the Titan has a long and illustrious history, under the command of Captain William T. Riker. In fact, 15 novels have been published in the Star Trek: Titan franchise, chronicling the adventures of Captain Riker, his wife Counsellor Troi, and the crew of their Luna-class ship.
If you're one of those Trekkers, you may have been a bit thrown off when the season three premiere of Star Trek: Picard introduced the USS Titan-A, a Neo-Constitution class ship under the command of Captain Liam Shaw (Todd Stashwick). Not only did Captain Shaw do the unthinkable and rid the ship's computer of all traces of Riker's beloved jazz collection, but the ship looks markedly different from its previous incarnation.
The biggest change for the refitted Neo-Constitution class starship is of course the retro vibe, with a redesign that brings back the classic saucer-look of The Original Series vessels.
"I missed a proper saucer section on the top part of a starship, and I couldn't help but notice how many cars have gone retro these days. And I remember, as I was driving around, I thought, 'What if Starfleet did that?'" Picard showrunner Terry Matalas explained to Variety. "I saw this incredible starship designed by digital artist Bill Krause called the U.S.S Shangri-La, which was a Star Trek: Motion Picture-era class ship with a half saucer on top and an Excelsior-inspired Next Generation curve on the bottom, which I thought was really interesting. I said to production designer Dave Blass, I think the Titan should feel something like this."
For Blass, this revision was no small decision. "I think that the starships in the Star Trek universe are as heroic as the captains who sat in those seats," Blass said. "So, when we were bringing the production crew together, I wanted to bring the best designers from all of Star Trek together on one project." Indeed, he did so by recruiting folks who worked on The Next Generation and Deep Space Nine, two of the best entries during Trek's 90s heyday.
With these folks on board, Blass could help design a ship that matched the theme of Picard's third season, which sees the respected Admiral reunited with most of his bridge crew from Enterprises -D and -E, including Worf, La Forge, and Dr. Crusher. But more than a nostalgia trip, the third season promises to continue moving forward toward the future of both the characters and Starfleet itself.
"What was really important to me was that we were bringing The Next Generation characters back, and I wanted to make sure that my sets and my designs did not feel out of place in a Next Generation world," Blass said. "If we were going to have our characters look and act the way they are, then our sets needed to evolve in such a way that it looked and felt like an extension of what had been done in the past while also looking forward at the same time."
To that end, Blass and his team made not only a larger ship than those we're used to seeing, but also combined new sounds with those of classic ships of the past. "[Y]ou'd have a blend," Matalas said. "So, even though visually you're seeing Dave's sets, the sounds are evoking all of those feelings that should be in your DNA if you love the older shows."
With this approach, the Titan-A is sure to impress, whether you first encountered its predecessor a few years ago or you've been reading about its adventures for years.
Star Trek: Picard season 3 streams on Thursdays on Paramount+.