News
Star Trek: Discovery – What to Expect in Season 3's Far-Flung Future
The cast of Star Trek: Discovery took part in today's SDCC at Home programming, giving us some clues about the upcoming Season 3.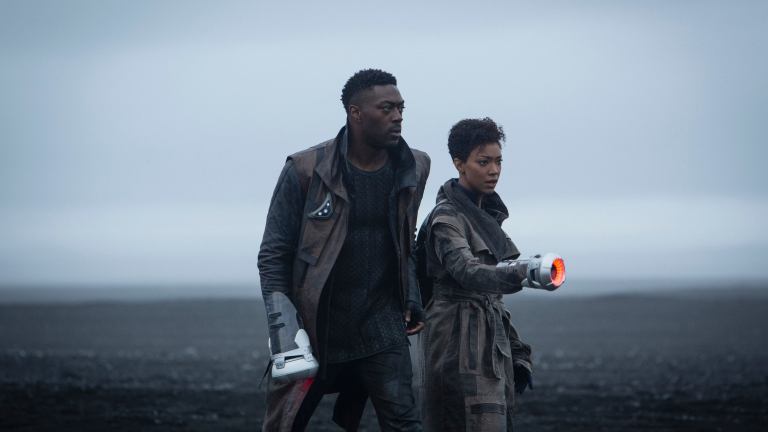 Star Trek: Discovery Season 2 ends on one hell of a cliffhanger. In the final moments of "Such Sweet Sorrow: Part 2," Michael leads the Discovery through time, 950 years into the future, to keep the Sphere data from ever falling into the wrong hands. It's a major narrative reset for a show that hasn't always had a clear vision of what kind of story it wants to tell but has brought many delights as it searches for the answer. Many of those delights are tied up with the talented and charismatic cast for this show, all of whom were on hand to take part in the "Star Trek Universe" panel that was part of today's SDCC at Home schedule. In addition to doing a script reading of the Season 2 finale, the Star Trek: Discovery cast gave some hints about what's to come in Season 3.
"We, the crew, of Star Trek: Discovery, in the finale, are deciding to sacrifice everything—everything we have—for the future, and so there's the obvious hope that that works," said Sonequa Martin-Green (Michael Burnham) of the crew's mindset in Season 3. "That the plan works. And even, logistically, that we land where we're supposed to. That we defeat Control. That we save the world, and save the universe, and so there's the inherent hope of that."
Choosing to go on a hero's mission together in which you will leave everything you have ever known save for the Discovery behind sounds like a real bonding experience, and Anthony Rapp (Stamets) teased that Season 3 is very much about "the family of the ship." He continued: "[The season] really explores 'family' in wonderful new ways, so I think that's one of the cool things. And trying to find ways to say that without spoiling too much, but that's one of the major things that gets developed in Season 3."
One of the few plot-driven surprises in the Season 2 finale came in the fact that Emperor Georgiou (Michelle Yeoh) was on the Discovery when it went through time. Yeoh is set to star in a Section 31-centric spinoff series, which implies the character of Georgiou at some point comes back to the 2260s. (Unless Section 31 is still around in the 32nd century, or there is a third Trek character that Yeoh could play who would star in the spinoff.)
Yeoh, who is always a particular treat on these panels, teased that Georgiou is "really pissed off" that she's been pulled into the future, before adding that her character "always finds her way into adapting because she is a survivor with many skills and a formidable ally or an enemy." Yeoh continued: "So she goes in there being very pissed off, but then, I'm sure, very quickly, she'll find a way around. Power is something that inherently she has. She doesn't even seek it. She just has it … Scary, huh?"
One of the most emotionally-powerful parts of the Season 2 finale came in Culber's (Wilson Cruz) decision to go with the Discovery into the future because Stamets is his home.
"I think that what's great about Season 3," said Cruz, "is because of the way Season 2 ends, the fact that Culber has made a choice, he's taken a risk, without knowing what's gonna happen, he chooses to stay on the Discovery. And, because of that choice, he gets to save [Paul's] life. And I think, in that moment, he realizes that everything he has ever wanted and everything that he needs, is right here between these two people. "
Cruz spoke more broadly about the development of his character in Season 3 both in terms of his relationship with Stamets and his relationship with his work, saying: "He made his choice. He knows that he's different. He knows that he's looking at his work different. He knows that he feels different about his place in the world and what his purpose is. And so the relationship is different in that way too. It's more on an equal footing, I think, and I'm excited about the new responsibility that I take on in terms of my work and mental health. I love the new Culber. He's more three-dimensional in my head. "
Tell me that mention of mental health means that the Discovery is finally going to get a proper mental health department? This ship needed a Troi on board so many traumas ago.
While speaking about the continued career ambitions of Tilly, Mary Wiseman did a good job of summing up what sounds like might be a central theme of Season 3, saying: "We're also really on the edge of the unknown so I think all of our ideas about what the future holds and who we are and who we want to be are going to be transformed."
CBS has yet to give Star Trek: Discovery 3 an official release date. Presumably, it will premiere on CBS All Access sometime in 2020.