Reviews
Sex Education Season 2 Review: Genuine Class
Netflix's Sex Education season 2 is a funny, raunchy and inclusive lesson in love.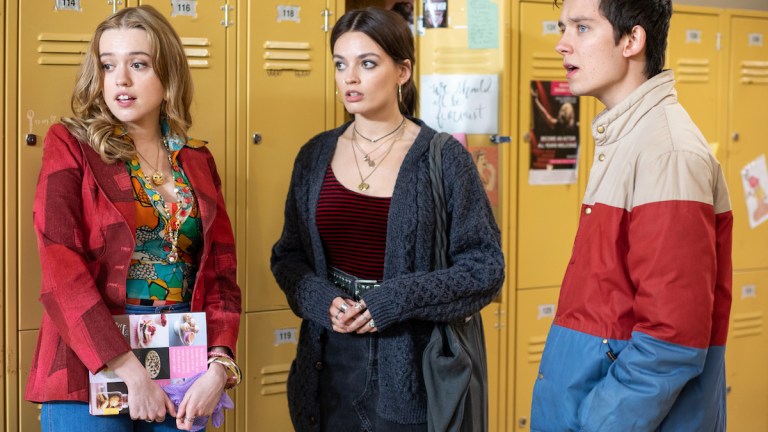 Warning: contains mild spoilers for season two of Sex Education, as well as, by necessity, lots of references to sex, sexuality and sexual acts from the start.
Opening with an extended montage of our hero Otis (Asa Butterfield)—formerly unable to masturbate—joyfully wanking in an array of different places, to a choral rendition of The Divinyls "I Touch Myself" (sung by Belgian women's choir Scala & Kolacny Brothers), Sex Education season 2 sets out its stall from the start. No shame, no euphemism, no topic out of bounds, the second outing of this John Hughes-style comedy series set in a rural British high school will tackle sexuality in all its forms with a bravery, intelligence, lightness and humor that no other current show achieves quite as well. It's groundbreaking—but also sweet and funny. It's important—but never preachy. And it's populated with fully drawn characters you care so much about that it's as moving as it is entertaining from start to finish.
It's the start of a new term and Otis' girlfriend Ola (Patricia Allison)—who's also the daughter of Otis' sex therapist mum's (Gillian Anderson) new partner, Jakob (Mikael Persbrandt)—has joined the school. Shown around the schools' cliques in a sequence that could be lifted straight from Clueless or Mean Girls, season two establishes itself once again as that odd (and sometimes a bit uncomfortable) hybrid of American teen tropes in a Brit setting: students get "credits" for extracurricular activities, there's an a cappella group that does Glee-style performances in assembly and being a star on the swim team yields a guaranteed place at a top-tier college.
Otis is temporarily retired from his ad-hoc sex advice clinic. Adam (Connor Swindells) has been banished to the military by his overbearing headmaster father (Alistair Petrie). Maeve (Emma Mackey) has been kicked out of school and is working at a pretzel stand and dealing with the reemergence of the mother (Anne-Marie Duff) who had formerly abandoned her but is now in rehab. And Eric (Ncuti Gatwa) is flirting with a potential new love interest in the form of French transfer student Rahim (Sami Outalbali).
These, and the returning supporting cast, are joined by several additional characters to make up a packed roster that initially feels a bit overwhelming but, just like the students coming back after a long break, the audience is quickly eased in to school life.
Carrying several satisfying emotional and narrative arcs for all our main players, each episode also tackles at least one facet of sexuality. Episode one deals with STIs and the hysteria around them when people are misinformed. Later eps tackle topics including fingering, asexuality, pansexuality, talking dirty, sexual pleasure in older women and anal douching, but always with a focus on openness, communication and love.
Sex Education goes out of its way to be inclusive, so it's no suprise that one of the standout new characters is Isaac, a wheelchair user who lives in one of the trailers near Maeve, played by disabled actor George Robinson. As smart and acerbic as Maeve, and carrying comparable emotional and physical scars, by the end of the series he's a credible love rival for uptight Otis. Other newbies include Chinenye Ezeudu's Viv, the smartest girl in school who's forgotten to have mates (and gets some of the funniest lines), dickish Rubik's Cube expert Dex (Lino Facioli), and Rahim, the sexy foreigner who's almost too cool for school.
read more: The Best Comedy Movies on Netflix
Meanwhile, season one favorites ditzy Aimee (Aimee Lou Wood) and kooky Lily (Tanya Reynolds) get their own satisfying, filled-out subplots. Bringing poise and class, Gillian Anderson is, as ever, never less than captivating. Charged with revamping the school's sex education syllabus, she's now housed within the school and threatening Otis' business (when it, of course, kicks off again as the season progresses) and her head-to-head battles with Mr. Groff are delicious.
While there's no stand out moment quite as uplifting as season one's "That's My Vagina" Spartacus riff, Sex Education's MeToo ep, which homages The Breakfast Club, is heartwarming and has a great kicker. Adam and Maeve's parallel stories—as kids starved of affection who have learned to expect nothing from anyone—might be the most affecting of the series. And then of course there's Otis' journey, which bookends the show. No spoilers for that but his is a more conventional course, though no less compelling. Butterfield, like everyone in the show, gives a pitch-perfect performance and, despite Otis' mistakes, he's never less than sympathetic.
Growing up is hard, the show reminds us. Being a grown-up is hard, too. We're all different. And sex shouldn't be something we're afraid to talk about.
Tackling tough topics with playfulness and sensitivity is no mean feat either, but Sex Education does it with a deft hand. It's a massively entertaining, warm and timely show, and it's one which could probably help us all learn a thing or two.
Sex Education season 2 is available to stream on Netflix now.