Features
Sarah Michelle Gellar's Return to Supernatural TV: Wolf Pack "Isn't What People Expect"
Exclusive: Wolf Pack star Sarah Michelle Gellar shares details about her thrilling return to supernatural TV.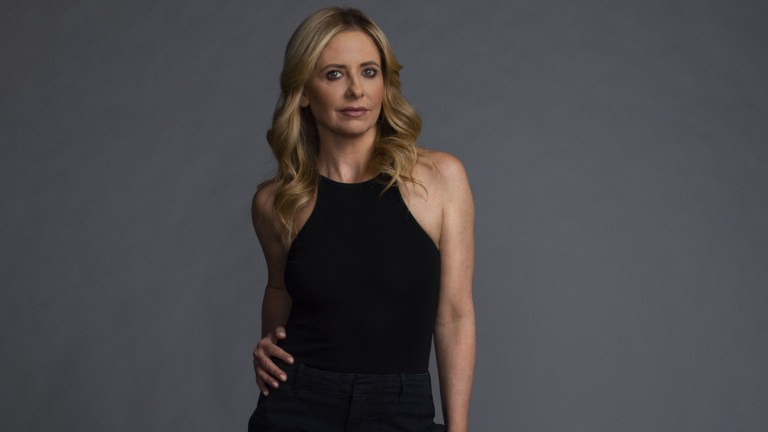 This article appears in the next issue of DEN OF GEEK magazine. SUBSCRIBE HERE!
For many genre fans, there's no more formative figure in our collective consciousnesses than Sarah Michelle Gellar, iconic lead of Buffy the Vampire Slayer, the woman who taught us all how to fight back against monsters of both the fictional and all-too-human varieties (and drop some very quotable one-liners in the process). Now, 25 years later, she's about to take a leading role on another show that aims to use its scary setting as a backdrop to explore frighteningly human themes and real-world issues.
The Buffy star will return to supernatural TV this January on Wolf Pack, a horror-tinged drama that Gellar says "isn't what people expect" from her or creator Jeff Davis before anyone asks, this show is definitely not set in the same universe as Davis's other horror drama, Teen Wolf, and there are no plans to connect the two shows in any way).
Wolf Pack follows the story of teenagers Everett (Armani Jackson) and Blake (Bella Shepard) as their lives are forever changed in the wake of a California wildfire that awakens a terrifying creature. The specifics of how Gellar's character—an arson investigator named Kristin Ramsey—figures into all this are being kept under wraps, but we've seen clips of her wielding a gun, searching through a darkened forest, and interrogating the kids about what they've seen.
Describing the series as "deliberate" in its storytelling and "cinematic" in its appeal, Gellar says she was "blown away" by its first season, which is full of "plot twist after plot twist."
Den of Geek magazine caught up with Gellar during the last week of filming to talk about what drew her to Wolf Pack, what to expect from the show's "phenomenal" season, and why its horror-tinged take on anxiety feels so timely.
Den of Geek: Clearly, Wolf Pack has to be something special to get you to come back to TV in this genre again. What drew you to this show?
Sarah Michelle Gellar: It was a couple of things. I've said this before, but initially, I had no intention of saying "yes" [to it]. It's really hard when you've done something like Buffy. Because it's not that I've avoided genre, it's just that I can't top that. So it has to be either something that's so different or equally good (as Buffy), or all of those things have to sort of come together. I love genre, but it has to fit.
So I read [the script] and was like, "Oh gosh, it's really good." And I'd heard such amazing things about Jeff Davis over time. The way he spoke about the show he wanted to make and the audience he wanted to go after and the things I would get the opportunity to do, both behind the scenes and in front [of the camera], it really just was one of those opportunities that I couldn't pass up.
Describe Wolf Pack in a sentence or two.
I would say it's really scary. I think that's the one fun thing that I haven't really gotten to dip my toe in too much. I did I Know What You Did Last Summer. Scream is funny. Grudge is scary. But I haven't gotten to tell those fun stories. I think the other thing that really got me, and I didn't say this earlier about Jeff, but one of the ways he got me was the stories he wants to tell.
Buffy utilized monsters to represent the horrors of adolescence. Now, we live in a very different world, and Jeff is using monsters to deal with anxiety and depression and isolation, and all those emotions that young kids and adults are already feeling. Add the pandemic, and it's tenfold. And to me, that's when scary stories work the best; when they're really telling a secondary story [underneath]. What it's like to be so isolated these days, and what does someone's pack look like? Nowadays, it's harder and harder to meet your pack because so much is digital. I loved that exploration. It really made me think.
Your character, Kristin Ramsey, is an arson investigator. What can you tell us about her journey this season?
Very little! And that's on purpose. I'm the mystery. I can tell you a lot about each of the other characters, but I'm the one that you're like, "What?" It just seems like I'm all business, and I have a mission, and I'm on it. But fire is one of the scariest horrors. It really is. And fire is the backdrop for us. [The show] all takes place during the California wildfires and [explores] what that does to the earth and how we're treating our planet.
As you said, the mental health aspect of this story feels so important right now. Do those issues of isolation and that idea of finding your pack apply to Kristin too?
Absolutely. The one thing I will say is: You have to bear with this because this is episodic television where everything gets explained. [But] you have to get through the eight episodes to understand. But it definitely takes a minute. Every episode will give you some pieces, but until you get to eight, you can't connect the dots.
There's an obvious bond between you and your younger castmates. How does it feel to be the mentor figure?
Rodrigo [Santoro, who plays park Garrett Briggs] and I joke about that a lot. Because he and I, both growing up, were always the youngest on set. He was like the young stud, and I was always the baby. Everybody was always older. And we joke, we look around, and we're like, "Oh wait, we're the old ones now."
You're the Giles now!
I'm the Giles. A little bit different, but yes, and definitely behind the scenes, I'm the Giles. I've gone through so much, and you hope that the younger age groups you work with are open to hearing and learning. And this group is just that. It's like they're sponges, and they listen.
Which story of the young crew do you think will resonate most with viewers?
It'll resonate differently based on what your experience is. Everett has grown up with massive anxiety that his parents don't understand; they think medication is the answer. And for some, it is, but there's a reason why you have that anxiety, and you need to get to the bottom of it, and you have to feel supported. Blake is the one who's gone in the other direction. She has no digital footprint, no computer, no phone. I think that's such an interesting journey. Harlan, too, is trying to have his parent understand him, even though they lead very different lives. And for Luna, she's the one who's really searching for her pack. She's the one that just really feels like she's always been different and lonely. Her journey is the one most kids will have at least experienced. But I think bits and pieces of them all.
You're an executive producer on Wolf Pack—how has that experience been different from other things you've done?
I've gotten to work very hard on the other side of the camera, which is important to me because I know a lot. I've learned a lot. I've sort of earned that, and I have a lot, I think, to bring to the table. A lot of times, people will give you a title—but they don't want to hear what you have to say. Jeff welcomes it. It's such a partnership.
Fingers crossed for season two?
I would like to! We have a really cool story to tell, and it's different than this [season]. It's almost like, in streaming—this [season] is almost like a prequel. We have to get everything here so you can go on and tell the story. But I'd be up for season two. Normally, at the end of a season, I'm so burnt out, I'm like, "Never again." So it's a good sign I'm saying I would do it.
Wolf Pack premieres on Paramount+ on Jan. 26.