Features
Roku Channel's Slip Brings Something New to the Multiverse
Multiverse storytelling is missing a key ingredient. Thankfully, Slip creator and star Zoe Lister-Jones knows just what it is.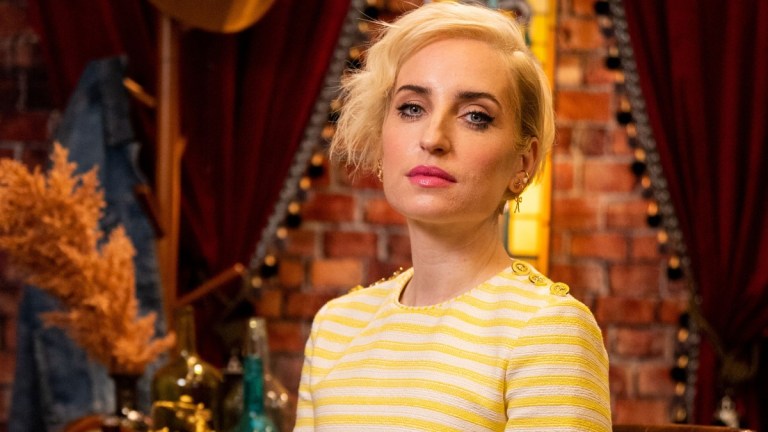 The multiverse? So hot right now.
Theories surrounding alternate universes have existed in some form or another since the days of pre-Socratic Greek philosopher Anaximander in the sixth century BCE (yes, really). Recently, however, popular culture has realized the full storytelling potential of infinite worlds in grand fashion. Adult Swim's Rick and Morty arguably brought the age-old concept to the mainstream. Then Marvel Studios kicked off its own Multiverse Saga with phases 4 through 6 of the long-running franchise. Most recently, the multiverse-friendly Everything Everywhere All At Once won seven Academy Awards, including Best Picture.
While the multiverse is very much in right now, there is an important element that most, if not all, of these multiverse projects are missing. And that's something that actress and filmmaker Zoe Lister-Jones is hoping to rectify with her new Roku Channel series Slip.
"The multiverse is obviously a big part of the zeitgeist right now," Lister-Jones tells Den of Geek. "Something that excited me was the idea of putting sex and sexuality into that framework. Because I hadn't really seen it before."
Slip, which premieres all seven episodes Friday, April 21 on Roku Channel, follows dissatisfied art curator Mae Cannon (Lister-Jones) as a chance sexual encounter sends her on a timeline-hopping journey down all the paths not taken. The series uses the concept of the multiverse to explore Buddhism, karmic circles, hungry ghosts, love addiction, and yes, sexuality.
"I wanted to push the bounds," Lister-Jones says. "Because I was both behind the camera and my body was on the line, so to speak, it felt as though I could do so. Female sexuality is such a rich space to explore that has not been explored through a female lens in a way that could subvert the male gaze and still be really sex positive, and sexy, and sensual. I wanted to see what a sexual awakening would look like for a woman in the multiverse."
As Mae continues on her journey through parallel lives, it becomes clear that sexuality in the multiverse is indeed a rich vein of exploration that pop culture has largely missed of late. What is a sexual encounter with a stranger if not a privileged glimpse into someone else's timeline and how you might fit inside it? For Lister-Jones the ultimate inspiration for the project was something a little more mundane though That's right: Slip is very much a pandemic era show.
"I wrote the whole season in quarantine. There's an interesting nostalgia that was a part of that time. Paths we hadn't taken or people we hadn't chosen. I wanted to write something that sort of explored the 'what ifs?' that can tend to haunt us in life. Also that feeling of escapism and fantasy but through the lens of the mud of life – particularly when it comes to relationships and sexuality."
In addition to directing recent films like Band Aid and The Craft: Legacy, Lister-Jones has an impressive resume of acting appearances in everything from stints on New Girl and Delocated to The Other Guys and the upcoming Beau is Afraid. Slip, however, marks her most personal project yet. Always intended to be an episodic series, the show found a patron in Roku, which was is just starting to branch into original programming following its acquisition of Quibi's library.
"Roku has been a dream partner, truly. I wrote all the episodes and (they) gave me a greenlight to go shoot them. That is unheard of and such a dream as a creator to be given that kind of artistic freedom. That has continued throughout the process. I've felt deeply grateful. There was no compromise that I was forced to make around the sexuality of the show. Which is amazing and revolutionary."
Slip is indeed the singular vision of its creator. Should Anaximander's dream of multiple universes come to pass one day, let's just hope it resembles Zoe-Lister Jones' moreso than Doctor Strange's.
All seven episodes of Slip premiere Friday, April 21 on Roku Channel.