Features
Riverdale Series Finale Ending Explained
We have officially left Riverdale. After seven wild seasons, here is how the beloved CW series comes to an end.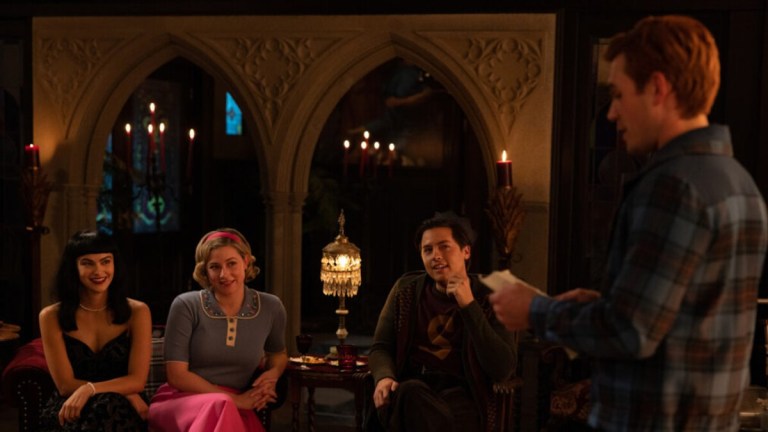 This article contains spoilers for the RIVERDALE series finale.
Riverdale season 7 gave our characters a fresh slate in the 1950's, embracing their "classic Archie Comics counterparts." However, in the penultimate episode, they all finally got their good memories back from Angel Tabitha (Erinn Westbrook) with only Jughead (Cole Sprouse) and Betty (Lili Reinhart) choosing to remember both the good and bad.
With all of the absurd storylines that have taken place throughout the seasons, including time travel, it makes sense to say goodbye to Riverdale as the town that was once lost in time with one last epic journey. Whether you're satisfied with where your favorite characters end up, one thing is for sure, you're going to need tissues. Here's what really went down in the show's finale.
From the Present Day Back to Senior Year
We skip a total of 67 years into the future, finding an 86-year-old Betty with her granddaughter Alice in the present day. We find out Betty checks the obituary every day and today, Jughead's was in the paper, meaning that she is the last one alive. She requests a trip back to Riverdale before it's too late and she forgets everything. Alice says that as long as she's up for it tomorrow, they can go.
That night, Angel Jughead appears in her room and he offers her the chance to relive one day of her choice. She picks the day everyone got their yearbook, which was the last day of senior year, since she missed it due to the mumps. He instructs her to walk through the door and sure enough, Betty is back in her old room as a high school senior. Through the window, we see Archie (KJ Apa) and his mom (Molly Ringwald) discuss his future. He wants to join a crew building highways all the way to California, which will no doubt give him plenty of ideas to write about it. The job is only supposed to be three months, but Mary knows that he'll never look back once he leaves this town. Regardless, she gives him her blessing. 
While picking up her yearbook from Cheryl (Madelaine Petsch), we find out that she and Toni (Vanessa Morgan) are hosting an art show at The Dark Room and a get together at Thornhill afterwards. Fangs (Drew Ray Tanner) and Midge (Abby Ross) are the first to sign the book, which leads us to discover that he got his first hit single and is going on a summer tour. Midge's parents also finally approved of the two of them getting married. During a lunch with Kevin (Casey Cott) and Clay (Karl Walcott), we find out that Betty, Veronica (Camila Mendes), Archie, and Jughead are now in a "quad" and have been for all of senior year. It turns out that after getting their memories back from Angel Tabitha, they didn't want to choose who to be with. Betty remembered what it was like to be with Jughead and with Archie. Additionally, Archie and Veronica remembered what it was like to be with each other. So since Veronica and Jughead had just started their relationship and to avoid making a single choice, the four of them just started dating. Unfortunately, we don't actually see any of these conversations, which makes the reveal fall flat.
At the Babylonium, Veronica reveals that she is moving back to Los Angeles. Josie (Ashleigh Murray) had inspired her and she decided to pitch herself Peter Roth, saying she is ready to produce movies and run a studio someday. We then go to The Dark Room to see Cheryl's year-long collaboration with her "partner in all things," Toni Topaz (Vanessa Morgan). She gives a beautiful speech about how their relationship is the most thrilling thing and that there's no separation between their art and love. Toni is also selling a collected edition of the first six issues of "Black Athena," which is now an acclaimed literary magazine.
Veronica shares her LA plans with Archie and Jughead, who don't take it very well. Betty joins the conversation, hoping to cushion the blow. They decide to spend the rest of their time together celebrating and appreciating everything they've been through. They then take one last ride in Archie's Jalopy to Cheryl's afterparty. While the others go in, Betty struggles, knowing that this will be the last time that all of them will be together. She's just not ready to say goodbye. Angel Jughead tells her that every minute counts, which finally makes her head inside Thornhill. Archie uses the opportunity to share his goodbye poem/roast as an ode to his best friends filled with Riverdale memories, which makes this moment a treat for fans who have followed the show since the beginning.
Before leaving, Archie finds Betty, who says it's her time to go. He says how tonight won't be goodbye and that they'll see each other again, maybe even end up together. But while it might have "started with them," Betty tells him that it won't end with them in the future. The two share one final goodbye kiss and that's the last we see of Archie. Betty and Angel Jughead's last visit is to Pop Tate's (Alvin Sanders) grave. He passed away in his sleep right after the beginning of senior year.
Back in the present, Betty takes that trip to Riverdale with her granddaughter, saying goodbye to everything that makes up both the show and town on the way to Pop's Chock'lit Shoppe. That goodbye to her childhood town ends up being permanent because by the time they arrive, she has peacefully passed away in the backseat. We then see a 17-year-old Betty enter The Sweet Hereafter, which is the beloved diner. All of her friends are already there, waiting for her to join them and she takes her place in the booth with Veronica, Archie, and Jughead, all of them enjoying a milkshake together. That's where we leave them, Angel Jughead declaring them forever juniors.
Who is Endgame?
The first couple to get the status of endgame is Kevin and Clay, who become roommates after graduation. After they both attend college, Angel Jughead says that the two of them lived in the heart of Harlem with Clay becoming a tenure professor at Columbia University and Kevin starting an off-Broadway theater program. They both passed away peacefully weeks apart, Kevin going first at 82-years-old.
Next up, Choni fans get the news they were hoping for: Cheryl and Toni stayed together and got their happily ever after. They moved out West and settled in a craftsman house, living as artists and activists. Cheryl had an incredible career as a painter with her work shown in galleries and museums across the country and even in Europe. Eventually, they had a son, named Dale after Riverdale.
As for the core four couples — Varchie, Barchie, Jeronica, and Bughead — none of them were endgame. We learn in a conversation that both Betty and Jughead never got married in the future. While we know Archie did meet someone and had kids, Veronica's fate is left unclear. While she was wildly successful, we're never actually told if she got married or had a family.
It is definitely frustrating to have that be left out when we get clarity for almost every other character. Jughead seemingly never had any kids either. It's an interesting choice that will leave most fans unsatisfied after putting so much time loving and supporting their favorite ships over the course of seven seasons. It doesn't help that we never even meet or get a glimpse of who Archie ends up with after being stuck in a love triangle with Veronica and Betty for almost the entire show or see him with his family. Not to mention that it would have been extremely easy to say that Archie reunited with Veronica down the line considering they both end up in California.
What is Everyone's Individual Fate?
We find out that Mary bought her dress shop and met a woman named Brooke, who ended up moving into the Andrews' house and they stayed together until the very end. As for Alice Cooper (Mädchen Amick), she became a stewardess and one night even flew the plane after the pilot had a heart attack. One of the passengers asked her to dinner for saving his life and the two eventually got married, traveling the world together. Just like in their original timeline, Polly (Tiera Skovbye) had her twins, but this time, she lived a very happy life with her family.
Fangs was the first of them to pass away. Four weeks into his tour, the bus blew a tire while going over the Rocky Mountain and there were no survivors. His gold record still proudly hangs in Riverdale High. Thankfully, Midge and their daughter were taken care of thanks to his music. Reggie (Charles Melton) was destined for greatness, going professional and being drafted by the Lakers. On the off season, he worked at his family farm until his folks passed away and he sold the land. After that, he became a coach at Riverdale High. He had a wife and two sons, who still run Mantle Motors.
Veronica's move was the right one and even though she started out as an assistant, all it took was a few years before she was running Silver Shield Studios, won two Oscars, and produced some of the most iconic movies of their time. Archie also makes it to California and meets a "sweet, strong girl, who makes him laugh." They have a family together and he's a professional construction worker as well as an amateur writer. When he does pass away, he is buried in Riverdale next to his father. Jughead gave his all to "Jughead's Madhouse Magazine," where he was Editor-in-Chief. Meanwhile, along with her self-published bestseller and her advice column, Betty's professional legacy is "She Says Magazine," which is still being published today. She also became a mother, adopting her daughter, Carla, and later on, a grandmother.
After graduation, Julian (Nicholas Barasch) enlisted, served, and died in Vietnam at 28. Meanwhile, Nana Rose (Barbara Wallace) was reincarnated multiple times and Principal Weatherbee (Peter Bryant) got married. Tom Keller (Martin Cummins) and Frank Andrews (Ryan Robbins) were murdered by a hustler they picked up one night named Chic, which is an obvious nod to Hart Denton's character who pretended to be Betty's brother in the earlier seasons.
This piece is based on the Riverdale finale's extended version, which will begin streaming tomorrow on The CW App.