News
Rick and Morty Miss Out on a Blade Universe in Season 5 Trailer
Adult Swim has released the first trailer for Rick and Morty season 5 to haunt the duo with countless cool new multiverses they'll never have time to explore.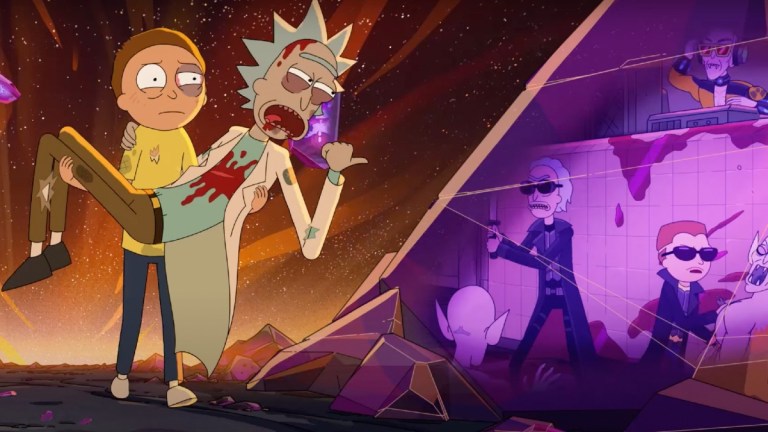 Pop culture doesn't have nearly enough multiverse-recognized holidays. Sure, Wookiee Life Day is great but can Kashyyyk place it on the Gregorian calendar? (Disney would have you believe it's on Nov. 17, for what it's worth).
Adult Swim has recognized this problem and is offering a solution. Rick and Morty season 5 is officially set to arrive on June 20, and the network has declared that now sacred date to be a multiverse holiday. Hopefully banks everywhere from Dimension C-132 to C-137 will be closed in observance!
The main event on June 20 will be the premiere on Rick and Morty season 5's first episode at 11 p.m. ET. In addition to that, the day will feature "sneak peeks, behind the scenes footage, and special surprises across TV, digital, and social." Gifts are presumably optional but encouraged. 
And speaking of gifts! Adult Swim also premiered a new Rick and Morty season 5 trailer alongside the announcement. At a full two minutes, the clip is dense enough to keep the more dedicated multiverse travelers occupied for…at least a couple minutes. Give it a look below.
You know, we don't get enough White Stripes tunes in our TV teasers nowadays. "Seven Nation Army" has a monopoly on live sporting event chants, but as evidenced here, "Blue Orchid" can really score a dynamic trailer. 
What immediately jumps out in this trailer is just how often the Smith/Sanchez family is together. In previous seasons, Rick and Morty has drawn a lot of storytelling ingenuity out of the different combinations it can muster among Rick, Morty, Beth, Summer, and Jerry (not to mention the occasional pathos when examining Beth and Jerry's cratering marriage). Five seasons in, however, it would appear that the voice cast have built up too much chemistry to ignore. 
Some situations that the whole Smith/Sanchez clan appear to find themselves in include:
Getting lost in a "too quiet" wood.
Encountering a hyper-sexualized Aquaman-esque figure.
Hiding in some sort of post-apocalyptic S&M hellworld.
Ziplining through futuristic metallic tunnels.
Hunting a tiny Mr. Poopybutthole-looking guy wearing a target.
Being attacked by a future astronaut dog.
Of course, the name of the show is Rick and Morty and as such some of the most compelling moments feature solely the titular pair. One episode in particular seems to find the grandfather/grandson duo in dire straits. Morty is forced to pilot Rick's crashing flying saucer into a palm tree. Later on the lad must carry his injured grandpa passed crystals that appear to tease more multiverses.
"Were we Blades in that one? Tight," Rick gasps upon seeing himself and Morty donned in their finest Wesley Snipes attire and battling vampires.
It's a shame Rick and Morty missed the boat on their Blade episode. The only thing sadder, however, is no one respecting Jerry's bucket list item to see a game in every Major League ballpark. We believe in you, bud!
Rick and Morty season 5 premieres June 20 at 11 p.m. ET on Adult Swim.