News
Rick and Morty Season 5 Debuts First Look Teaser
Though Rick and Morty didn't present at Comic-Con@Home, the show has unveiled a first look at season 5 all the same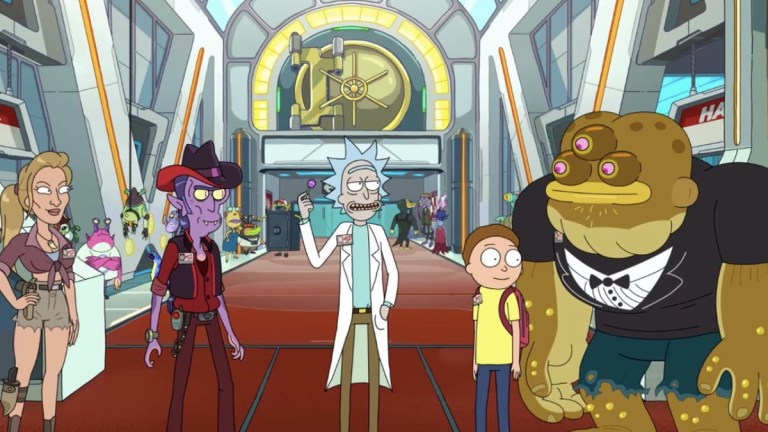 The 70-episode order that Rick and Morty co-creators Dan Harmon and Justin Roiland signed with Adult Swim came along with many benefits. The most obvious of which is…70 more episodes of Rick and Morty!
One subtle advantage, however, is that fans now don't have to wait years for little morsels of footage from upcoming seasons. In fact, even though Rick and Morty season 4 concluded on May 31 of this year, Harmon was prepared to share some footage from season 5 during the show's virtual press conference (not Comic-Con@Home-related) just two months later.
That's right, Adult Swim has unveiled a first look at Rick and Morty season 5. Animation on the brief scene isn't finished, but the two-minute clip is quite fun all the same. Give it a look below. 
There are no shortage of individuals throughout the multiverse who would consider Rick Sanchez their nemesis. As it turns out, however, Rick only views one man as his true foil: Mr. Nimbus. Rick seems well and truly exhausted by the knockoff Aquaman. One can only imagine what kind of nonsense went into the pact between Rick and Nimbus for Rick to stay out of the ocean. Mr. Nimbus is also clearly voiced by Harmon, meaning the show's two creators will get to play off each other a bit. The real highlight of that clip, however, might be Morty finally scoring a date with Jessica. All it took for him to shoot his shot was the prospect of his imminent death. 
Harmon and stars Sarah Chalke (Beth Smith), Spencer Grammer (Summer Smith), and Chris Parnell (Jerry Smith) all participated in Adult Swim's Comic-Con@Home-esque live show on Twitch on Friday evening. During the appearance, Harmon revealed that writers have concluded work on Rick and Morty season 5 and have already moved on to season 6, per EW. Additionally, production of the show has been able to continue via Zoom meetings. 
During the coronavirus pandemic, many networks and streaming services have been increasing their animation offerings since so much of production can be completed remotely and without places actors or crew members at risk. Rick and Morty's ability to continue production amid shutdowns makes it clear that that is likely a sound strategy.
There is no word yet on a release date for Rick and Morty season 5. It's heartening to know at least that the wait likely won't come anywhere near matching the delay between seasons 3 and 4. All in all, the show still has 60 episodes remaining in its 70-episode order from Adult Swim.