Features
Queen Charlotte Is An Origin Story For Bridgerton's Lady Danbury
As the young Agatha Danbury, Arsema Thomas reveals what made the fierce matriarch who she is, from her secret love affair to her royal battles.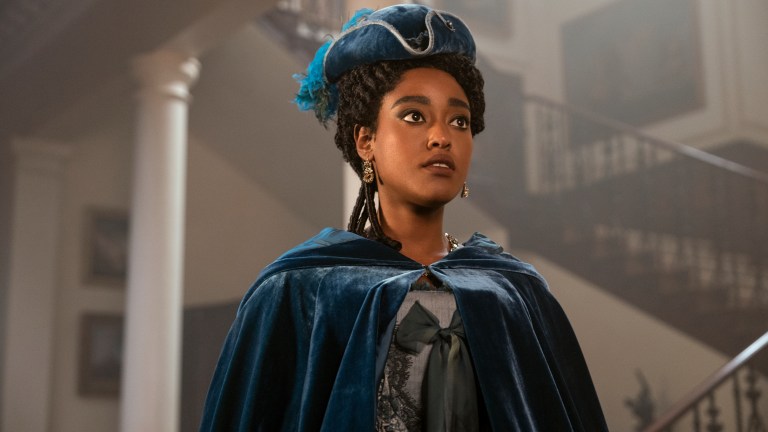 This article contains spoilers for Queen Charlotte: A Bridgerton Story.
On Bridgerton novelist Julia Quinn's website, a fan asks "Will you write a book about Lady Danbury? I'd love to read about her when she was younger."
Unfortunately not, was Quinn's original answer, following the logic that Lady Danbury – a widowed matriarch who wields serious power in the ton and always hosts the first ball of the season, played by Adjoa Andoh – is already on record in the Bridgerton books as saying that her husband was an idiot. Delving into that marriage and her past wouldn't offer much scope, said Quinn.
Enter: Shonda Rhimes. The co-creator with Chris Van Dusen of the Bridgerton Netflix series, Rhimes is also behind Queen Charlotte, a six-part prequel telling the story of the stormy early days of King George III and Queen Charlotte's marriage as the young bride uncovers the truth of her husband's hidden illness.
While turning the Bridgerton clock back to the 18th century to tell the young queen's story, Rhimes used the opportunity to also give fans Lady Danbury before she was even styled as such. Where did this impressive woman come from? Who was her idiot husband? Why did she never remarry? And how did she – a woman of colour – come to occupy such a pivotal position in the diverse but predominantly white social elite?
Lady Danbury is Bridgerton
That last question is one glossed over in Bridgerton, but tackled, if not head-on, then with determined euphemistic reference to "our side", "their side" and "the great experiment" in Queen Charlotte. It turns out that Lady Danbury's origin story is Bridgerton's origin story. Her fight to retain her family title after her husband's death is what cemented the ton's racial diversity and created the integrated society of the main series. She – and Queen Charlotte – were the first.
As the first, the young Agatha Danbury (as played by Arsema Thomas) was subjected to racism from a section of society including the Queen's attendee Lady Ledger – mother to young Violet, who would grow up to be Lady Bridgerton, co-founder of the sprawling family whose romantic disasters and triumphs form the basis of these stories –, courtier Lord Bute, and the Dowager Princess Augusta – mother to King George III.
In Queen Charlotte, we see Agatha use her wiles to outmanoeuvre racist objections to her family's social progress, making a sage and mutually beneficial alliance with Queen Charlotte that forced the hand of the ton. When the Princess dithered over Agatha's request to host the first ball of the season, she sent out the invitations anyway, and when those invitations were turned down by, she secured the King and Queen as her ball's headline act – making it an event even the dolts of the elite couldn't refuse.
A Dutiful Marriage and a Secret Love
Not everybody in Queen Charlotte's white establishment objected to "the great experiment." The prequel introduces Lord Ledger, Violet's kind and fair-minded father, and the man who would provide Lady Danbury with a formative experience. Unlike his racist wife, Lord Ledger sought out Lady Danbury's friendship, recognising her as in need of allies, and entirely unappreciated by her husband.
Before Lord Danbury's sudden death mid-copulation (a pleasureless act that he forced on Lady Agatha as his whims dictated), Cyril Nri's character was seen to be a dull-brained misogynist with no idea that his wife was considerably sharper than him, or that she had masterminded all of his social triumphs. Lord Danbury was more than twice Agatha's age, and used her solely as a receptacle for his enormous babies, and his own sport.
What makes Agatha's story sadder is that her marriage contract to Danbury was made when she was just three years old. From that time, she was raised only to be his wife, to serve him and to mould herself around his wants and needs. When he finally died and left her alone and unprotected, Agatha was left insecure, but finally free.
In that moment of widow's freedom, Agatha had a sexual awakening that showed her a "garden" (a metaphorical euphemism for a sex life used by Lady Violet in Queen Charlotte) that she had never known existed. A brief romantic affair with Lord Ledger showed Agatha that love, kindness and sexual satisfaction existed, something that her marriage had never taught her.
Remaining Free
Having learned that lesson, and having endured many years and multiple pregnancies as the wife of Lord Danbury, Agatha made a pivotal decision. Armed with her own wits and the protection of Queen Charlotte, she chose to never remarry, but instead to live out her days with the freedoms of a wealthy widow. Despite Prince Adolphus making her an attractive offer, Lady Danbury decided never again to submit to a husband.
And so Agatha established herself as the independent powerhouse we meet in Bridgerton series one – powerful, connected, and always the host of the first ball of the season. As she'd told her young son in Queen Charlotte, the royal blood of the Kpa-Mende Bo Tribe in Sierra Lione runs through her veins. She came from warriors. She wins.
Queen Charlotte: A Bridgerton Story is out now on Netflix.