Features
Is Queen Charlotte In The Bridgerton Books?
Is the Queen Charlotte story in the Bridgerton novels or is it a creation for Netflix? The answer, funnily enough, is both.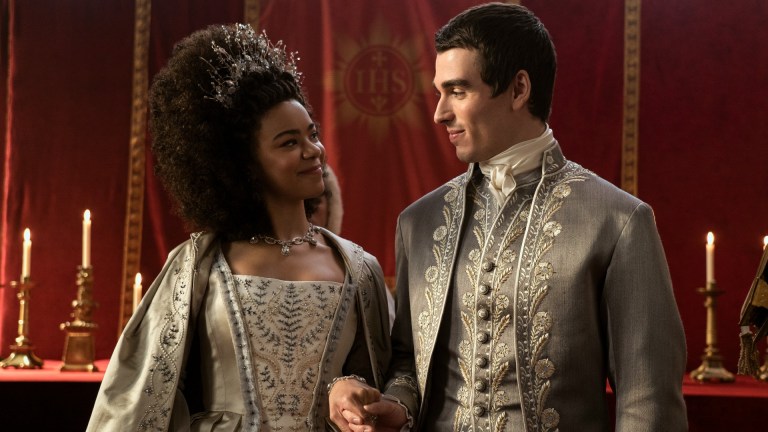 This article contains spoilers for Queen Charlotte: A Bridgerton Story and books within the Bridgerton series
Netflix's new show Queen Charlotte: A Bridgerton Story spotlights the story of how Queen Charlotte became the ruler of England and of the Ton at the age of 17. The limited series also features jumps to the current timeline between Bridgerton season 2 and season 3 in order to show developments within the royal family.
Fans who have not read the books may wonder how much of what they're seeing on screen is actually in the original Bridgerton novels by Julia Quinn. The answer is that Bridgerton producer Shonda Rhimes has teamed up with Bridgerton series author Julia Quinn on a novelization of the limited series out on May 9 that ties Queen Charlotte's story to the rest of Bridgerton novel canon. This new novel is designed to reconcile the expanded television canon with the novel series.
Queen Charlotte was only mentioned once in the main Bridgerton book series. Book 6: When He Was Wicked is about Francesca. One character (whose identity is a spoiler for show-only fans) mentions his grandmother formally meeting Queen Charlotte at court. There's no description or any other details of interest to fans who want more info about her character. King George and Prince Regent George are also barely there in the novels. Queen Charlotte has a lot of room to explain where and how the world of Bridgerton diverts from the official history because Quinn never focused on the royals.
On the other hand, Quinn has scattered clues about Lady Danbury and Violet Bridgerton in the novel series but there are some details Rhimes filled in. Violet Bridgerton's love story with her deceased husband Edmund is woven in throughout the novels, however, it's not until the novella Violet In Bloom which is a part of The Bridgertons: Happily Ever After collection of epilogues that Quinn turns her attention to describing when Young Violet met Edmund Bridgerton. Queen Charlotte focuses on adding more details by showing Young Violet and her father Lord Ledger before she meets Edmund Bridgerton. Young Violet meeting Lady Danbury as a preteen is also an invention for the miniseries. The novella and the epilogue collection should also be avoided by fans who don't want future plot hints.
Violet's evolving feelings towards grieving Edmund is a mix of the epilogue of Book 3: Romancing Mister Bridgerton, which features Colin's story plus other material from The Bridgertons: Happily Ever After collection. The epilogue features Violet's milestone birthday party which explains the birthday crowns in the miniseries. Readers who are curious about Romancing Mister Bridgerton should be aware that it will likely spoil season 3's potential plot.
In Bridgerton seasons 1 and 2 we see Lady Danbury as one of the most influential members of the Ton and Simon's godmother. The bulk of information on the Danbury family comes from the novel Book 7: It's In His Kiss which is about little Hyacinth when she's 22 and hasn't found a match yet. Lady Danbury expresses some regret for marrying Lord Danbury when he "hadn't two thoughts to bang together in his head." This makes sense with Queen Charlotte portraying Lady Danbury as having very little in common with Lord Danbury during their marriage leading to her finding companionship with Queen Charlotte. There is also some discussion of her children although she describes them in an annoyed fashion. This also explains why her son in Queen Charlotte is more familiar with her nanny than his mother. The reason why Lady Danbury is a factor in It's In His Kiss is also a spoiler for future seasons so readers beware.
For TV-only fans, reading Shonda Rhimes and Julia Qunn's upcoming novelization of Queen Charlotte may end up being more helpful to understanding the current Bridgerton canon than Quinn's earlier novels since the show has revised plot points and added in more BIPOC characters. For fans who need another dose of the Ton before Season 3 and don't mind finding out future plotlines, reading Quinn's novels starting will be a good way to pass the time. Bridgerton viewers are extremely lucky that the television adaptation writers can work closely enough with the novel author to write new stories for the world readers love.
All six episodes of Queen Charlotte: A Bridgerton Story are available to stream on Netflix.