Sponsored
Geek Week Deals: Get a Lifetime Plex Pass
Our partners at Plex TV want to help you get the most out of the geeky media you love with 20% off a Lifetime Plex Pass!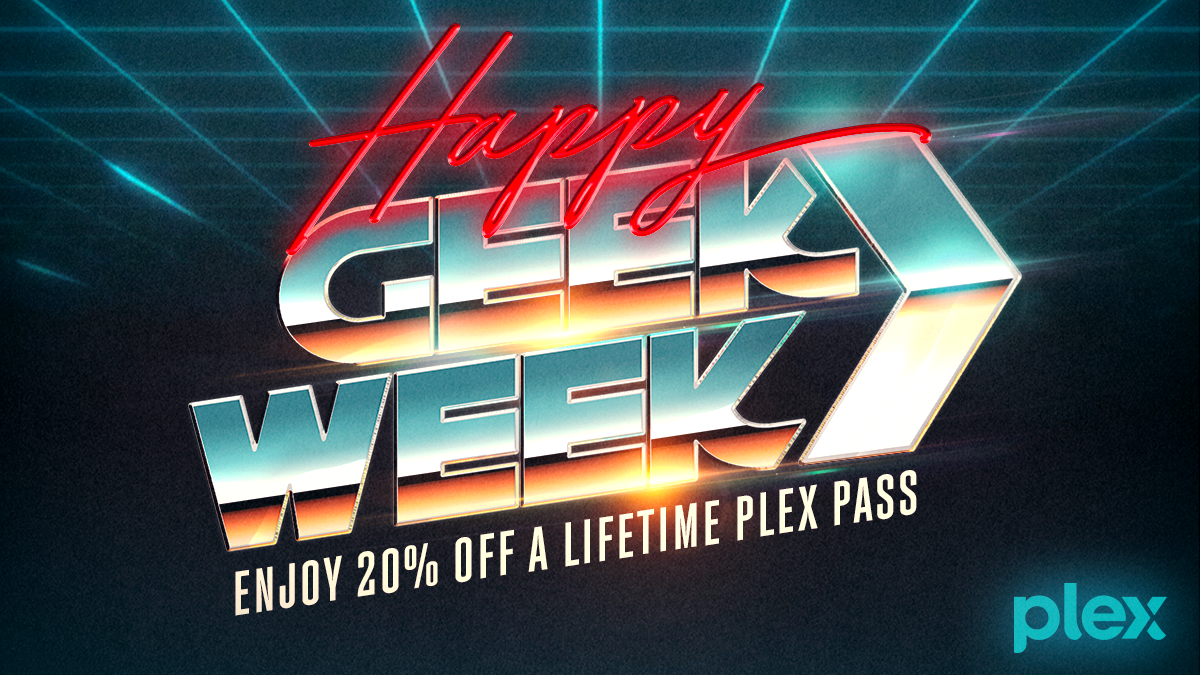 This article is sponsored by Plex TV.
At Den of Geek, it's no secret that we let our geek flag fly like Superman in the heart of a tornado, but for those of you that are secret geeks in the office, salon, or in uniform, allow Geek Pride Day to be the day you share your nerdiest obsessions with everyone in your life. Perhaps wear a Batman tie to work, finally stick that Star Wars Rebels window decal on the back of the minivan, or casually drop some Elvish or Klingon into that company-wide email. Today is the day to embrace your inner geek!
Maybe you want to take your geekiness up another notch? Well, let our friends over at Plex help! Whether you geek out over movies, music, TV or all of the above, Plex wants to help you get the most out of the geeky media you love with 20% off a Lifetime Plex Pass. Plex was created for geeks, by geeks, to give you ultimate control over the media you love. Now that bootleg copy of A New Hope with the original effects has the perfect home server.
For new users and Plex faithful alike, Plex Pass allows you to unlock the full power of Plex. Some of the features include:
Plex Dash – Think of this exclusive app—made by obsessive server geeks for obsessive server geeks—as a dash of admin power on-the-go. Fix up artwork. Refresh libraries. Inspect nerdy media details. Master your mediaverse.

Plexamp – For audiophiles, Plex built this custom members-only music player to set your music free. Not just another pretty app, this is a music geek's dream solution that just keeps getting better and includes access to CarPlay, a sophisticated neural network that analyzes your music library and powers unique new features, offline capabilities, and a plethora of hypnotic music visualizers.

Downloads – Take your favorite media to enjoy anywhere in all its Plexy glory, no connection required. Plus, you'll also get blazing speeds, playback reliability, broad format support (meaning less transcoding), and simultaneous downloading.

And many, many more!
These days, we all have more media gadgets than Batman, and Plex works on all of them! And while all of the audio features are incredible, we know our audience here is interested in the movies and TV side of things, and Plex caters to A/V geeks with the best possible streaming experience, giving access to HDR tone mapping, hardware transcoding, and more.
With this one-time purchase, you'll get access for life to all of Plex's latest features (including the ones that haven't gone public yet). So what are you waiting for? On Geek Pride Day, take your geekiness to the next level with Plex Pass and their Geek Pride Sale. Your media library will be glad you did!