Features
Pieces of Her Cast: Where Have You Seen Them Before?
Netflix drama Pieces of Her is headed up by the amazing Toni Collette but it's packed with talent elsewhere, too.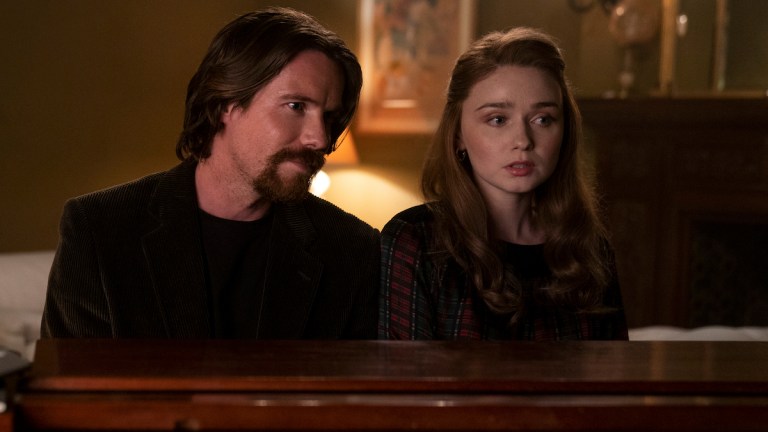 Contains spoilers for Pieces of Her episodes one to four
Netflix's thriller Pieces of Her is based on a novel by the aptly named best selling author Karin Slaughter. Though it's set in America, the whole of the series was shot in Australia with the majority of filming taking place in 2021, and many of the cast are Antipodeans and Brits as well as Americans.
It's a twisty tale of a mother who carries out an act of bravery which suddenly exposes her to a world she had long since left behind, and a daughter who discovers she really doesn't know her mum at all. Pay attention! But in case you're distracted by the niggling sense of 'where do a recognise them from?' we're here to remind you.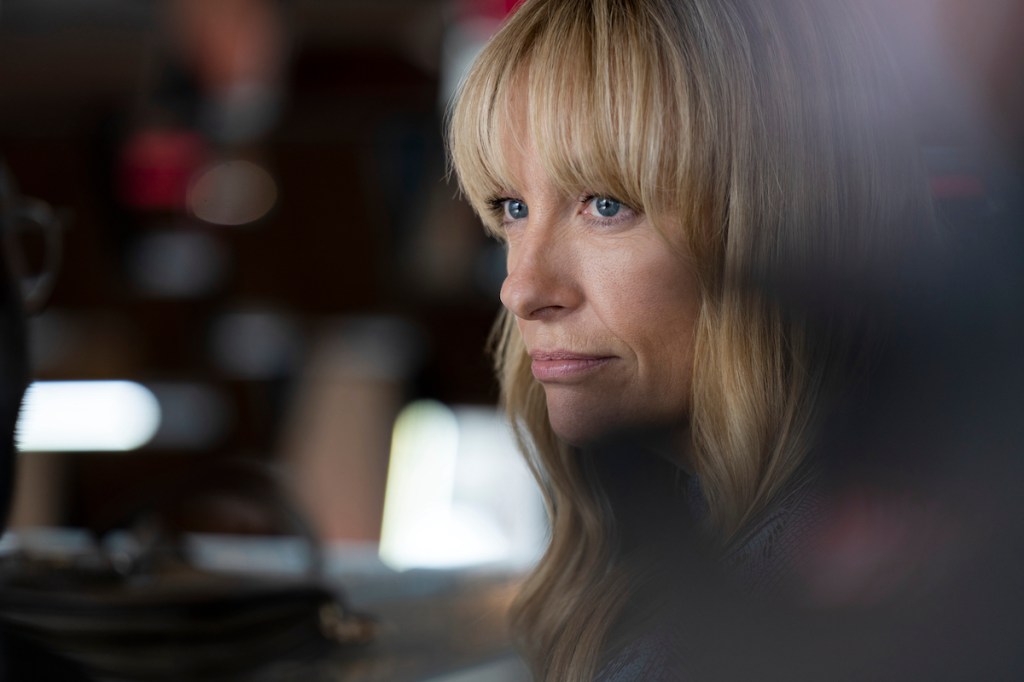 Toni Collette – Laura Oliver/Jane Queller
Ok you probably know who Toni Collette is – a very fine Australian actress and one of the best of her generation. She's been nominated for more awards than you can shake a stick at (without getting a very achy arm) and it's a bit of a travesty that she's only been Oscar nominated once (for The Sixth Sense). She's had an absolutely packed career since her gorgeous breakout as Muriel, in 1994's Muriel's Wedding. Some of the highlights include her heartbreaking turns in The Sixth Sense and About A Boy, more memorable mum roles in Little Miss Sunshine, Fright Night and The Way Way Back, and her frankly extraordinary performance in horror masterpiece Hereditary. Most recently you can find her in Knives Out, I'm Thinking Of Ending Things and Nightmare Alley. She's brilliant.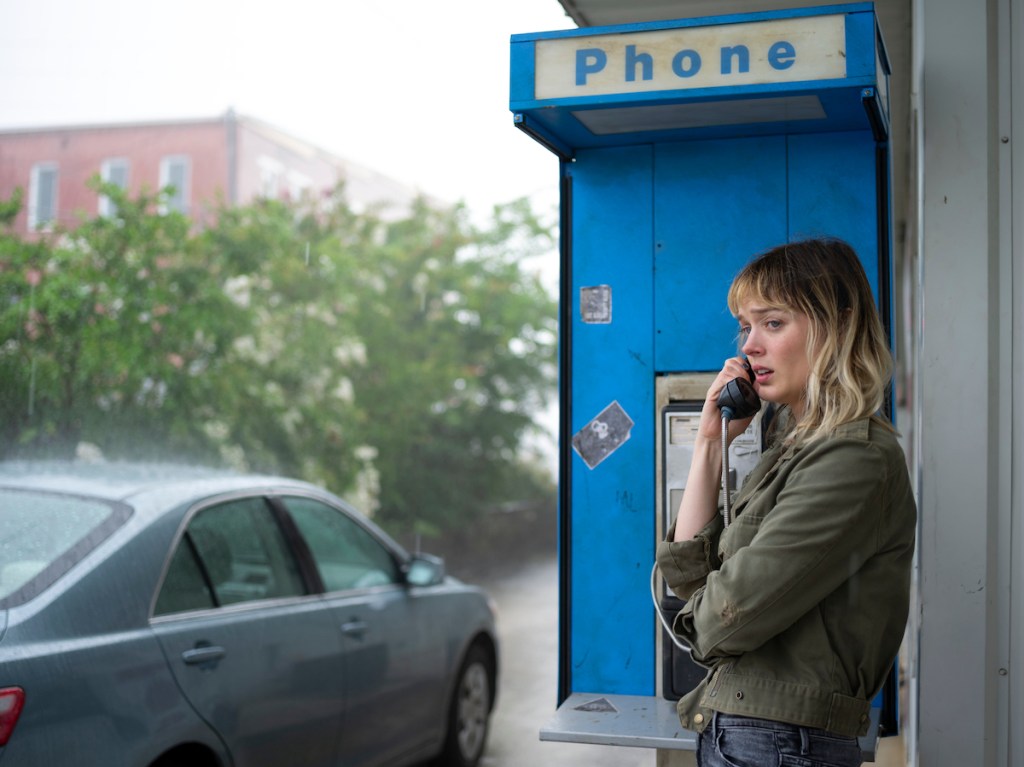 Bella Heathcote – Andy Jefferson/Oliver/Queller
Young Aussie actress Heathcote plays Toni Collette's daughter in Pieces of Her, a plausible piece of casting. Heathcote is a Neighbours alum, though she was only in 10 episodes back in 2009. You might recognize her from her recurring role in The Man in the High Castle, where she played Nicole Dörmer, who Heathcote described as "a bit of a sassy, flirty Nazi". Though she appeared in In Time with Justin Timberlake and Amanda Seyfried in 2011, her breakout was probably as Jane Bennet in Pride and Prejudice and Zombies. Heathcote had a memorably role as a messed up model in The Neon Demon and more recently gained acclaim for her sensitive turn in generational horror Relic.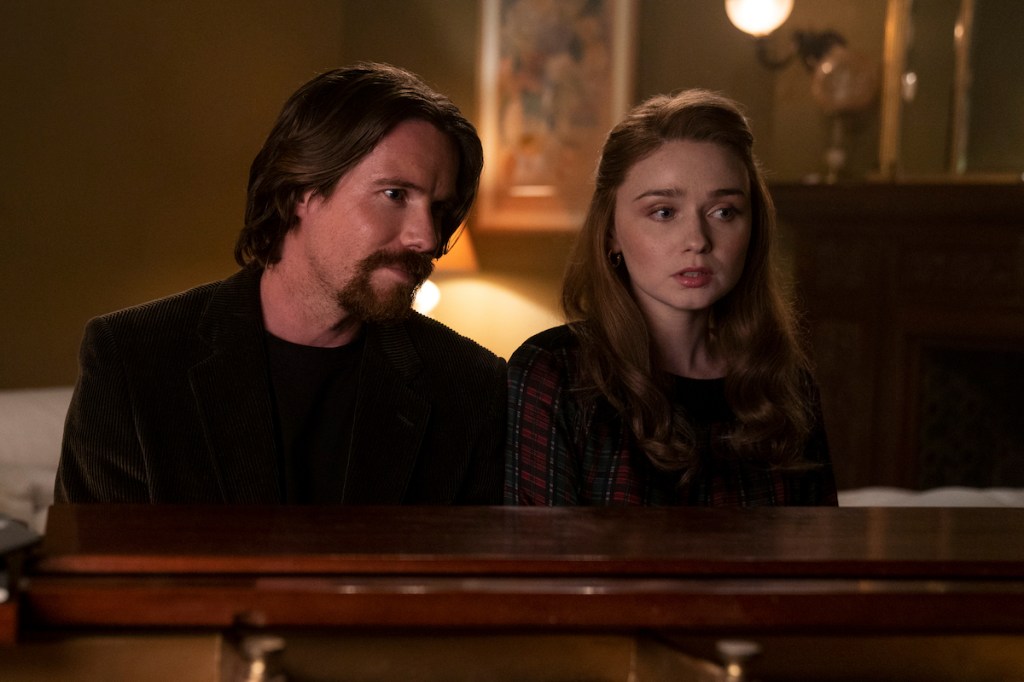 Jessica Barden – young Jane
Though she had a long standing role in UK soap Coronation Street (as Kayleigh Morton) Barden is best known as Alyssa, one of the two stars of Channel 4 series The End Of The F***ing World which had two seasons between 2017 and 2019. Barden is British and in real life has a Yorkshire accent (she was born in Northallerton). Though she does a great job with the US accent in Pieces of Her, the idea that Barden grows up to become Collette is maybe a bit harder to swallow, perhaps because her turn as Alyssa is so distinctive it's hard to shake. You might also have spotted Barden in Penny Dreadful where she plays Justine, and in movies including The Lobster, Mindhorn and low budget horror Habit.
Joe Dempsie – Nick Harp
Nick is the leader of a terrorist group, father of Andy, terroriser of Jane and altogether charming bastard. Dempsie is a British actor who made his breakout as Chris from Skins, a pill-head who meets a sad demise in season 2 of the show. Later, Dempsie appears as Gendry in Game of Thrones, the bastard son of King Robert Baratheon and a skilled blacksmith. He also had significant roles in This is England '86 and '90 as well as The Fades. On the big screen Dempsie appeared in Clio Barnard's Dark River, Monsters: Dark Continent and The Damned United among other films.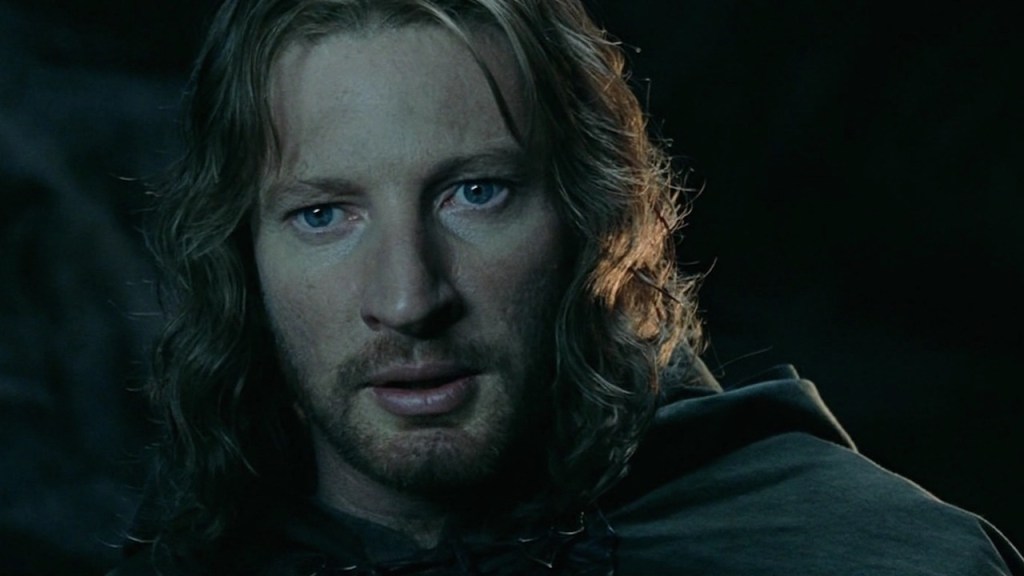 David Wenham – Jasper Queller
That's Faramir (brother of Boromir) from The Lord Of The Rings trilogy. Wenham is another Aussie who also had a stand out role in sweaty Spartan saga 300, and its sequel 300: Rise of an Empire where he played Dilios. Wenham is a versatile performer who pops up in movies including Dark City, Moulin Rouge!, The Boys (with Toni Collette), Van Helsing, Pirates of the Caribbean: Dead Men Tell No Tales and Lion where he played John Brierley, half of the Australian couple who adopted Indian boy Saroo. He's got a solid TV CV, with recurring roles in shows including Iron Fist and Top of the Lake.
Terry O'Quinn – Martin Queller
If you're looking at the corrupt, murdered patriach in Pieces of Her and scratching your head over where you recognise him from, we've got your back. That's John Locke from Lost. Pre-Lost, American actor O'Quinn had regular roles in shows including Alias and The West Wing, and post-Lost he's in the Hawaii Five-O reboot among other things. Horror fans might also recognise O'Quinn as the titular murderer in The Stepfather (1987), while comic book fans might have spotted him playing Howard Hughes in The Rocketeer (1991).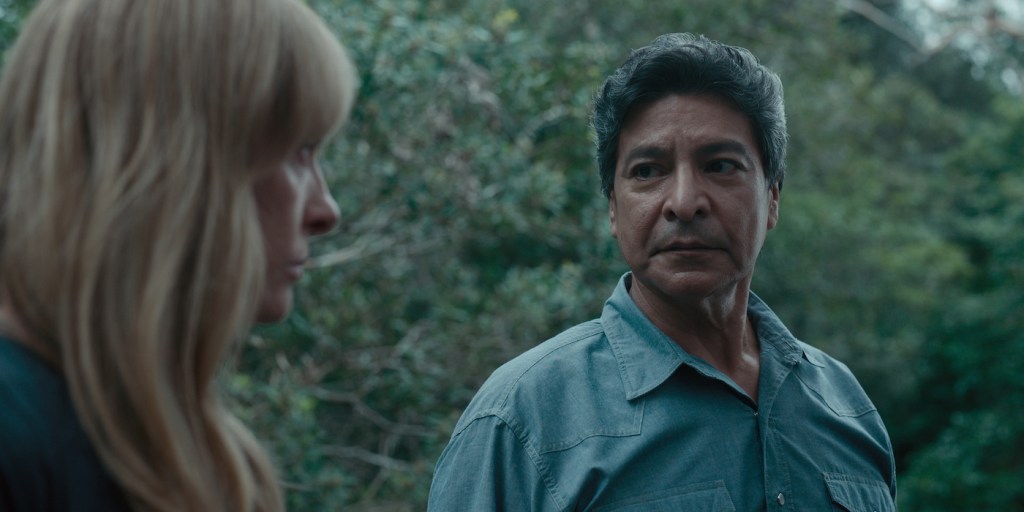 Gil Birmingham – Charlie Bass
Andy's friend and father figure, who turns out to be an agent supervising her and her mother's witness protection, is played by American actor of Comanche descent Gil Birmingham. He's likely to be most familiar for his role in the Twilight Saga where he plays Billy Black, father of Taylor Lautner's Jacob Black, Bella's other love interest. Birmingham is also an ongoing regular on Yellowstone, where he plays Thomas Rainwater. In fact, Birmingham pops up in lots of popular shows from Buffy The Vampire Slayer to Veronica Mars, House of Cards to Unbreakable Kimmy Schmidt. Movie-wise, you might also have spotted him in The Lone Ranger, Hell or High Water and Wind River. His next film, The Marsh King's Daughter, where he stars opposite Daisy Ridley and Ben Mendelsohn, is currently in post-production.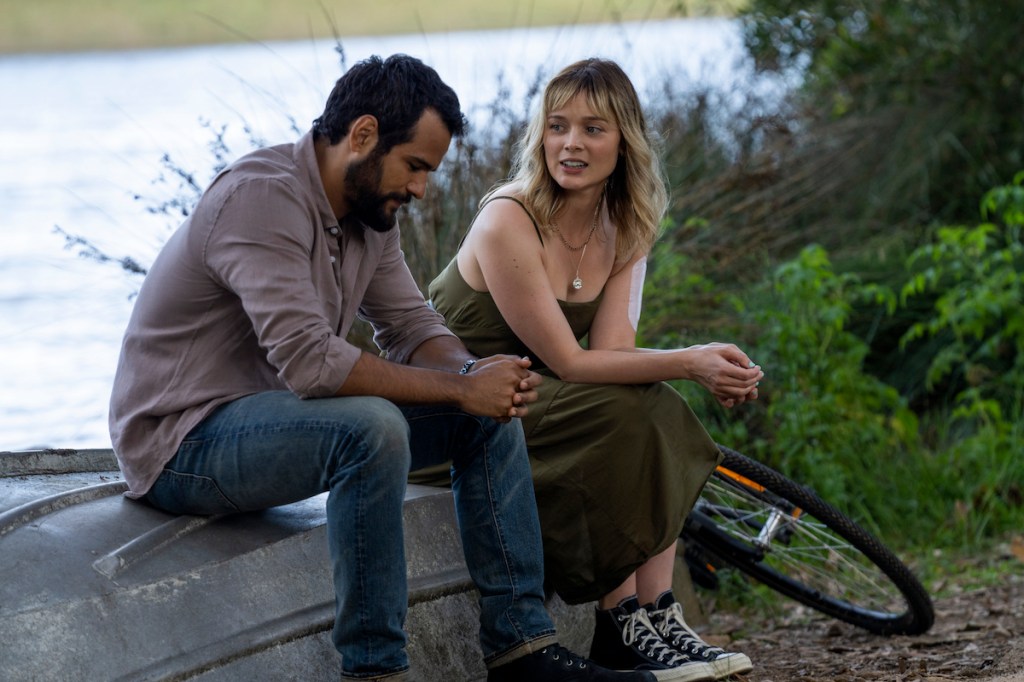 Jacob Scipio – Michael Vargas
The mysterious cop who is tailing (and later helping) Andy is played by London-born actor Vargas. Vargas recently had a role in Bad Boys For Life and prior to that can be seen in Hunter Killer opposite Gerard Butler and Gary Oldman, and The Outpost with Orlando Bloom and Scott Eastwood. In TV land Scipio appeared in Brit shows include Damned and Some Girls, and has a long standing role as the voice of Leo in Bob The Builder. His star is on the rise. Next up you'll see him opposite Nicolas Cage in The Unbearable Weight of Massive Talent, in Expendables 4 and in Batgirl, the movie.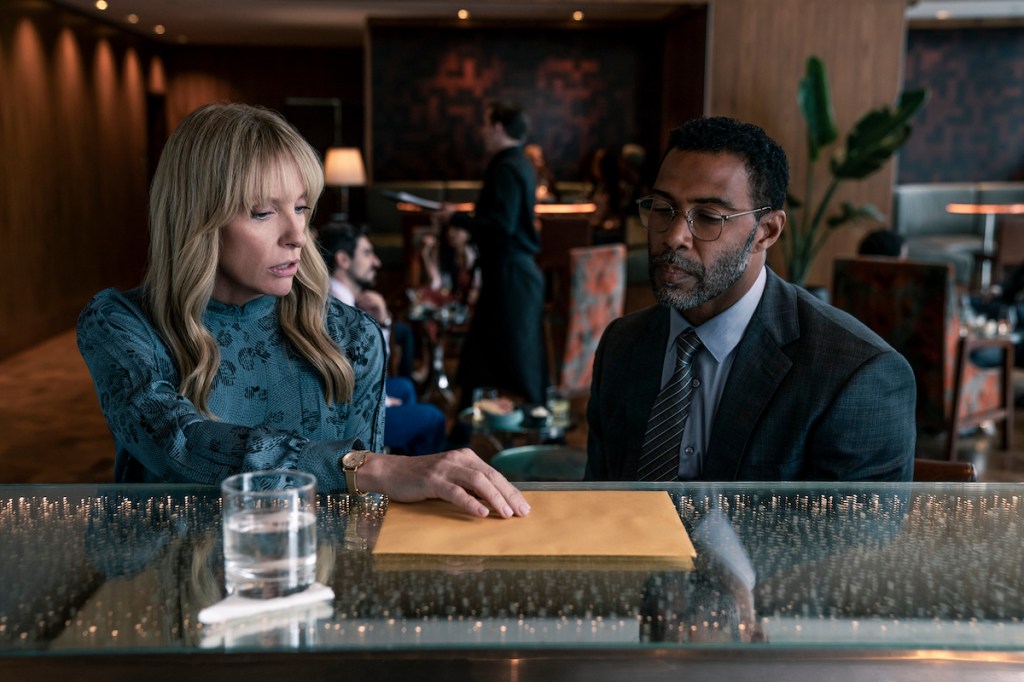 Omari Hardwick – Gordon Oliver
Laura Oliver (aka Jane Queller) marries lovely Gordon while she's in the witness protection scheme, so he knows very little about her old life. American actor Hardwick made his break in 2004 in Spike Lee's TV movie Sucker Free City. Since then he's been a regular in TV series Dark Blue, but is probably best known on the small screen for playing James 'Ghost' St. Patrick in Power. Hardwick has an armful of movie credits, too from Gridiron Gang with Dwayne Johnson, Kick-Ass, The A-Team, Sorry to Bother You and most recently Army of the Dead. He currently has three movies in post-production, including The Mother, directed by Mulan's Niki Caro and starring Jennifer Lopez.
Pieces of Her is now available to stream on Netflix.