News
Pedro Pascal Eyed to Play a Nicolas Cage Superfan Opposite Cage Himself
The Unbearable Weight of Massive Talent, a meta-minded movie, is eyeing Pedro Pascal to star as a shady Nicolas Cage superfan.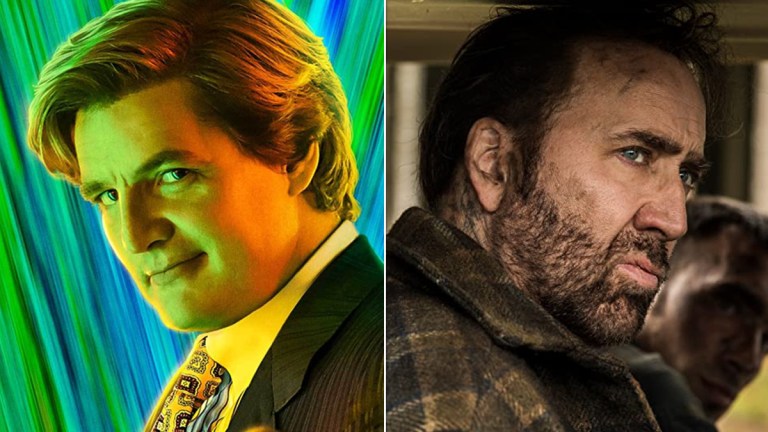 Nicolas Cage's current status as a crazed-eyed paycheck-hunting star of contemporary schlock cinema seems to have reached the new evolutionary stage of conjuring meta-minded movie mirth with The Unbearable Weight of Massive Talent. With Cage set to portray himself, it appears that the film has honed in on a momentum-riding co-star in Pedro Pascal.
Lionsgate is in talks with Pascal to co-star opposite Cage in the film, reports The Wrap. Should the deal be finalized, Pascal will play Javi, a character described as "a Nic Cage superfan who is not all that he appears to be." The co-starring duo will be in front of the camera for director Tom Gormicon, who is known as the co-creator—alongside Kevin Etten—of Fox's single-season 2017-2018 supernatural comedy, Ghosted, and a lone feature credit in 2014 ensemble comedy That Awkward Moment, which starred Michael B. Jordan, Miles Teller, Zac Efron, Mackenzie Davis and Imogen Poots. Gormicon will work off a screenplay he co-wrote with Etten, joined by producers Kevin Turen, Kristin Burr and Mike Nilon.
The plot of The Unbearable Weight of Massive Talent will focus on Nicolas Cage (the actor,) in his deepest, most-challenging role yet: As Nicolas Cage (the character based on the actor), depicted here—in a purportedly fictionalized form that's nevertheless close to home—as a former Oscar-winning actor who's been left creatively unfulfilled and in financial ruin. However, when a $1 million offer is extended to the star to simply attend the birthday party of a superfan (Pascal's would-be role), things apparently take a dangerous turn as Cage is "forced to live up to his own legend, channeling his most iconic and beloved on-screen characters in order to save himself and his loved ones."
Of course, The Unbearable Weight of Massive Talent is yet another intriguing project prospectively hitting the backlog of Pedro Pascal, who's been riding a wave of momentum in recent years. He is notably fielding the starring role (even if he's wearing a helmet 99.9% of the time,) in one of the biggest streaming television hits out there as a the stoic bounty hunter handler of a certain Baby Yoda in Disney+'s imminently-returning Star Wars-Universe-set The Mandalorian. He is also playing one of the main antagonists in the currently-October-scheduled DC sequel, Wonder Woman 1984, as Maxwell Lord, embodying 1980s opulence, joined in the film's rogues gallery by Kristen Wiig's Cheetah. Pascal, who had been fielding sporadic television stints since the mid-1990s, saw several prominent doors open after his role on Game of Thrones as the enigmatic prince, Oberyn Martell, who became iconic in his own right for a sophisticated, yet hedonistic lifestyle, and even more so for the mind-blowing end to said character's arc.
Cage, like his similarly-named character counterpart here, continues to go full throttle on an array of payday pictures. Indeed, the 1996 Leaving Las Vegas Best Actor Oscar winner most recently appeared in this past January's action thriller, Grand Isle, after appearing in five films in 2019, with people still talking about the onscreen onslaught of violent absurdity that was 2018's Mandy, which—among other recent Cage films—can be seen on horror-centric streaming service Shudder. However, mainstream projects haven't completely eluded Cage, seeing as he recently provided the voice of Spider-Man Noir in animated hit Spider-Man: Into the Spider-Verse, which even put him back in Oscar-adjacent territory from the film's 2019 win for "Best Animated Feature Film." Plus, besides persistent rumblings of a National Treasure threequel, a notable entry on his backlog is the starring role in an untitled biopic about Joe Exotic, the controversial center of hit Netflix docuseries Tiger King.
The Unbearable Weight of Massive Talent is reportedly expected to begin production sometime in the fall.