News
Picard Actor Addresses Captain Shaw's Star Trek Future
Will Star Trek: Picard breakout character Captain Liam Shaw get his own series? Todd Stashwick weighs in online!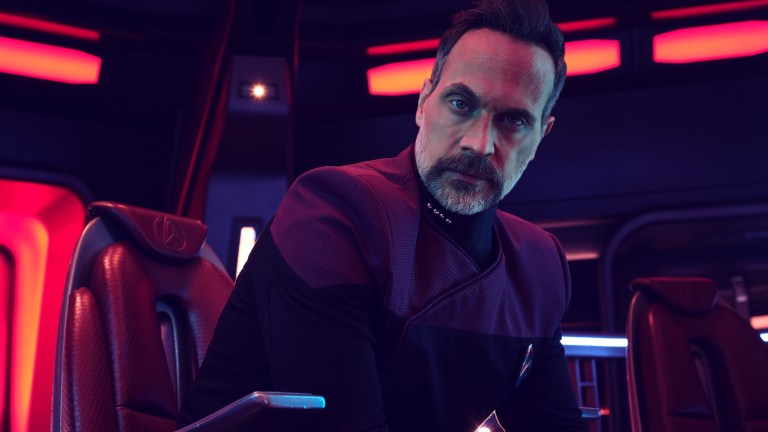 Star Trek hasn't always been great about introducing new characters in legacy stories. Sure, Lieutenant Saavik was pretty great, at least in her first incarnation, but no one wanted to see more of David or William Dekker (bullet dodged on that last one). But like an odd-numbered Trek movie that everyone loves, Star Trek: Picard's Captain Liam Shaw has broken the mold. The cantankerous Captain of the USS Titan has whistled his way into our hearts, with his jazz-hating, protocol-loving, Picard-down-putting ways.
So even as members of the Picard creative team play will they/won't they with the possibility of continuing the show beyond its planned third and final season, fans have been calling for a USS Titan series featuring Shaw at the helm. The idea of seeing the prim and proper Shaw complain his way through more Star Trek-style adventures is just too good to resist, especially if he can bring along his already-impressive bridge crew, including Ashlei Sharpe Chestnut as Ensign Sidney La Forge and Stephanie Czajkowski as Deltan/Vulcan Luietenant T'Veen.
Of course, fan requests can only go so far, which is why we never got Glenn Danzig as Wolverine, despite the demands of Wizard Magazine readers in the 1990s. But fans got a little bit of support in the form of Captain Shaw himself, in the form of his actor Todd Stashwick. On Twitter, Stashwick posted a screenshot from his most recent episode, featuring Shaw on the bridge of the Titan, alongside Picard and Riker.
In the replies, a user asks if Stashwick will be getting his own Trek series, to which the actor responded in a truly Shaw-like manner, downplaying hype and emphasizing process. "There is nothing in the works right now. Truly," he wrote. "Those decisions are way above my head and they haven't told me if they plan to."
But when users asked if he would be willing to play Shaw on a series, should one happen, Stashwick had an exuberant, if un-Shaw-like manner.
Again, people can say anything on the internet, and there's no surprise that an actor would be interested in a starring role on a popular TV series. But a little more hope came in a different Twitter thread. When another user proposed that fans use this coming First Contact Day (April 5, the day that Vulcans made first contact on Earth) to call for a USS Titan series, they got support from a surprising source. Terry Matalas, showrunner for Star Trek: Picard and the guy who brought Stashwick over to the Trek universe after working with him on 12 Monkeys, responded with "This is a terrific idea!".
There's a lot that needs to happen before a showrunner can make this happen, especially when the state of Paramount+ is in flux. And maybe Shaw will eventually go the way of Captain Jellico, winning our respect by bullying Riker for a bit, and then disappearing (until he gets an animated cameo decades later). But if any new character can get it done, it's Captain Shaw.