Features
Peaky Blinders: The Real Historical Inspiration For Gina's Uncle Jack
Anya Taylor Joy's Peaky Blinders character Gina is part of the powerful fictional Nelson family inspired by a real American dynasty.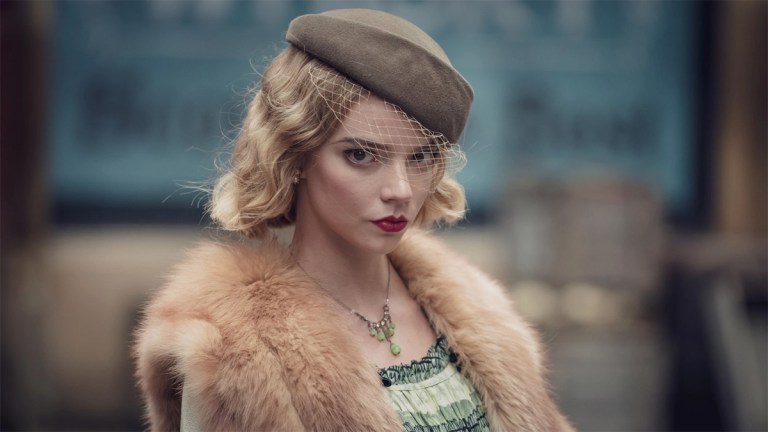 Warning: contains spoilers for Peaky Blinders Series 6 Episode 1 'Black Day'.
Who is Gina Gray? Ever since Anya Taylor-Joy's character slunk into the Garrison Tavern, all fox fur coat and Betty Boop eyes, Peaky Blinders viewers have been asking that question. Michael Gray's new American wife dropped like a bomb into series five. Her every appearance sparked fan theories: her pregnancy was a lie, she was Mosley's co-conspirator, she was an assassin sent by a rival gang out for Tommy's blood… When Michael boasted of Gina's family connections in the illegal supply trade during his attempted coup, we pegged her as a gangster.
"Like everything else in this city, it's in the hand of your Uncle Jack"
After the series six opener, it's clear that 'gangster' is an oversimplification. Gina's family is connected, but not just in the criminal world. The so-far unseen head of Gina's family is her uncle, Jack Nelson. Like Tommy Shelby, Uncle Jack is a fictional wealthy businessman and politician who rose from criminality to the corridors of power and the pages of society magazines. Irish-American Jack runs the city of Boston, and everything runs through him – soon, hopes Tommy, including Shelby opium shipments.
At the end of episode one, set in December 1933, we learn that Uncle Jack is soon to board a steamer ship to the UK, where he plans to buy the import licenses to "all the best Scotch and Irish whiskey distilleries." Tommy tells Michael that Jack is travelling with four people: his wife, his mistress, President Franklin D. Roosevelt's son, and Michael's wife Gina.
"Every drop in every state will be another dime for Uncle Jack"
It doesn't take much flicking through the history books to find a real figure who took advantage of the end of prohibition by purchasing the rights to import British liquor brands to the United States. The same man who, in September 1933, sailed to England in the company of his wife, his mistress, and the son of the US president. That man was Joseph P. Kennedy Sr. (1888 – 1969). Joe Kennedy Sr. was a Boston-born businessman, politician, and the father to nine children including future president JFK, and U.S. Senator Bobby Kennedy.
Speaking to Peaky Blinders creator Steven Knight ahead of the season six launch, Den of Geek sought confirmation that Joseph Kennedy Sr. was the inspiration for Uncle Jack. To the question, "Gina's a Kennedy then?", Knight first answers "Yes," and then laughs "No! I mean, I'm not giving that away so soon. As ever with Peaky [Blinders], you look at history and you take real facts and fictionalise them. There is a resonance with Boston, with senior politicians…"
"And with whiskey import licenses and 1933 trips to London with Roosevelt's son," Den of Geek continues. "You've done your research," laughs Knight, confirming that we're not on the wrong track looking at the Kennedy dynasty as a historical inspiration for the fictional Nelson family.
"The madness and chaos of reality"
"The best you can do as a writer is to take what really happened, which is always beyond anything you would dare invent, and then use that. And what really happened in the 1930s with these powerful people, is something that, as a writer of fiction, you wouldn't dare to create because it's so insane. So it's trying to take some of that madness and chaos of reality and put it into the story."
Part of that madness and chaos involves the real-life connections between the various historical players dramatised in Peaky Blinders. Kennedy's 1933 trip to the UK reportedly involved business dealings with Sir Winston Churchill, an associate of Tommy Shelby since series one. During Joseph Kennedy Sr.'s time as American ambassador to the UK between 1938 and 1940, the family lived at the London ambassadorial address at Princes Gate, very close to the London residence of Lord Redesdale's family – the Mitfords. Series six newcomer Amber Anderson will play Lady Diana Mitford, who in 1936 married fascist politician Oswald Mosley, the major antagonist of series five. Kennedy Sr. was an appeaser, an isolationist and an anti-Semite who saw fascism as an inevitability. When Den of Geek brings up this network to Steven Knight, he nods at the suggestion that he's setting up connections between all these characters for later down the line, "Absolutely."
Exposing the often violent, often criminal roots of modern wealth has been a spoke of Peaky Blinders ever since Tommy Shelby, the head of a razor gang, moved into the kind of country pile that would be open these days for English Heritage tours and cream teas. The point was neatly, if not subtly, made in season four, when in the very same episode that Thomas Shelby MP was awarded an OBE, he also ended up splattered in the blood of a man he'd murdered with a meat hook. Fictionalising the patriarch of one of America's most famous dynasties to dig down into the roots of privilege is all part of the mission.
Peaky Blinders series six continues on BBC One and BBC iPlayer on Sunday March 6th at 9pm.