Features
Peaky Blinders Season 6 Guide: Ruby's Gypsy Words, Real History & Easter Eggs
Here are the filming locations, soundtrack details and behind-the-scenes info for Peaky Blinders season six. Spoilers.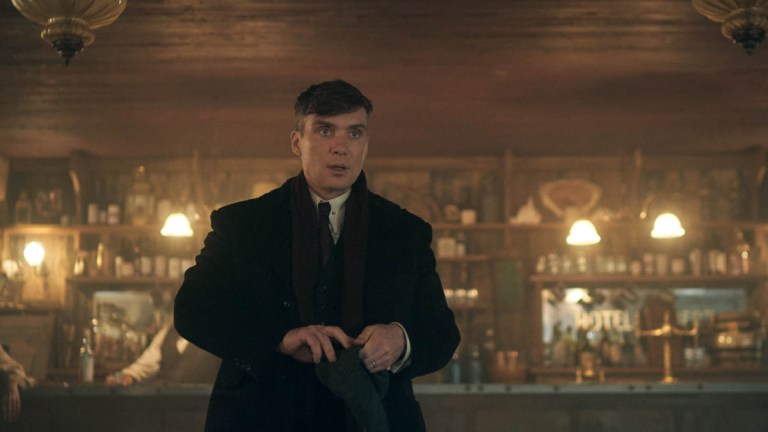 Warning: contains spoilers for Peaky Blinders series 6 episode 1 'Black Day'.
An intricately crafted drama that rewards digging through the details (as our exploration of the hidden messages in the season five sets shows), here's our weekly accompaniment to every Peaky Blinders season six episode, including references, locations, real history and more. Read our spoiler-filled episode one review here.
EPISODE ONE: BLACK DAY
Charlie Chaplin, William Blake, and The Shining
– The Romani gypsy words spoken by Ruby in her fevered state appear to be "Tikno mora o beng o beng". In this English/Romani dictionary, 'tikno' means child or small, 'mora' or 'maura' means to slay or kill, and 'o beng' means 'the devil'. Tommy takes those words extremely seriously and instructs Lizzie to keep Ruby away from horses and water, and to have Johnny Dogs' eldest wife Esmeralda put a Black Madonna pendant around Ruby's neck for protection from curses.
– When Lizzie tells the children that the projector they're failing to watch was a gift sent by "Charlie fucking Chaplin all the way from Hollywood", it calls back to season two episode five, when Tommy takes Grace to meet Chaplin, who was reportedly born at Birmingham's Black Patch Park, a Romani gypsy encampment.
– The poem Tommy recites in his meeting with Michael's men is William Blake's 'A Poison Tree'. Writer Steven Knight told Den of Geek "I just wanted something that expressed the vengeance, if you like, with Michael, or the lack of vengeance, and that poem just sprang out. There are many William Blake poems that would have been right, but that's the best one."
– When Tommy calls in the tip about Michael's opium-filled briefcase, he says his name is "Mr Jones". That's the name of the season five finale, and the false identity that Michael proposed Tommy register to hide behind as non-executive chairman of Shelby Company Ltd. It's also a lyric from Bob Dylan's 'Ballad of a Thin Man', covered by Richard Hawley for the series five finale.
– It could be coincidence, but the room key seen on the table in Tommy's Boston hotel is for Room 237, famously the number of The Overlook Hotel's haunted room where Danny is almost strangled and Jack sees the beautiful Lorraine Massey become old and withered in the film adaptation of Stephen King's The Shining.
– Among the Portsoy buildings dressed as Miquelon harbour, you'll see a wall painted with 'Entreprise Antoine Négoce de Poissons', a fish trader likely named as a nod to series five and six director Anthony Byrne, in the same way that the season five finale featured an 'A. Byrne Grocer' shop front outside Bingley Hall.
Real History
– Why did the IRA need Oswald Mosley alive? Presumably because of their shared nationalist views. Oswald Mosley was a parliamentary critic of Lloyd George's use of the violent Black and Tan police in 1920s Ireland, and resigned from the Conservative Party in part over the matter. He's cited in The Dublin Review as "a famous friend of Irish nationalism" and later settled in County Galway.
– December 5th 1933 was the date that prohibition ended in the US, a 'black day' for the islands of Miquelon and Saint Pierre. Steven Knight told Den of Geek "What I normally do is look at a date or look at the [time] jump and see what year we're in and then try not to go where it would be expected to go. It so happened that around that date, prohibition ended, and so I wanted to be in the place where the end of prohibition was the worst news possible, and that was Miquelon and Saint Pierre, the two islands that basically made a fortune out of prohibition."
– We learn that Anya Taylor-Joy's character Gina Gray is part of an influential American family led by her uncle Jack Nelson, a fictional character inspired in part by real-life Boston businessman, politician and patriarch, Joseph P. Kennedy Sr., a father of nine children including assassinated US president John F. Kennedy and US senator Bobby Kennedy. Read more about the historical inspiration for Uncle Jack here.
Soundtrack: Joy Division, Johnny Cash and Anna Calvi
We first hear the repeated breathy motif from Anna Calvi's 'You're Not God', the theme composed and performed by Calvi for series five, and then a new Calvi song including the lyrics "I'm going to take it all, I'm going to take it all" when Ada goes to the Chinese opium den to warn them off selling to Arthur in future.
When Gina walks up to Michael's prison cell, we hear Joy Division's 'Disorder'. When Tommy visits Michael in prison in the closing scene, it's Anna Calvi's cover of Johnny Cash's 'Ain't No Grave'.
Filming locations: Miquelon, Norfolk Prison, Chinatown
Tommy's house – Arley Hall & Gardens, Arley, Cheshire
The episode begins in the gardens of Tommy's mansion (extorted in series three from a member of the landed gentry deep in gambling debt to the Peaky Blinders), filmed at Arley Hall in Arley, Cheshire. It's a Grade II listed stately home which was built in the first half of the 19th century and is currently home to Viscount Ashbrook and his family. You can visit here. The later scenes of Lizzie, Ada, Arthur and the children were also largley filmed in Arley Hall's wood-panelled interiors.
Miquelon Island – Portsoy Harbour, Scotland
Tommy's meeting with Michael and his Boston associates takes him to Miquelon Island, at that time a French colonial outpost located just off the coast of Newfoundland on Canada's eastern coast. (A fitting location as the name Miquelon is thought to have derived from 'Michael' in the Basque language.) During US prohibition, being outside of Canadian and US jurisdiction, the archipelago of Miquelon and St Pierre became hubs for the distribution of imported alcohol to American cities.
The French harbour scenes were filmed in Portsoy, Scotland. The port village on the Moray Forth has a 17th century harbour and filming took place there in February 2021.
The Shore Inn in Portsoy was also transformed into the Hotel Lalanne, the name of a real historical hotel located on the neighbouring island of Saint Pierre. Buildings were lined with wooden cladding and period signs were painted. Other Portsoy locations were dressed as warehouses, the police station, and Hotel Robert, the pigeon-infested site of Tommy and Michael's meeting.
Chinatown – Castlefield, Manchester
The Chinatown Café Han Chang opium den where Ada finds Arthur was a custom-built set in Castlefield, Manchester.
Norfolk Prison Yard – Portsoy, Scotland
Portsoy Harbour in Scotland also provided the location for Norfolk Prison in Boston, USA where Michael met Tommy in the episode's closing scene.
Peaky Blinders continues next Sunday on BBC One at 9pm.