Features
Outlander: Who Did Roger Catch Outside Lallybroch?
Roger finally catches the Lallybroch lurker in the latest episode of Outlander season 7. They don't look familiar, but we have met the character before!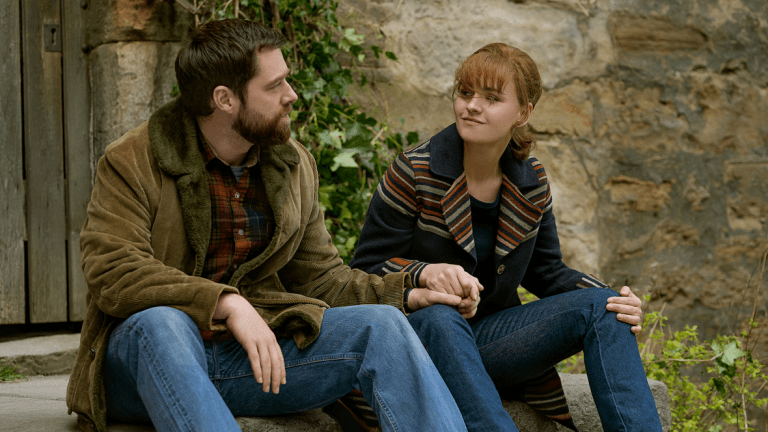 This article contains spoilers
There's been an intriguing mystery going on in the background of Outlander recently, and although the sixth episode of the seventh season, "Where the Waters Meet", finally solves that mystery, it's still not particularly clear who and what the show actually reveals in the final moments of the episode, for a number of reasons. If you've found yourself confused by it all, dinna fash, we're here to help fill you in!
After Bree (Sophie Skelton) and Roger MacKenzie (Richard Rankin) time-travel back to the 1980s to make sure their daughter Mandy has a shot at survival, they make the familiar Lallybroch their home while they continue raising Jem and Mandy in Scotland. They leave Jamie (Sam Heughan) and Claire Fraser (Caitriona Balfe) in the past, but read preserved letters that detail the couples' life, movement, and troubles as the American Revolutionary War gets underway.
Roger and Bree have money problems while they're fixing up the run-down Lallybroch estate, and there's some brief talk about finding the gold hidden by Jamie in the past, as Jem knows where it is stashed, but eventually Bree gets an engineering job while Roger spends more time at home with Jem and Mandy. Roger gets annoyed with the kids when he thinks they have been naughty, but Jem and Mandy say they're blameless when questioned, with Mandy blaming fairies for the incidents. Roger brushes aside the excuses as nonsense.
Later, when he is having a heart-to-heart with Jem outside Lallybroch after he gets in trouble at school for cursing at a teacher, he notices various pieces of litter on the ground near the graveyard where Jem likes to go and "talk" to Jamie's spirit. He begins to admonish Jem for the litter, but Jem once again says he's not to blame for the latest strange incident, and Roger finally begins to suspect there's something odd going on at Lallybroch. This leads to a terrifying moment at night where the kids say they've seen someone outside the house, and Roger goes out into the darkness to investigate. He finds nothing of note, and goes back inside.
It's not long before Roger spots the person who has been lurking around Lallybroch through the kitchen window, and he manages to catch the man outside. He's dirty, and dressed in old-timey clothes. Roger recognizes him, but we don't! That's because, even though we've met this character before, he was played by a different actor.
Back in Outlander season five, you may remember that Roger was wrongfully hanged after the Battle of Alamance. Recovering from the hanging was a traumatic period for Roger, and he experienced PTSD for some time. The man in charge of the hanging was William Buccleigh, Roger's own distant Scottish ancestor. It was a memorable scene, as William was played by none other than Graham McTavish, who had previously starred in early seasons of the show as Jamie's uncle and clan chieftain, Dougal MacKenzie, and later led the docuseries Men in Kilts: A Roadtrip with Sam and Graham, along with Outlander co-star Sam Heughan.
At the time, it made sense that William and Dougal would have an uncanny resemblance, as you may remember that William is the illegitimate son of Dougal and the villainous Geillis Duncan! But McTavish only played William just the once in season five as more of a fun Easter egg, so in season seven, the role has been recast with a new actor, Diarmaid Murtagh, and that is the version of the character we see being caught by Roger outside Lallybroch at the end of the most recent episode of the series.
You might imagine that you won't get to see McTavish return in season seven now that the role of William Buccleigh has been recast, but you'd be wrong! Both McTavish and Lotte Verbeek reprise their roles as Dougal and Geilles this season, in what we suspect will be flashbacks of William's life before he ended up in the 80s by going through the stones.
You can read more about what might happen next, if Outlander follows Diana Gabaldon's original story contained in the book "An Echo in the Bone", right here, but we must warn you that there are heavy spoilers afoot!