Reviews
Only Murders in the Building Season 2 Episode 7 Review: Flipping the Pieces
Only Murders in the Building season 2 hones in on Mabel's past with a Selena Gomez showcase.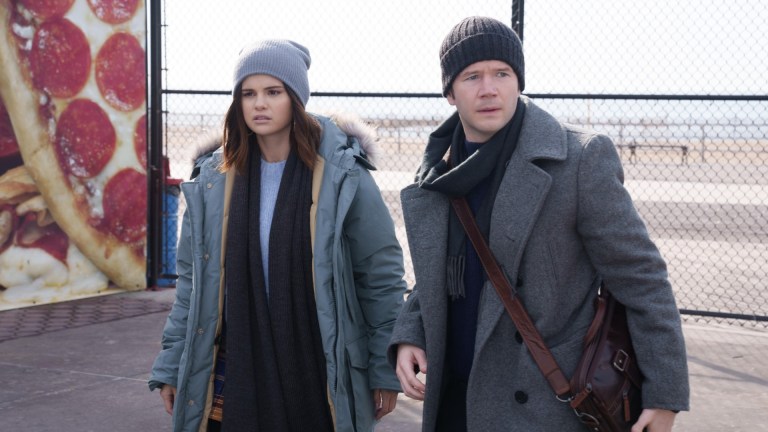 This Only Murders in the Building review contains spoilers.
Only Murders in the Building Season 2 Episode 7
While Charles and Oliver (Steve Martin and Martin Short) bring legendary comedic chops to Only Murders in the Building, it's Mabel Mora (Selena Gomez) who casts an ominous and mysterious spell over the audience. For nearly two seasons she's been at the center of two murder investigations, perhaps because she has ties to a lot of morally ambiguous people. Her past has been largely left up to interpretation until now, but this week we finally get to take a peek at some of the trauma that haunts the show's female lead.
It figures we would get a "Mabel episode" after what happened at the end of the previous one. Mabel stabs the glitter-covered man who may or may not be Bunny's killer on a subway with a knitting needle, an event that comes even to the shock of her podcasting cohort. We need to know why Mabel is being put in these dark and foreboding situations, and when you uncover the veil on her life, we find that even she doesn't understand all of what happens to her.
The journey to some answers starts in the apartment of Theo Dimas (James Caverly), who has featured minimally so far this season but figures to become more of a factor down the stretch. Theo was on the train at the same time as Mabel, and he takes her to his residence after she goes into shock following the events that went down on public transit.
Mabel is reluctant to associate with Theo considering his past actions with Zoe in the first season, but he's able to give Mabel some information that is invaluable to the group. He offers to help her track down the glitter-garbed man at a local amusement park, and Mabel, desperate for any clue to clear her name, accepts his help. She also needs to convince herself that she's not a serial-stabber, as she doesn't even remember committing the act on Bunny or the victim on the train.
The pacing of the mystery-solving for the rest of the half-hour is perfectly balanced between what's happening in the present and flashbacks to Mabel's childhood, specifically interactions she had with her father when she was seven. The audience and Mabel put the pieces together to see that her dad slowly stops spending time with her because he is dying of cancer. It's such a painful memory for her that she tries to block it out and not share it with anyone, but Theo is able to gain her trust and help unlock these traumatic events for the audience.
In the process of healing, Mabel finally sees that she blocks out events she finds especially hard to process. This is why she has been unable to explain the morbid happenings that orbit around her this season. Once she accepts the reality of these situations, she is absolutely sure she didn't kill Bunny. This revelation still doesn't explain completely why she stabbed the man on the train, but it does decode her apparent fugue-states she warps into.
This is one of the first episodes in the series where Charles and Oliver are pretty unimportant to the plot. They stay at Charles' apartment trying to get into contact with Mabel, and Detective Williams visits for some answers about Bunny in the meantime. The conversation leads to some classic Charles and Oliver hijinks, and Oliver gets to help Detective Williams calm down her baby; he was just a little gassy.
It's a little disappointing that we still don't know the results of the DNA test that is supposed to reveal whether Will is Oliver's actual son. This cliffhanger a couple of weeks back figures to still factor into the overarching plot of the season I would think.
The episode concludes with a nice moment between Mabel and Theo where she thanks him for his help during the day, and she heads into a diner to reconvene with Charles and Oliver. Theo gets a phone call from his dad right after, and it feels a little like Mabel might be part of a bigger plan concocted by the Dimases.
The episode ends with Mabel revealing that she found a picture of Charles and Lucy in the glitterman's bag at the amusement park, piquing our interest for how Lucy will be involved again as we close the season.
This was an episode that really needed to happen to give Mabel the screen time she deserved, and Selena Gomez hit all the right notes.