Reviews
Only Murders in the Building Season 2 Episode 5 Review: The Tell
Only Murders in the Building uncovers a new suspect and another decades-long secret as season 2 hits a midpoint.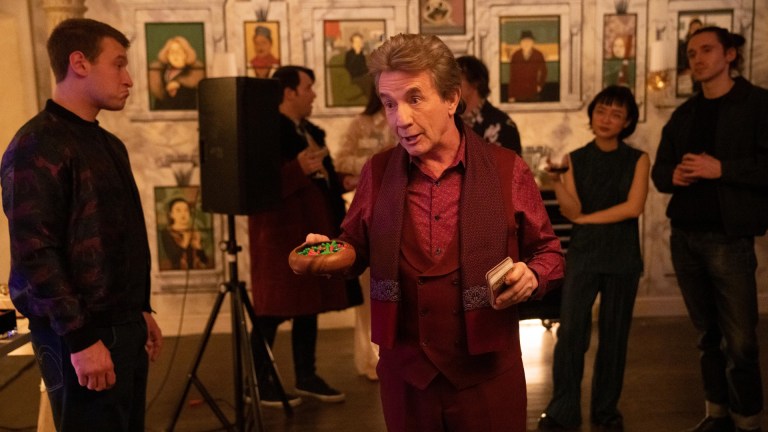 This Only Murders in the Building review contains spoilers.
Only Murders in the Building Season 2 Episode 5
There's a lot of thought put into where certain scenes are placed in an episode of modern TV. The pre-credits scene and the final scene are often used to tie the whole thing together, where just enough intrigue from the cold open makes us stick around until the end where the big reveal about a character happens.
Only Murders in the Building masterfully executes this plotting format by showing how Oliver has always been one to figure out people's secrets. He knows when people have a "tell", or a demonstrative way of accidentally revealing their lies to people around them. This can range from rubbing your hands through your hair to having your socks on in bed when you always sleep barefoot. This last example is his young son, Will's (Ryan Broussard) tell. In the flashback, Will is spying on his dad in the living room during a party in which the guests are playing a murder mystery card game, Son of Sam.
The scene sets up some backstory on Oliver and Will's father-son relationship that has been explored only minimally through the first season and a half, and it makes us wonder why they are choosing to involve Oliver's son in the story more. It makes sense the rest of the episode is used to try and find a new murder suspect after Nina was kind of disqaulified in the last one. Where does the crew turn to find new clues? To last season's killer of course!
Charles has been getting calls from Jan (Amy Ryan) from her prison cell, and he decides to go visit with her about what makes psychos tick. The chemistry between Steve Martin and Amy Ryan remains taut and hysterical, and their conversations lead to Charles and Oliver marking Mabel's new girlfriend, Alice (Cara Delevingne) as the new prime suspect.
What makes Alice someone who could have committed a murder, though? She's a mysterious new woman who showed up to the Arconia right when Bunny met her demise, but other than this coincidence and her feelings for Mabel, there is absolutely nothing tying her to any crimes. Oliver, thinking that his keen eye for secrets can help spill Alice's, decides to play his card game at a house party with her and many other guests from the building.
It's a scene that the audience can predict will lead to some misunderstandings and hurt feelings. Alice is hiding several things about herself, just none that are morbid. She doesn't come from a rich background as she tells everyone, instead making up stories about her childhood to help condone her interest in the arts. The party gets awkward and muddled when Oliver tries to force more out of Alice than he intended, and the plot line helps develop Mabel's romance with her. They agree not to hide anything from each other again, and they share a nice moment without any intrusion.
Oliver continues the investigation on his own after this failed attempt to frame Alice. He sees the waiter from the diner that Bunny frequented returning money that was given to him, and decides to ask the man about his relationship with the victim. After a peek at the security footage from the restaurant, Oliver is able to detect someone who takes a matchbox from the counter before leaving. This is very suspicious as the trio had found a bloodied container of matches close to the crime scene earlier in the episode.
The episode ends with the big shocker cliffhanger that ties back to the beginning of the episode and the cold open. Will takes a DNA test to help his son with a school project, and the results reveal that Oliver is not his actual father. He's half-Greek, and Oliver's lineage is Irish. After glancing at his Dimas dips he's about to chow down on, Oliver realizes his former friend-turned-enemy Teddy Dimas (Nathan Lane) might have gotten busy with his wife during one of those card game bashes in the 1970s. I guess the only secrets he can't uncover are right beneath his nose, which might be pretty telling of what is to come in solving the mystery.
It's sometimes incredible how much Only Murders in the Building packs into a 35 minute window, and this week may have been one of those times where there were a few too many things happening. It makes it harder for the audience to know what they need to focus on so they can play pseudo-sleuth, but the writers never jip any of the characters of screen time or deprive them of being fleshed out. What we know is that Mabel is in love, Charles might be falling back in love with Jan, and Oliver is the center of the drama at the moment. It primes the show for what should be an exciting second half of the season.