Reviews
Only Murders in the Building Season 2 Episode 4 Review: Here's Looking At You
Episode four is a high comedic and dramatic watermark for Only Murders in the Building Season 2. Spoilers.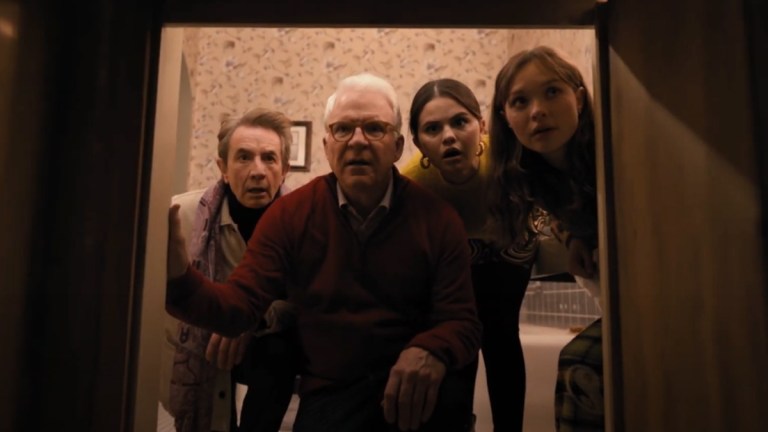 This Only Murders in the Building review contains spoilers.
Only Murders in the Building Season 2 Episode 4
Only Murders in the Building combines a lot of different genres to make it the unique program we've come to love and enjoy over the last year. It's somehow an enthralling mystery show, while also poking fun at the tropes and themes that make up that kind of entertainment. It's a solid drama, fleshing out its main characters and drawing us closer to their lives, making our investment worth it when the crime is solved at the end of the season.
At its heart, though, it's an absolutely hilarious comedy show. With two absolute legends heading the vehicle in Steve Martin and Martin Short, how can the audience not bust out a few real life laughs whether they are watching the show in the company of others or in the bliss of solitude on a relaxing afternoon? And this episode of the show should be recognised as one of the funniest yet in the series. The half-hour is defined by three outlandish moments that are sure to break even the most stern observer, and all of them are delivered by Oliver, who has been the fan-favorite character so far in the minds of many fans.
When the daughter of one of Charles' former partners, Lucy, comes to visit him, the teenage girl discovers the murder weapon used to kill Bunny: an enormous steak knife. The blade is sitting inconspicuously in Charles' kitchen, another attempt by the perpetrator to blame the podcasting trio for the death of our victim. As Charles and Mabel argue over whose fingerprints will end up on the knife after discovering it, Oliver gets ahead of himself pontificating on what the police would think if he were found with the knife.
He exclaims "what am I doing with this knife!" before torpedoing it into the ceiling of Charles' apartment right as there is a knock at the door. This moment of physical comedy mixed with fitting dialogue displays Martin Short's incredible gifts once again, topping many of his scene-stealing skits so far in the series.
Just a couple of minutes later, Oliver breaks the silence between the trio in a way only he can. Lucy is in the bathroom for a little longer than expected, leading to Charles, Mabel and Oliver wondering what she is going to do and when she will leave the room. We eventually find out she was finding a secret passage underneath the Arconia that leads to all of the other apartments in the building. The audience and the characters don't know this.
With minds wandering to inappropriate places, Oliver reminisces about a time when his grandmother would knock on the door of the bathroom when he was a child and ask "Oliver, would you like me to come in there and rub some Vaseline on your rectum?" This story is definitely something that only could come out of Oliver's mouth. The writers of this series have become keenly aware of their actors' abilities and easy comfort with their characters. Because of this, we get jaw-dropping lines like this that make everyone excited to find out what comes from their mouths next.
The third comedic high point happens when Charles, Oliver, Mabel and Lucy go over to Nina's apartment to confront her about their suspicions that she is the prime suspect in Bunny's murder investigation. As Oliver asks the pregnant Nina to spill her secret, she literally spills the contents of her body onto the floor. Her water breaks and she is ready to go into labor in front of the audience. Charles lays a rug down on the floor to clean the mess, to which Oliver retorts that the blanket belongs to his dog, Winnie. This combination once again of disgusting physical humor with deadpan line delivery from Oliver makes for a really special scene.
Amongst these moments of hilarity we also get to learn more about the relationship between Charles and Lucy. We see how Steve Martin's character continues to be fleshed out as an older man who wonders how things could have gone differently for him in life. He has a found family in Oliver and Mabel, but he regrets not growing closer to the people who previously entered his life. Being a father is something he clearly feels he missed out on and his hopes of forming a bond with Lucy are bittersweet.
As far as the murder-solving part of the episode goes, Nina emphatically tells the podcasters that she wants a few minutes in a room with the culprit so she can get back at them for killing Bunny. It's hard to fake this kind of emotion, and it demonstrates to all of us that Nina is most likely not the one we should be focusing on.
There's still so much for us to learn about the mystery, but this episode that focused on getting us to laugh and asking us to connect to a father-daughter pairing was a high-mark in the series.