Features
Nickelodeon Returns To Its Game Show Roots With The Crystal Maze
British import The Crystal Maze is being reimagined as a family game show on Nickelodeon. We go behind the scenes to check it out!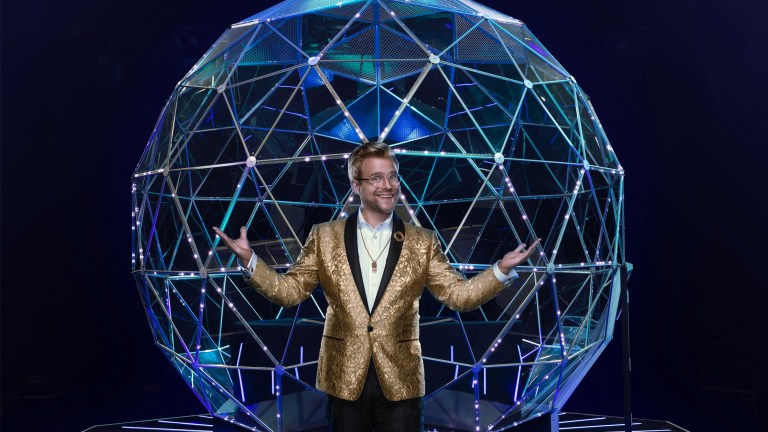 To fans of a certain age, the dream of participating in a Nickelodeon game show could only be realized if you had a high tolerance for slime, but more crucially: the good fortune to be on a family vacation to Orlando. Nickelodeon Studios at Universal Studios' Florida outpost was the epicenter of the network—from game shows like Double Dare to sketch comedy with All That—throughout the '90s. Promoting a physical location as a destination for young viewers of the network built a sense of community that was truly unique in the years before internet fandom largely would come to define how we socially engaged with the next decade of television.
But by the early 2000s, there was a sharp decline in production at the Orlando studio as Nickelodeon moved the majority of its operation west. It marked the end of an era as Nick shifted its focus away from games to animation and live action.
Nearly 15 years after Nickelodeon closed the studio doors, and with it the chapter on its rich history of children's game shows, the network is back in the game show business. This time on foriegn soil, Nickelodeon filmed its latest game show entry at a studio in Bristol, England, some 4,2000 plus miles from sunny Orlando, Florida. The Crystal Maze, which premieres on Friday, Jan. 24, is an Americanized version of the popular game show from England's Channel 4.
In the show, families encounter challenges in four immersive themed zones: Aztec, Eastern, Futuristic, and Industrial. If a contestant completes a challenge–each of varying difficulty–they earn a "time crystal." The goal is to earn as many time crystals as possible before the show ends with the family entering the Crystal Dome (exactly what it sounds like) to grab cash prizes that circulate around them (think money flying around a big wind tunnel). More time crystals means more time in the dome–and a chance to win up to $25,000. 
The Crystal Dome is the centerpiece of the show experience. When we visited the Bristol set, the Dome was the last stop on our studio tour, but also the most rewarding. Stepping inside the enclosed dome is nerve-wracking at first, particularly for an American unfamiliar with the series and no awareness of how the Dome works its magic. Soon it's filled with quickly circulating wind, like leaf blowers are howling at you from all directions, and flaky gold papers cling to your body and swirl all around you. I grab fistfills, but soon learn the dry run sews no cash reward. 
Afterwards, Rob Bagshaw, Nickelodeon's executive vice president of unscripted content, appears from beyond the Crystal Dome to tout his first big gamble since he took the position six months prior. The reality television veteran behind hits like RuPaul's Drag Race and Top Chef Master was brought in to broaden Nickelodeon's unscripted programming, which he admits has traditionally taken a backseat to animation and scripted at the network.
With zeitgeist-stealing reality shows dominating network TV ratings and drawing in families for, in network exec-speak, "co-viewing opportunities," the time felt right for Nickelodeon to go back to its roots with a competition show.
"We really felt that we should be doing our own version of shows that the kids love to watch, but with a Nickelodeon lens," Bagshaw says.
Under the directive to broaden Nickelodeon's demo, Bagshaw began looking for shows that were engaging for both kids and parents alike. At the time, a revived version of Nickelodeon's classic '90s game show Double Dare was airing to much fanfare, and prompted a live tour. One of the network's greatest hits was suddenly relevant again, but Bagshaw wanted a new, "big, physical game show." He began taking original pitches and expanded his search to other existing game shows from around the world. Eventually he found one close to home. Recalling his days as a teenager back in England, Bagshaw saw an opportunity to bring the beloved British game show The Crystal Maze stateside under a family-friendly format.
"I remember watching The Crystal Maze when I was a teenager and it still is going strong," Bagshaw says. "They change it slightly every year. But haven't really had families play the game. Traditionally, it's always been a team of five friends or contestants or work colleagues. I thought that's a show that does well, and it's a total blast to play."
The series originally aired on England's Channel 4 from 1990-1995 and made a one-off comeback hosted by Stephen Merchant in 2016. The renewed interest in the series led to an official revival, which is still airing on Channel 4, hosted by comedian Richard Ayoade.
Nickelodeon found its host in comedian and actor Adam Conover, who is best known for his TruTV series Adam Ruins Everything. A regular host of live stand-up comedy shows over the years, Conover says being the master of ceremonies comes naturally to him. The offer to lead The Crystal Maze represented a chance to fulfil a childhood dream by playing a major part in a Nickelodeon game show. He also saw it as a fun improvisational challenge due to the show's multifaceted games and themed areas. Nickelodeon let Conover run with creating his own identity for the host position.
"In my other workload, Adam Ruins Everything, I play a heightened extension of myself too," Conover says. "I was like, 'I can go in a different direction and build that character in a different way.' This is like totally fantasy land."
His on-stage persona for Crystal Maze both honors the theatrics of the U.K. show's original host Richard O'Brien, best known as the writer of Rocky Horror Picture Show, and is a heightened extension of Conover's own personality.
"If you host Jeopardy, you just really have to wear a suit and be very normal and even-keeled," Conover says. "But this one I can do sort of a crazy character and a different direction from what I've done before. This guy has stuff in common with the crypt keeper, that sort of thing where it's it can be really, really silly."
Sitting on a platform in the shadow of the towering Crystal Dome, Conover recalls some of his favorite interactions from tapping the show that illustrate his flair for fictional embellishment.
"In one of the episodes, I tell the kids I'm a thousand years old," he says with a laugh. "Obviously, everyone knows it's a TV show, but it's fun to have that bit of a fictional element in it. I'm sort of playing it both ways. I am the maze master, but I'm a little bit amoral. I'm a little bit of a trickster spirit."
Conover's wardrobe matches the part; he's wearing a sparkling, sequin purple tuxedo during our interview. When he signed on for the job, he gave his stylist back in Los Angeles a specific request for the vibe he was gunning for.
"You know how when you go to Dracula's house, he's all dressed up, even though he's all alone in a home in a big castle, right? That's this guy. He lives in this maze. He's dressed to the nines every single day. It's this crazy sort of evening wear look. We've got a lot of sparkly, gold tuxedo tops and stuff like that. It's very Met Ball but a kid's show."
Conover is willing to go the extra mile to put his own comedic trappings on the game show proceedings. As their guide, he helps families take on the Crystal Maze for a chance at a serious cash prize. For viewers at home, he says the multi-camera format, without a live audience, gives the show a different feel from Nick's previous entries in the genre.
"Obviously, I love Double Dare, but it's a single camera show," he says. "They really are in the places. [The Crystal Maze] feels a lot more immersive. I think it really transports them there. The games are insanely fun to watch. It's going to give that sense of like, 'Oh, I want to play that game and I wish I could do that.'"
Not only is The Crystal Maze more immersive, but it further cements Nickelodeon's reputation for being an inclusive network. The show traveled a diverse set of families from the United States to its Bristol, England, studio. Bagshaw says it gives the show an American feel while also being representative of Nickelodeon's viewers: "We've got families that are blended. We've got adoptive families. We've got three generations. We've got a grandma who's playing. We have a family with two moms. The youngest team captain in one family is a cancer survivor and she has a prosthetic limb. So it's super inclusive, and very diverse, which is exactly reflective of our audience."
Could The Crystal Maze reignite a return to glory for a network that is still fondly remembered for GAS, Legends of The Hidden Temple, Figure It Out, and Double Dare? Bagshaw is noncommittal on the possibility of more revivals for now. Instead, he's opting to focus on new shows, with the same energy that made Nick's hits of the past resonate with fans still to this day.
"Nick kids are cool kids," Bagshaw says. "We're not going to be doing this sort of show that you would see on other kids networks. Nickelodeon has always been pretty edgy. We certainly don't talk down to our kids; they're smart, they're opinionated, they're sensitive, and they want to do what nobody else is doing, no matter their age. I'm looking at the things that they're watching elsewhere and I'm thinking, 'well how can we do an original version of that?'" 
The Crystal Maze premieres on Friday, Jan. 24  at 7 p.m. on Nickelodeon. 
Chris Longo is the deputy editor and print edition editor of Den of Geek. Read more of his work here. Tell him which old school Nickelodeon game show was your favorite on Twitter @east_coastbias.