News
Link Tank: Nickelodeon's NFL Playoff Coverage Is The Real Winner
Slime Monsters, Fanimation Week, Tusken Raiders, and more in today's Monday link tank!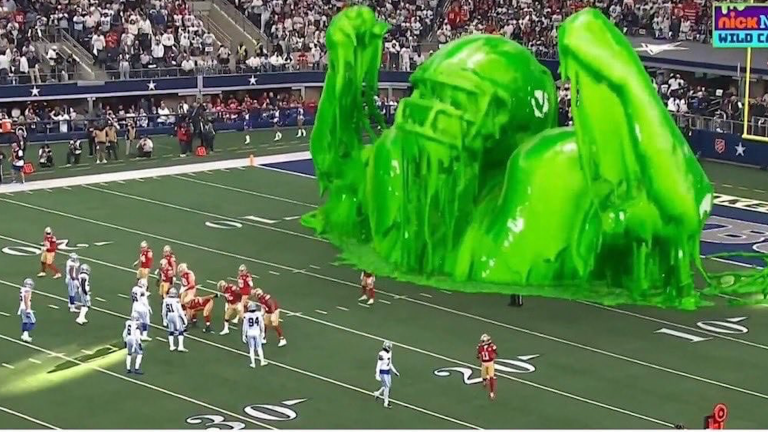 Nickelodeon broadcasted an NFL playoff game for the second year in a row and it was a viral hit with kids and football fans alike. We interviewed the game's broadcasters for a behind-the-scenes look!
This year's slime-filled, kid-focused event took place on Sunday at AT&T Stadium as the Dallas Cowboys took on the San Francisco 49ers. Things didn't go the Cowboys way, and despite their best efforts for a late game comeback, they fell to the 49ers, 23-17, but regardless of the score, the broadcast could not have been more exciting and several key moments went viral.
Due to the ongoing Covid-19 pandemic, last year's game between the Saints and Bears had just 3,000 fans in attendance, but yesterday there were nearly 95,000 screaming Cowboys fans in attendance. Little did they know, they were all getting slimed! The augmented reality graphics were on another level this year, as Nickelodeon partnered with The Famous Group to provide real time AR graphics such as a giant slime monster lurking behind the defense, SpongeBob in the goal post, and even the Nickelodeon blimp sliming the field before kickoff. Den of Geek's Colby Olson and Jack McMullen sat down with play-by-play announcer Noah Eagle and Nickelodeon star Gabrielle Nevaeh Green for an interview ahead of the game. Watch below for Noah and Gabrielle's full thoughts on covering this epic game for Nickelodeon.
For more coverage from Jack McMullen and Colby Olsen, check out our new Den of Geek Network sports brands, Just Baseball and Just Gridiron.
Fanimation Week is coming! Check out all the exciting things in store.
"We are excited to share a great new social activation, Fanimation Week, that our FanologyPV team is executing beginning this Monday, January 17. FanologyPV's Fanimation Week is a social/digital celebration of all things adult animation on Prime Video from 1/17-1/23. From Invincible to Undone, to the much-anticipated The Legend of Vox Machina and The Boys Presents: Diabolical, you will find exclusive content pertaining to each show. A lineup detailing the day's content will debut every day throughout the week across FanologyPV's social channels at 8AM PT and programming will start at 10AM PT."
Cable TV might be slowly on its way out, but Yellowstone remains a genuine bona fide cable-television-smash-hit.
"Conventional wisdom has it that no linear TV series can capture a huge audience in the age of streaming. 'Nah,' says Yellowstone. The Kevin Costner-led drama about a Montana ranching family just aired its fourth season finale on the Paramount Network, and according to Deadline, it crushed it. 'Grass on the Streets and Weeds on the Rooftops' brought in 9.3 million total viewers, which is up 81 percent from the season 3 finale. Add in the viewers from the simulcast on CMT, and you've got 10.3 million."
MJ from Spider-Man: No Way Home is in Euphoria, but will her Marvel costar Tom Holland make an appearance?
"Zendaya and Tom Holland have been the talk of the town since their film Spider-Man: No Way Home dropped. The pair (seemingly dating in real-life) had a wonderfully fun press tour that resulted in questions about the upcoming season 2 of Euphoria and Tom Holland making jokes about how he wanted to be a part of the hit HBO series—something that then had fans wondering if we could see him show up at East Highland High School in season 2."
Love it or hate it so far, but The Book of Boba Fett undeniably changed our view on Tusken Raiders in the Star Wars universe forever.
"The Book of Boba Fett's second episode, 'The Tribes of Tatooine,' not only shows a new side to the iconic character but allows for a fresh perspective on the Tusken Raiders. The nomadic people of Tatooine have always been heavily influenced by Indigenous cultures, but the latest Star Wars series is taking them beyond the stereotype and providing genuine representation."
Succession star Brian Cox turned down a role in Game of Thrones because of one simple reason; not enough money.
"A new excerpt from Biran Cox's memoir, Putting The Rabbit In The Hat, revealed that the Succession star almost had a central role in another HBO smash hit: Game Of Thrones. In the excerpt, published in GQ, the Scottish actor didn't pull any punches about why he didn't join the show."