Reviews
Netflix's 1899 Review: An Addictive, Mind-Boggling Mystery 
From the makers of Dark, 1899 is Event Horizon meets Titanic. You won't have a clue what's going on, but you'll be too hooked to care.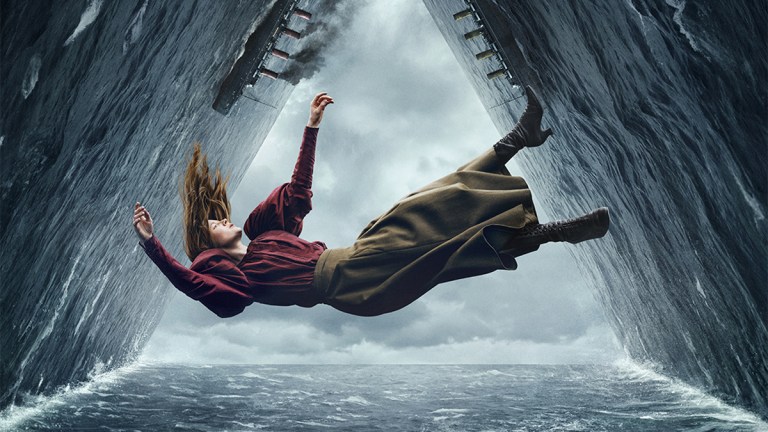 If 1899's creators had been specifically instructed to make a TV series that's impossible to watch while scrolling on your phone, they couldn't have done a better job. This eight-episode mystery series demands full attention. Not only does its story slide between flashbacks, hallucinations, weird visual motifs and eye-widening cliffhanger twists, its huge cast of characters also all speak different languages. Viewers not fluent in German, Spanish, French, Danish, Polish, English and more will need their reading glasses handy.  
They'll want them too, because 1899, from the makers of hit Netflix series Dark, is a terrific-looking show and an intriguing puzzle to solve. It's the story of the Kerberos, a steamship transporting 1,400 passengers from Southampton to New York City on the cusp of the 20th century. Four months earlier, another of the company's ships went missing, so when the Kerberos receives a set of mysterious coordinates, it goes off in search of the ghost ship and things get… complicated.
Things were already complicated for the Kerberos' passengers, each of whom is revealed to be harbouring secrets that play out Lost-style through flashback. It's very efficiently done, and give or take the matter of character names, it quickly becomes easy to differentiate those who make up the ensemble.
The cast standout is The Pursuit of Love's Emily Beecham as Maura Franklin, a British doctor plagued by intrusive visions and who's looking for her missing brother. Beecham is ably supported by Dark's Andreas Pietschmann as the ship's captain Eyk Larsen, and Peaky Blinders' Aneurin Barnard as the intriguing, mysterious Daniel. They all take their task extremely seriously and in the later episodes, succeed in selling some fairly outlandish scenes. Add to them a family of Danish Christians, two Spanish brothers, a geisha, a couple of French honeymooners, a wealthy multilingual woman travelling alone, a stowaway, an international crew, and a Polish engine room worker, and it's a packed story.
The engine room, incidentally, includes the brief but delightful surprise of British comedy double-act The Pin (aka Ben Ashenden and Alec Owen), as a pair of steerage workers who provide the odd moment of levity.
Levity is pretty scarce in 1899, which deals in intense emotion, serious fear, and sensationalist twists. If it didn't look so good, or round so many genuinely unexpected corners, its characters' tragic backstories could easily fit in a soap opera. The glimpses of extreme weirdness and constant questions as to what's really going on though, make it much more than a series of sad telenovela stories at sea.
Those stories start off in familiar territory, with upstairs-downstairs tales themed around romance, class, sexuality and violence, but soon explode into the creators' untrammelled imaginations. Clues lead us towards each gradual discovery, and we're kept guessing pretty much right to the end. Though 1899 stays largely on the right side of the tantalising vs frustrating line, be warned – you'll be left with questions after the finale's credits roll. And wondering when Season 2 might arrive to answer them.
You may also find yourself re-listening to the soundtrack, which includes both Ben Frost's wiggy atmospheric score and the psychedelic, anachronistic needle drops that accompany the mighty twists at the end of each episode. Jefferson Airplane, Blue Oyster Cult, Black Sabbath, Echo and the Bunnymen, Jimi Hendrix, David Bowie… it is not messing about.
It's hard to say too much because almost everything after episode one is a spoiler, but know that if you loved the creators' previous series Dark, or Netflix's The OA, or Lost or Westworld or any of those shows that give with one hand while perplexing with the other, you'll more than likely enjoy this well-cast, good-looking, atmospheric and sinuous story. And when you have watched it, would you mind explaining just what on earth was going on, please?
1899 is available to stream now on Netflix.