News
Netflix New Releases: May 2023
Here's what's new on Netflix in May 2023 including more Bridgerton and Arnold Schwarzenegger's streaming debut.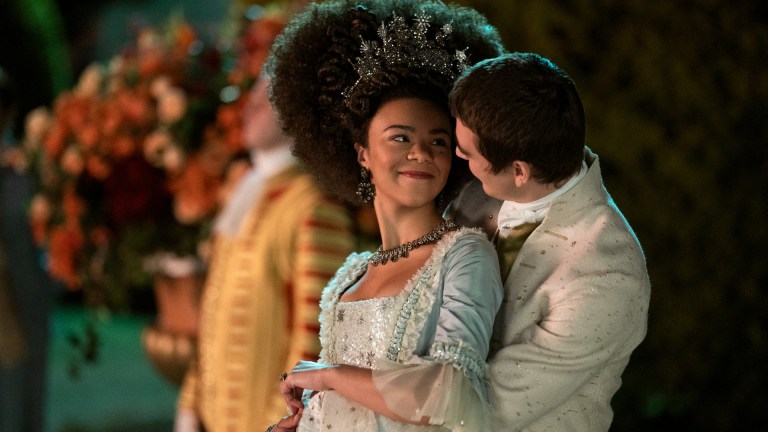 Netflix recently announced it would be investing $2.5 billion into South Korean programming. Before Squid Game season 2 comes down the pike, however, the first seeds of that investment will bear fruit for Netflix in May 2023.
Netflix's list of new releases for May 2023 is highlighted by the May 12 release of Korean series Black Knight. Set "in a dystopian 2071 devastated by air pollution," this show will follow world-saving deliverymen known as "Black Knights." Other international offerings this month include Japanese sumo drama Sanctuary on May 4 and Spanish crime thriller Muted on May 19.
Netflix's domestic TV options this month include Queen Charlotte: A Bridgerton Story on May 4. That will be followed by post-apocalyptic animated comedy Mulligan on May 12 and Arnold Schwarzenegger's TV debut FUBAR on May 25. And for those hoping for "triples," I Think You Should Leave with Tim Robinson premieres on May 30.
On the movie side of things, Netflix has an unusually busy month. The biggest swing will be the Jennifer Lopez-starring action film The Mother on May 12. Before that is the Jada Pinkett Smith-produced documentary Queen Cleopatra on May 10. Also in the documentary realm are Anna Nicole Smith: You Don't Know Me on May 16 and Victim/Suspect on May 23. May 1 sees the arrival of library titles like Austin Powers, Captain Phillips, and Kindergarten Cop.
Here is everything else coming to Netflix this month.
New on Netflix: May 2023
TBD
Siren: Survive the Island — NETFLIX SERIES
May 1
Above Suspicion
Airport
Airport '77
Airport 1975
American Gangster
Austin Powers in Goldmember
Austin Powers: International Man of Mystery
Austin Powers: The Spy Who Shagged Me
Black Hawk Down
The Cable Guy
Captain Phillips
Chicken Run
Cliffhanger
Conan the Barbarian
The Croods
The Curious Case of Benjamin Button
Dawn of the Dead
Flight
For Colored Girls
Girl, Interrupted
The Glass Castle
Home Again
Hop
Igor
Kindergarten Cop
Last Action Hero
Legends of the Fall
Lemony Snicket's A Series of Unfortunate Events
Léon: The Professional
Marshall
Paranormal Activity
Peter Pan (2003)
Pitch Perfect
Rainbow High: Season 3
Rugrats: Seasons 1-2
The Smurfs: Season 1
Starship Troopers
Steel Magnolias
The Tale of Despereaux
This Is the End
Traffic
Vampires
The Wedding Date
The Young Victoria
May 2
Love Village — NETFLIX SERIES
The Tailor — NETFLIX SERIES
May 3
Jewish Matchmaking — NETFLIX SERIES
Great British Baking Show: Juniors: Season 7 — NETFLIX SERIES
May 4
Arctic Dogs
Larva Family — NETFLIX FAMILY
Queen Charlotte: A Bridgerton Story — NETFLIX SERIES
Sanctuary — NETFLIX SERIES
May 6
A Man Called Otto
May 8
Justice League: Seasons 1-2
Justice League Unlimited: Seasons 1-2
Spirit Rangers: Season 2 — NETFLIX FAMILY
May 9
Documentary Now!: Season 4
Hannah Gadsby: Something Special — NETFLIX COMEDY
May 10
Dance Brothers — NETFLIX SERIES
Missing: Dead or Alive? — NETFLIX DOCUMENTARY
Queen Cleopatra — NETFLIX DOCUMENTARY
May 11
Royalteen: Princess Margrethe — NETFLIX FILM
St. Vincent
Ultraman: Season 3 — NETFLIX ANIME
May 12
Black Knight — NETFLIX SERIES
Call Me Kate
The Mother — NETFLIX FILM
Mulligan — NETFLIX SERIES
Queer Eye: Season 7 — NETFLIX SERIES
May 13
UglyDolls
May 16
Anna Nicole Smith: You Don't Know Me — NETFLIX DOCUMENTARY
May 17
Faithfully Yours — NETFLIX FILM
Fanfic — NETFLIX FILM
La Reina del Sur: Season 3
McGREGOR FOREVER — NETFLIX DOCUMENTARY
Rhythm + Flow France: Season 2 — NETFLIX SERIES
Working: What We Do All Day — NETFLIX DOCUMENTARY
May 18
Kitti Katz — NETFLIX FAMILY
XO, Kitty — NETFLIX SERIES
Yakitori: Soldiers of Misfortune — NETFLIX SERIES
May 19
Astérix & Obélix: The Middle Kingdom — NETFLIX FILM
Kathal – A Jackfruit Mystery — NETFLIX FILM
Muted — NETFLIX SERIES
Selling Sunset: Season 6 — NETFLIX SERIES
Young, Famous & African: Season 2 — NETFLIX SERIES
May 22
The Batman: Seasons 1-5
The Boss Baby
The Creature Cases: Chapter 3 — NETFLIX FAMILY
May 23
All American: Season 5
MerPeople — NETFLIX DOCUMENTARY
Victim/Suspect — NETFLIX DOCUMENTARY
Wanda Sykes: I'm An Entertainer — NETFLIX COMEDY
May 24
Hard Feelings — NETFLIX FILM
Mother's Day — NETFLIX FILM
Rhythm + Flow France: Season 2 — NETFLIX SERIES (new episodes)
The Ultimatum: Queer Love — NETFLIX SERIES
May 25
FUBAR — NETFLIX SERIES
May 26
Barbecue Showdown: Season 2 — NETFLIX SERIES
Blood & Gold — NETFLIX FILM
Dirty Grandpa
Tin & Tina — NETFLIX FILM
Turn of the Tide — NETFLIX SERIES
May 30
I Think You Should Leave with Tim Robinson: Season 3 — NETFLIX COMEDY
May 31
Heartland Season 15
Mixed by Erry — NETFLIX FILM
Rhythm + Flow France: Season 2 — NETFLIX SERIES (new episodes)
The Ultimatum: Queer Love — NETFLIX SERIES (new episodes)
Leaving Netflix: May 2023
May 4
Pup Star: World Tour
May 10
Bordertown: Seasons 1-3
May 13
Weed the People
May 14
Booba: Food Puzzle: Season 1
May 16
Side Effects
May 18
The Last Days
May 27
Collateral Beauty
May 29
The 2nd
May 31
Barbershop 2: Back in Business
The Boy
Edge of Seventeen
Galaxy Quest
Hachi: A Dog's Tale
Little Boxes
Midnight Diner: Seasons 1-3
My Girl
Rango
The Space Between Us
The Stolen
We Die Young