News
Netflix New Releases: August 2023
Here's what's new on Netflix in August 2023 including the live-action One Piece adaptation!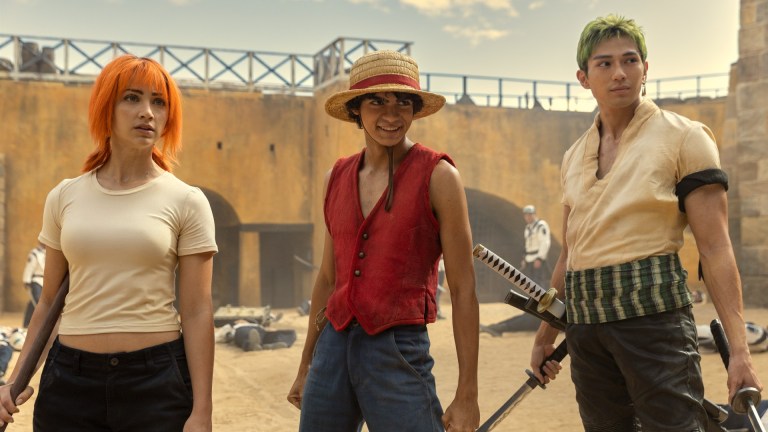 With its list of new releases for August 2023, Netflix is giving the anime world another shot.
No, we're not talking about the streamer's usual anime offerings – which are present this month in the form of Ragnarok season 3 (Aug. 24) and other titles – we're talking about Netflix's attempt to make live-action anime adaptations a thing. Following the relative failure of its Cowboy Bebop remake, Netflix is giving it another go, this time with arguably an even bigger anime classic. One Piece will premiere on Aug. 31. Telling the story of beloved straw hat wearing pirate Monkey D. Luffy, this adaptation will attempt to do original creator Eiichiro Oda and his many fans proud.
On the non-anime front, Netflix is bringing some other original series to the table. August 10 sees the arrival Painkiller, which Netflix describes as "a fictionalized retelling of the origins and aftermath of the opioid epidemic" while August 16 will present Depp v. Heard, a three-episode exploration of the Johnny Depp and Amber Heard trial-turned-media-circus. Netflix's original movies this month include the Gal Gadot-starring Heart of Stone (Aug. 16) and the Adam Sandler-produced You Are So Not Invited to My Bat Mitzvah (Aug. 25).
Netflix's library offerings this month are strong and include Coming to America, Despicable Me, and Lost in Translation on Aug. 1. Later on in the month, Paddington (Aug. 14) and The Big Short (Aug. 23) will be available for subscribers.
Here is everything else coming to Netflix this month. NOTE: Netflix has marked its international offerings with that respective country's two-letter country code. You can find a list of those abbreviations here.
New on Netflix: August 2023
TBD
Guns & Gulaabs (IN) — NETFLIX SERIES
Risqué Business: Taiwan (KR) — NETFLIX SERIES
August 1
Untold: Volume 3 (Untold: Jake Paul The Problem Child)
2 Fast 2 Furious
Bee Movie
Cloudy with a Chance of Meatballs 2
Coming to America
Despicable Me
Despicable Me 2
Eat Pray Love
Fast & Furious
Fast Five
The Fast and the Furious
The Fast and the Furious: Tokyo Drift
Ferris Bueller's Day Off
Friends with Benefits
It's Complicated
The Jerk
Just Go With It
Lost in Translation
Madagascar 3: Europe's Most Wanted
No Strings Attached
Pawn Stars: Season 14
Poms
Terminator Genisys
Ugly Betty: Seasons 1-4
August 2
Mark Cavendish: Never Enough (UK) — NETFLIX DOCUMENTARY
Poisoned: The Dirty Truth About Your Food — NETFLIX DOCUMENTARY
Soulcatcher (PL) — NETFLIX FILM
August 3
Head to Head (SA) — NETFLIX FILM
Heartstopper: Season 2 (UK) — NETFLIX SERIES
The Last Hours of Mario Biondo (ES) — NETFLIX DOCUMENTARY
The Lincoln Lawyer: Season 2 Part 2 — NETFLIX SERIES
Zom 100: Bucket List of the Dead (JP) — NETFLIX FILM
August 4
The Big Nailed It Baking Challenge — NETFLIX SERIES
Fatal Seduction: Volume 2 (ZA) — NETFLIX SERIES
August 7
Gabby's Dollhouse: Season 8 — NETFLIX FAMILY
August 8
The Seven Deadly Sins: Grudge of Edinburgh Part 2 (JP) — NETFLIX ANIME
Untold: Johnny Football — NETFLIX DOCUMENTARY (New UNTOLD stories weekly)
Zombieverse (KR) — NETFLIX SERIES
August 9
Ladies First: A Story of Women in Hip-Hop — NETFLIX DOCUMENTARY
August 10
Jagun Jagun
Marry My Dead Body (TW) — NETFLIX FILM
Mech Cadets — NETFLIX FAMILY
Painkiller — NETFLIX SERIES
August 11
Down for Love (NZ) — NETFLIX DOCUMENTARY
Heart of Stone — NETFLIX FILM
August 12
Behind Your Touch (KR) — NETFLIX SERIES
August 14
Paddington
The Wiggles: Ready, Steady, Wiggle: Season 4
August 15
Ancient Aliens: Season 5
Ballers: Seasons 1-5
Jared Freid: 37 and Single — NETFLIX COMEDY
Untold: Hall of Shame — NETFLIX DOCUMENTARY (New UNTOLD stories weekly)
August 16
At Home With The Furys (UK) — NETFLIX SERIES
The Chosen One (MX) — NETFLIX SERIES
DEPP V HEARD (GB) — NETFLIX DOCUMENTARY
August 17
My Dad the Bounty Hunter: Season 2 — NETFLIX FAMILY
The Upshaws: Part 4 — NETFLIX SERIES
August 18
10 Days of a Bad Man — NETFLIX FILM
Love, Sex and 30 Candles (ZA) — NETFLIX FILM
Mask Girl (KR) — NETFLIX SERIES
The Monkey King — NETFLIX FAMILY
August 22
LIGHTHOUSE (JP) — NETFLIX SERIES
Untold: Swamp Kings — NETFLIX DOCUMENTARY (New UNTOLD stories weekly)
August 23
The Big Short
Destined with You (KR) — NETFLIX SERIES
Sausage Party
Squared Love Everlasting (PL) — NETFLIX FILM
The Ultimatum: Marry or Move On: Season 2 — NETFLIX SERIES
August 24
Baki Hanma: Season 2 Part 2 (JP) — NETFLIX ANIME
Ragnarok: Season 3 (NO) — NETFLIX SERIES
Who is Erin Carter? (UK) — NETFLIX SERIES
August 25
Killer Book Club — NETFLIX FILM
You Are So Not Invited to My Bat Mitzvah — NETFLIX FILM
August 30
Live to 100: Secrets of the Blue Zones — NETFLIX DOCUMENTARY
Miss Adrenaline: A Tale of Twins (CO) — NETFLIX SERIES
The Ultimatum: Marry or Move On: Season 2 — NETFLIX SERIES (new episodes)
August 31
Choose Love — NETFLIX FILM
Karate Sheep: Season 2 (FR) — NETFLIX FAMILY
One Piece — NETFLIX SERIES
Leaving Netflix: August 2023
August 12
Knightfall: Seasons 1-2
August 14
Winx Club: Seasons 6-7
August 15
Les Misérables
August 24
Jobs
August 31
A Knight's Tale
If Beale Street Could Talk
InuYasha the Movie: Affections Touching Across Time
InuYasha the Movie 2: The Castle Beyond the Looking Glass
InuYasha the Movie 3: Swords of an Honorable Ruler
InuYasha the Movie 4: Fire on the Mystic Island
The Italian Job
Mean Girls
Moving Art: Seasons 1-3
Open Season
Open Season 2
Paranormal Activity
The Ring
Salt
Scream: Seasons 1-3
She's Gotta Have It
Sister, Sister: Seasons 1-6
Sleepless in Seattle