Features
Netflix's Hollywood – Episode 7 Easter Egg and Reference Guide
It turns out Ryan Murphy had plenty of easter eggs in his Hollywood ending for Hollywood.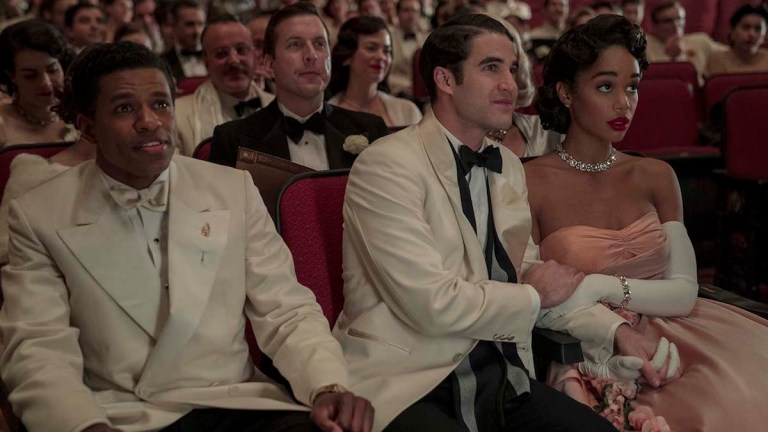 This article contains major Hollywood spoilers. You can find our easter egg guide for the previous episode here.
Don't you just love a happy ending? Ryan Murphy clearly did with regards to Hollywood, and while we had mixed ideas of our own about that conclusion, there is no denying how gratifying it is to see representation shared with those whom society marginalized for years and centuries. There is a real sugar rush of "what if" good cheer about the series' version of Oscar night 1948. Here are some of the facts the series changed, and some other shout-outs it enjoyed in its closing moments.
Hollywood Episode 7
-The Meg editor admits he didn't shtup Gloria Swanson. He only got to third base while she was on the rebound after Joe Kennedy dumped her. This would've placed the screening room action around 1928 or '29—an affair Swanson denied until she finally admitted it in her 1980 autobiography.
-The editor reveals that he saved a copy of Meg like he saved the negative of Judy Garland singing "Somewhere Over the Rainbow" when it was briefly and stupidly cut out of The Wizard of Oz (1939). This actually happened to a point, with some MGM executives feeling at the time that it slowed the movie down too much before getting to Oz, and that it was unglamorous for Judy to be singing in a barnyard. Plus they assumed the themes of the song would go over children's heads. Director Victor Fleming and producers Mervyn LeRoy and Arthur Freed fought to keep it in.
–Meg apparently recoups its loss by being banned in the South by having a nationwide release in 675 cities. I'm not sure how creating a "wide release" 30 years early affects Southern censorship… or the fact that the show ignores the movie would've been denied approval by the Hays Code, which would've led to more than just Southern states banning the movie. Anywho, the first wide release was a dopey Charles Bronson flick called Breakout in 1975! The one that made it a blockbuster formula was Jaws later that year.
-In a fairy tale moment, Camille becomes the first woman of color to be nominated for the Best Lead Actress category at the Oscars. That didn't actually occur until 1993 when Angela Bassett was nominated for What's Love Got to Do with It. A black woman did not win the award until Halle Berry picked up an Oscar for Monster's Ball in 2001, and no black woman has won in that category since, with only two others being nominated.
-Hattie McDaniel gives Camille a pep talk about how she needs to be ready to compete for the Oscars. This is pretty extraordinary considering the real Hattie McDaniel held very mixed feelings about the first glamorous African American movie star, Lena Horne. While she invited Lena into her home, she also lamented how the NAACP held Lena up as the future, and feared that if black actors refused to take the roles of maids and servants, she would not be able to work again. She also condescendingly referred to Horne at a NAACP event as a representative of the "new negro womanhood."
-Hattie also coaches Camille to mount what is essentially a modern Oscar campaign. The advice she is giving is to invent the post-Harvey Weinstein playbook, which he wrote in 1999 to get Shakespeare in Love the Best Picture prize. I honestly am not sure I like this being treated as aspirational on Hollywood… or think a racist white industry would respond well to a woman of color so aggressively campaigning in '48 when they rarely respond well to it now.
-The Ambassador Hotel, which housed the Coconut Grove where the 1940 Academy Awards were held, really did have a no-blacks policy and discriminated against Hattie. However, from what I've read, she was allowed to sit in the room (not the lobby), but only at the very back, which is still insidiously awful.
-The year before that, she was barred by the state of Georgia from attending the Gone with the Wind premiere in Atlanta.
-Hattie McDaniel was the daughter of two slaves. Her father even ran away from his Tennessee plantation in 1863 to fight for the Union. He lost hearing in one ear, toes to frostbite, and had his face permanently disfigured by a battlefield wound.
-As the scene hints, McDaniel did get a contract with Selznick after Gone with the Wind, but he never capitalized on her talent or Oscar, casting her still as maids. Her one good role was In This Our Life (1942), which Selznick didn't produce and she played the woman of a young man wrongfully accused of running over a white pedestrian. Her speech about police harassment was cut by Georgian censors in the South.
-Robert Montgomery did, indeed, host the Oscars in 1948, the 20th of its kind.
-Rosalind Russell's "incest" movie was Mourning Becomes Electra, which she was nominated for but didn't win.
-Hedda Hopper interviews Henry Willson at the Oscars. She was one of the biggest gossip columnists in the industry with a readership of 35 million people during the 1940s. She was also a red baiter who helped lead the Motion Picture Alliance, which was an industry ally of HUAC in enforcing the blacklist. One of her tools to ruin suspected communists was to suggest they were homosexual in her columns. So one would expect she'd have played a bigger role at the Oscars where Rock Hudson shows up with a black boyfriend but… nope!
-Despite what Ernie says, Body and Soul (1947) is not a piece of shit. It probably should've won Best Picture that year.
-Ernest Borgnine was famously homophobic, publicly refusing to watch Brokeback Mountain in 2005 despite being a member of the Academy. So, uh, yeah he showed up too.
-Edmund Gwenn did deservedly win the Best Supporting Actor Oscar for Miracle on 34th Street.
-The actual winners of the other awards Meg won are Sidney Sheldon's screenplay for The Bachelor and the Bobby-Soxer, Loretta Young in Best Actress for The Farmer's Daughter, Elia Kazan for Best Director thanks to Gentleman's Agreement (a film about WASPs struggling with Anti-Semitism), and Gentleman's Agreement for Best Picture.