Features
Why Miss Fisher & the Crypt of Tears Had to Leave Its Supporting Characters Behind
We talked to stars Essie Davis and Nathan Page about how Dottie and Hugh's relative absence in Miss Fisher & the Crypt of Tears affects their characters.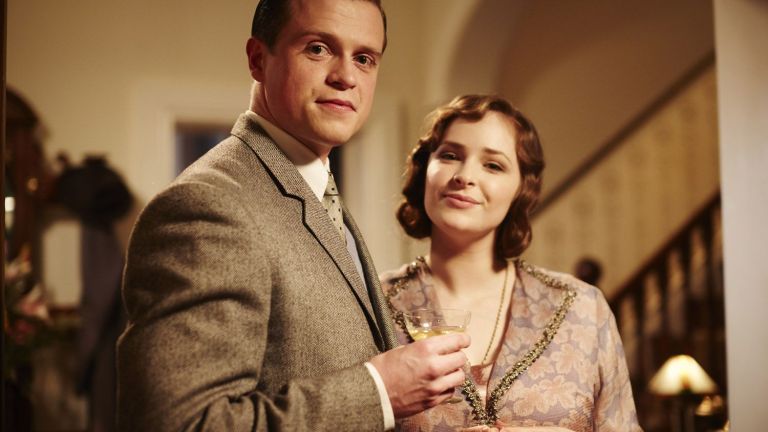 If Miss Fisher and the Crypt of Tears was your first interaction with the glorious Phryne Fisher, then you might not totally understand the Melbourne-set scene early in the film that sees Jack discussing Phryne's presumed death with two very concerned friends of hers.
Those friends are Dottie (Ashleigh Cummings) and Hugh (Hugo Johnstone-Burt), and they are two important characters in the world of Miss Fisher's Murder Mysteries, which ran for three seasons and is now available to watch in its entirety on Acorn TV. Though fans of the series get the chance to briefly check in with Hugh and Dottie in the first act of Crypt of Tears, it is the only time we get to spend with these beloved characters. So why weren't they in the movie more?
"It's really complicated," says Davis of transferring the story from the Melbourne-set TV series to the internationally-set feature film. "Taking a story into the world [outside Melbourne], we could not really take the entire family with us. We tried. We really tried, because I think they're beautiful characters and they are in the film, even though they're briefly in the film."
Cummings, who plays Dot, was filming a series (presumably, New England-based NOS4A2) in Boston at the time. Davis says she flew back to Australia (a flight that takes roughly a day) for nine hours to shoot her Crypt of Tears scene before hopping back on a plane and flying back.
"And so we're a committed bunch of people who love being together," says Davis. "But so the reality was that we couldn't [include Dot]. She was already committed, so there was no way we could have her."
The Crypt of Tears story "changed many, many times," says Davis, and presumably some of those ideas included more Hugh and Dottie, as well as Cec, Bert, and Mr. Butler, but, in the end, Aunt Prudence (Miriam Margolyes) was the only supporting character from the TV series to appear in multiple Crypt of Tears scenes.
"Even Miriam's involvement, I wish it was larger," says Davis, "but, you know, this is a film completely independent of the series and, if you want to tell a story in an hour and a half, that doesn't necessarily have anything to do with the however many hours of storytelling that have gone on before, then you can't just bring in lots of characters that have a huge history that no one knows about."
In other words, Miss Fisher and the Crypt of Tears is intended as an entry point for new viewers in addition to being a continuation of the story for fans of the show.
Davis points out that the decision to leave most of the supporting cast behind not only makes sense on a logistical level, but on a narrative one, given that most of the film's plot takes place away from Melbourne, in British-controlled Palestine and London.
"We wanted to take the audience with Phryne into the world," says Davis, "into the world of Palestine and the Negev desert and into the world of London and reality is that there's not really a place for all those characters to come along, unless it was cut between Australia and the world [and] that would have diluted the storytelling and the adventure. So, you know, compromises have to be made."
Nathan Page, who plays Detective Jack Robinson, Phryne's main love interest in the world of Miss Fisher, did get to go along for the adventure. Their relationship represents the film's main link to the world of Miss Fisher's Murder Mysteries.
"It was an interesting and surprising kind of discovery when we went on the film's journey because you're sans those characters that they are both close to—Dot, as well, and Hugh," says Page. "And being a sort of shoestring budget, it's hard to drag everyone around overseas and so forth."
Page notes that the absence of Jack and Phryne's right-hand people opened up the story to explore new facets of their characters.
"The thing that I found out, and [that] I discussed with Essie in Morocco, was that… I said to her, 'Oh man, it allows me,' because I don't have Hugh there standing behind me, and he's always been the fall guy, 'it allows me to be in part the fall guy as well.' So I get to be more dynamic, or Jack becomes more dynamic, and lifted off the page because the roles have changed slightly."
Page reflects that the same can be said for Phryne without Dot.
"There's more room to move because she's doing more sleuthing, because she just doesn't have Dot to do that," says Page. "But also for Jack, he gets to do a bit more, I mean it's hard to say in a film, but essentially a little bit more comedy. And I know it's light, but it's there, and so you get to see a little bit more of that. So it's an interesting thing and I felt it straight away."
As for whether or not anyone ever told Dot and Hugh that Phryne is, you know, not dead?
"I'm sure that they would have got some mail," Davis laughs when asked the question. "Phryne would make it back for the birth, I'm sure."
A story for the next Miss Fisher adventure, perhaps?
Miss Fisher and the Crypt of Tears is now available to watch on Acorn TV.