News
Exclusive: Miss Fisher and the Crypt of Tears Sneak Peek
Check out this exclusive look at Miss Fisher and the Crypt of Tears, which is now available to stream in its entirety on Acorn TV.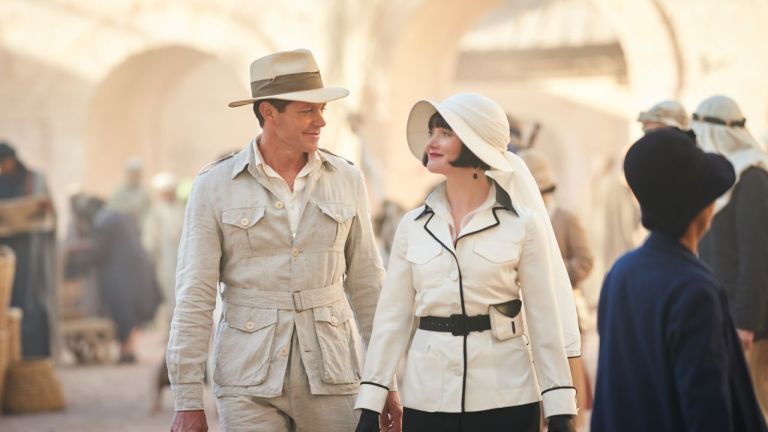 Miss Fisher and the Crypt of Tears, the first feature film adaptation of TV detective drama Miss Fisher's Murder Mysteries, is now available to stream on Acorn TV (along with all three seasons of the show). The film picks up after the Miss Fisher Season 3 finale, and sees Phryne and Jack on an international mystery that begins in British Palestine and takes them to London and back again.
Here's the full, epic synopsis:
"The plot sees the heroine set off from 1920s Melbourne on adventures involving murder, mystery and mayhem from London to British Palestine. After freeing Shirin Abbas, a young Bedouin girl (Australian newcomer Izabella Yena) from her unjust imprisonment in Jerusalem, Miss Fisher begins to unravel a decade-old mystery concerning priceless emeralds, ancient curses and the truth behind the suspicious disappearance of Shirin's forgotten tribe."
Den of Geek is lucky enough to have an exclusive clip from Miss Fisher and the Crypt of Tears, which gives fans a sneak peek into the adventure of the new film.
The scene shows Phryne rushing to Detective Jack Robinson's rescue (as she often does). Jack is on the wrong side of a fist fight from a mysterious and nefarious figure, who seems to be in wrongful possession of a pendant. After Phryne makes sure Jack is OK, she chases after the behatted figure, following him into the London rain.
"Stop or I'll shoot!" Phryne yells at the man, pistol pointed. "Who are you? Tell me or I'll pull this trigger." The man doesn't answer, of course, instead disappearing behind a curtain of rainfall. But does he have the pendant? And why are Phryne standing so close? (You know why.)
Check out the full scene below for some class Miss Fisher action with a side of romantic tension between Phryne and Jack…
Miss Fisher, an adaptation of the Kerry Greenwood series of books, first launched on Australian TV in 2012. It follows the adventures of Phryne Fisher, a lady detective solving murder mysteries in 1920s Melbourne. Since its launch, the series has since become a massive international hit, especially here in the U.S. It ran for three seasons before making the jump to the big screen with Miss Fisher and the Crypt of Tears, which was partially crowdfunded.
"I think it is interesting about that representation on screen of what happens when women are of a certain age and how are they represented," producer Fiona Eagger recently told Den of Geek about the appeal of the show's middle-aged heroine.
"Then, they become the mother or the grandmother or the sidekick," she continued. "But, with Phryne, to have a woman that has lived life, of a certain age on screen has been very aspirational for people because there's just not enough of them. So it's making visible the invisible and actually sort of saying, 'If you're over 35, you're not out. You can still have a good time and you can drive a fast car and you can save yourself. And you can be the smartest person in the room,' and all of these things, which I think being women of a certain age ourselves, we think is very true."
Stay tuned to Den of Geek for more Miss Fisher and the Crypt of Tears coverage.