What's Next For Miss Fisher After Crypt of Tears?
Miss Fisher's Murder Mysteries made the jump to the feature film format with Miss Fisher and the Crypt of Tears. What are the chances of more Miss Fisher adventures?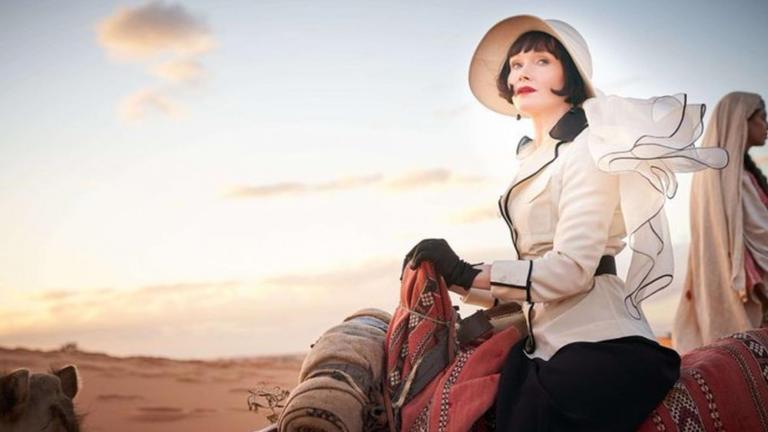 Warning: This Miss Fisher article contains spoilers for Miss Fisher and the Crypt of Tears.
Miss Fisher and the Crypt of Tears is rollicking and romantic adventure in the style of Indiana Jones or Sherlock Holmes—but with the one and only Phryne Fisher, as played by the one and only Essie Davis, at its centers. Like those other fictional character, lady detective Miss Fisher has already proven herself able to support many a story. From the three seasons of Miss Fisher's Murder Mysteries to the recently-released feature film Miss Fisher and the Crypt of Tears, this world has legs. Will we get to see more Miss Fisher adventures?
"Oh yes," says Davis when asked if there are questions she still has about her on-screen counterpart. "I mean there's a million things she hasn't done yet and what can't she do? She'd try it all."
While Davis seems open to making more Miss Fisher, in some capacity, she noted that it is very much dependent on how the film does. Crypt of Tears, which is available to stream in the U.S. via Acorn TV (a simultaneous theatrical release was affected by the COVID-19 pandemic), was financed by Screen Australia, in association with Film Victoria; private investors and fans also contributed more than $1 million to the budget via a crowdfunding campaign.
"It really depends on the success of this film," says Davis on the possibility of another Miss Fisher adventure, "with both fans and new audience members alike, to see whether, whether financiers are interested in making more. So you know, the ball's in your court."
While Miss Fisher gets up to many a shenanigan, one of the central character-driven through-lines of both the series and film is Phryne's relationship with Detective Jack Robinson. The two end the film together, but producers Deb Cox (who wrote the script for Crypt of Tears) and Fiona Eagger suggest it wouldn't simply be smooth sailing (or, you know, camel-riding) from here on out.
"Well, their relationship needs obstacles," says Cox, when asked what could be next for Phryne and Jack.
"I mean, it's the ongoing politics isn't it?" adds Eagger. "Their dilemma of how you navigate commitment, but still letting someone be who they are. And that might not necessarily conform to what you want. I mean, I think they're universal, perennial things that keep going. Especially male/female dynamics of where there's a tradition behind them and for a man not to feel threatened by a woman that does want to do things slightly differently. I think that question is still relevant today."
Nathan Page plays Jack and, when asked what he would like to see his character's "competency of physicality" explored a bit more should the story continue. Page was a professional cyclist in his youth who left the sport at the age of 19 after choosing not to use performance-enhancing drugs.
"I mean me, Nathan, is pretty competent on anything on two wheels, whether it be motorbike or particularly push bike. You know, I love them and I can do lots of things with them."
In other words, a 1920s-set action bike scene starring Detective Jack Robinson.
"I've always wanted to do a crazy, kind of [action scene], something kind of like the Bourne Identity, but on a push bike," says Page. "The basket on the front, and go through alley ways all that. And you can imagine the great visuals you get from it, and use a bit of that. That would be quite fun to sort of give him a little bit more rope as well, not just her jumping on trains and so forth. So I want to show a little side of that would be great next time." Um, can Phryne be in the basket, navigating?
"Yeah, we've promised him that," says Cox, when I bring up Page's vision. "We're on a promise."
Come on, people. We need to make this happen.
Miss Fisher and the Crypt of Tears is now available to watch on Acorn TV.