News
Mindhunter Creator Talks Season 3 Possibilities
While Netflix's Mindhunter was cut short, creator David Fincher believes there's still a chance to return to the series.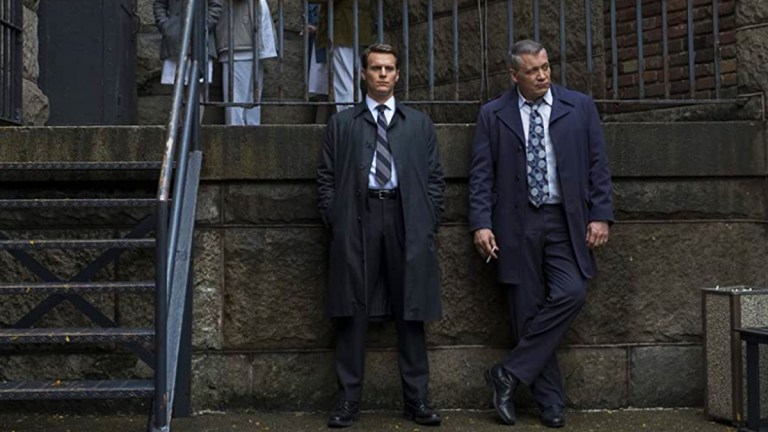 Fans of Netflix's macabre true crime series, Mindhunter, already know that the series has essentially become another casualty in the streaming giant's latest hair-trigger cancelation rush. However, unlike high-profile recent contemporaries such as GLOW, Away, Altered Carbon, and The Dark Crystal: Age of Resistance, the David Fincher-produced series never officially got the axe; something that's led to a sliver of optimism over its future.
Fincher, who recently attributed Mindhunter's de facto cancelation to an exorbitant budget that didn't match its performance, remains passionate about the series, and his comments in a Variety cover story reveal a desire to eventually conjure a proper conclusion with a belated Season 3. Telegraphing loose plans for a very long arc for the series, Fincher said "At some point I'd love to revisit it. The hope was to get all the way up to the late 90's, early 2000's, hopefully get all the way up to people knocking on the door at Dennis Rader's house."
Created by Joe Penhall, the fact-based series—which stars Jonathan Groff and Holt McCallany as F.B.I agents Holden Ford and Bill Tench, respectively, along with Anna Torv as psychologist Wendy Carr—typically features face-to-face encounters with an array of world-famous serial killers. Thus, Fincher is openly holding out hope for a third season of Mindhunter—presumably a final one—in which the thus-far late-1970s to early-1980s-set series eventually moves close enough to the present in the historical timeline to tackle the 2005 apprehension of Rader, the notorious BTK killer. Pertinently, the exploits of a mysterious ADT technician (based on Rader) has been depicted throughout the series outside of the main narrative, as played by Sonny Valicenti. The slow-burn tease seemed designed to make the presumed BTK character eventually stand out as the show's ultimate antagonist among its gaggle of killers.
Interestingly, Netflix's sidelining of Mindhunter might end up proving to be a blessing in disguise, since steering the series became an exhausting experience for Fincher, whose duty-juggling capacities as executive producer and director even involved moving closer to its Pittsburgh production. Consequently, production of 2019's Season 2 was a grueling jog to the finish line; one that saw him fire the first showrunner, and even go so far as to scrap eight scripts and the details-defining show bible.
"I certainly needed some time away," Fincher told Variety. "We had all hands on deck to finish [Season 2] and we didn't have a ton of scripts and a ton of outlines and a bible standing by for season three. I'll admit I was a little bit like 'I don't know that I'm ready to spend another two years in the crawl space.'"
Optimism over a possible Mindhunter Season 3 aside, Fincher also reiterates his earlier comments. "I don't know if it makes sense to continue…It was an expensive show. It had a very passionate audience, but we never got the numbers that justified the cost." However, pessimistic COVID-era myopia might eventually make way for a post-vaccine boom, during which Netflix could be more inclined to greenlight a third season, giving Fincher his grand finale.
For now, Fincher is getting a much-needed respite from the ghoulishly dispiriting world of Mindhunter with the promotional buildup to his upcoming feature, Mank, a biopic centered on Herman J. Mankiewicz (Gary Oldman), during the development of Orson Welles's 1941 masterpiece, Citizen Kane. That film will hit Mindhunter's home of Netflix on December 4.