News
Miley Cyrus Performs Haunting Pink Floyd Song on SNL
Watch Miley Cyrus perform "Wish You Were Here" by Pink Floyd on Saturday Night Live.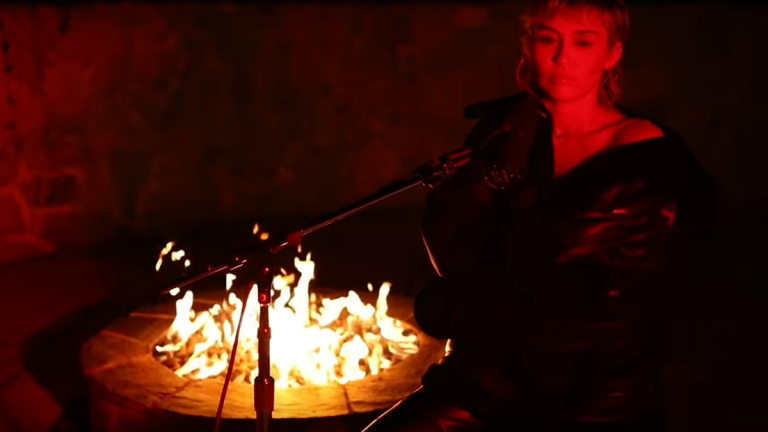 Saturday Night Live is still managing to get its long-running brand of sketch comedy out into the world each week, despite the coronavirus pandemic and near-global lockdown which makes saying things like "live from New York…it's Saturday Night" seem impractical, if not downright improbable. But the show has made #SNLAtHome into a real thing during lockdown, complete with sketches, celebrity guests, and musical guests.
This week, the guest was Miley Cyrus, who performed an eerie and soulful rendition of Pink Floyd classic "Wish You Were Here." Cyrus performed "Wish You Were Here" by firelight from her backyard, with a twelve-string guitar player as her lone accompaniment. Cyrus' choice of guitarist appears to have been no accident with Andrew Watt, a guitarist, Grammy winning producer, and songwriter, recently recovered from COVID-19 joining her. Here, the song takes on new meaning in the days of social distancing, quarantine, and self-isolation.
The original "Wish You Were Here" comes from the 1975 Pink Floyd album of the same name, an album that was a meditation on the breakdown and retreat from the spotlight of the band's founder, Syd Barrett, with additional themes about the isolating nature of success and the burgeoning creative struggles within the band. With lyrics by Roger Waters and music (and lead vocal) by David Gilmour, "Wish You Were Here" isn't specifically about Barrett but its plaintive lyrics call to mind any number of themes of absence, making Cyrus' performance all the more appropriate. The song was a staple of Floyd live performances until the band's end, and is still performed by both Waters and Gilmour nearly every time one of them plays live.
While Cyrus first made her name as a Disney Channel teen pop sensation, she has built up some considerable rock n' roll bona fides through the years as well, busting out impressive Led Zeppelin covers at live shows, collaborating with acts like the Flaming Lips and Against Me's Laura Jane Grace, and appearing at the Chris Cornell tribute concert for a performance of Temple of the Dog's "Say Hello 2 Heaven." You can add her Pink Floyd cover to that list. This is one of those performances that when we're all finally looking back at this strange, tragic period, will stand the test of time.
Watch Miley Cyrus perform "Wish You Were" on Saturday Night Live right here…
Saturday Night Live will continue with more #SNLAtHome editions in the coming weeks on NBC.