Features
The Monkees Were a Real Rock n' Roll Band
Their TV show was genuinely funny and subversive, and The Monkees packed as much musical firepower as any of their contemporaries.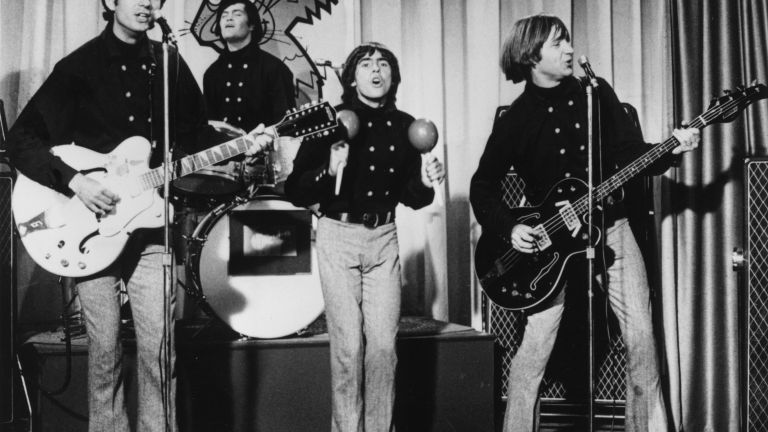 Four days after Paul McCartney announced he was leaving The Beatles in an April 10, 1970, press release, another iconic rock and roll creation de-evolved. Despite their reputation, The Monkees were a real band and their TV series was more accurate in showing the development of a musical unit than history has given them credit for. It didn't matter if the four actors wrote their own songs, played their own instruments, or even if that was Michael Nesmith's real hat. They did what every group does. They learned their songs, got better on their instruments along the way, and left behind a bunch of tunes which truly captured an individual sound. And people said they were monkeying around.
The Monkees TV show, which aired from Sept. 12, 1966 through March 25, 1968 on NBC, glorified the magic of rock and roll. The band, which was inspired by The Beatles' personas captured in A Hard Day's Night and Help! learned to write and play, and continued as a musical unit after the network turned out the lights. They even starred in a film of their own, Head written by Jack Nicholson, which has gone on to achieve cult status. All that changed on April 14, 1970 when Nesmith took one last sip of the Kool-Aid, and turned in his cap.
Peter Tork had already bought his way out of the band after their Far East tour in December 1968 and their 1969 NBC television special, 33⅓ Revolutions Per Monkee. He returned to play his last guitar part on the song "I Won't Be the Same Without Her" from the Monkees' seventh album, Instant Replay. Nesmith informed Dolenz and Jones while tossing Nerf balls in a Kool-Aid commercial the band was shooting. He'd been recording songs with his own country-rock group called Michael Nesmith & the First National Band. They had finished recording their debut album Magnetic South, and were already recording songs for their second album Loose Salute.
By this point, The Monkees were already producing their own songs and planned a future double album on which each member would separately produce one side of a disc. They had come a long way since their first two albums, which were produced by the show's musical director Don Kirshner, and featured the Wrecking Crew stable of session musicians. Glen Campbell contributed guitars. Billy Preston played electric piano on a recording, and some songs were arranged by Leon Russell. Legendary session guitarist Carol Kaye put in double duty on bass.
But The Monkees earned their musical street cred. They recorded with the cream of studio musicians in what little parts they could wrangle at the sessions while learning to play as a band behind the scenes. They did it the same way rock and roll bands have done it since the dawn of the rock era, like a garage band or a doo-wop group learning their parts on a street corner. They put in their hours, and wound up dominating the sound on their later records
When they went on their first tour, they chose The Jimi Hendrix Experience for their opening act. It didn't work out well for the legendary guitarist and frontman, who didn't go over well with the band's teenage audience, groomed on The Monkees TV show. It didn't really hurt Hendrix, who got press and major tour credentials, but it showed The Monkees had class, and knew what was happening on the streets and in the clubs.
For the most part, the group lived the rock and roll life more than a TV actors' life, though it was a dream job. Nesmith turned up at Abbey Road studios in time to be captured on film while the Beatles recorded "A Day in the Life." Tork checked out the Monterey Pop Fest. After it was all over, Dolenz hung with Lennon and Alice Cooper at The Troubadour.
When Monkees creators Bob Rafelson and Bert Schneider were first putting the series together, they wanted to use an existing band. They initially cast The Lovin' Spoonful to play themselves, like the Beatles had done in their films. But the Spoonful wrote their own songs, many of them big hits, and Screen Gems wanted the right to market music from the series. They instead cast the show by running ads in the music counterculture papers. Stephen Stills and Paul Williams auditioned for the series along with 435 other hopefuls. Dolenz is the reason everyone thinks Charles Manson tried out, having said it as a joke in an interview on Gilbert Gottfried's Amazing Colossal Podcast and it was taken as "gospel." 
The Monkees were made for TV but the actors playing the zany rock and roll band already played instruments. Jones, who sang his Artful Dodger in the London stage production of Oliver! and performed on The Ed Sullivan Show the same night as the Beatles first appearance, even put out a solo album, and covered Bob Dylan. His solo sound was reminiscent of Herman's Hermits. Nesmith played bass and guitar (that's him doing the electric guitar on "Pleasant Valley Sunday," for instance). Tork could get his fingers around an arsenal of stringed instruments. Dolenz played guitar and Jones knew how to play drums but the producers figured Davy was too short to be seen behind a kit, so they flipped them for the show. Tork taught Dolenz how to sync the drums to the soundtrack for the pilot and  Dolenz took it from there.
Nesmith's "The Girl I Knew Somewhere," which was the B-side to "A Little Bit Me, a Little Bit You," was the first song with all four Monkees playing. Nesmith is on guitar, Tork plays harpsichord, Dolenz is on drums, and Jones did assorted percussion. They had to fight for musical control, something Nesmith almost literally did at the Beverly Hills Hotel in January 1967. After getting presented with royalty checks for gold record sales, Nesmith demanded Kirshner and Colgems lawyer Herb Moelis allow the band to pick their own music. Nesmith punched a hole in a wall and assured them "That could have been your face." Kirshner got fired and went on to produce The Archies because a cartoon band was a lot easier to deal with.
Starting with their third album Headquarters, the made-for-TV band became the main musicians in the recording studio. They wrote a lot of their own songs, and picked others from friends like Neil Diamond and Harry Nilsson, whose contribution to their Pisces, Aquarius, Capricorn & Jones Ltd. album, "Cuddly Toy," is rumored to be about a gang bang. In the liner notes to the 1995 re-release of the Pisces, Aquarius, Capricorn and Jones Limited CD, Colgems Records head Lester Sill, who started Philles Records with Phil Spector, said he never forgave them for slipping it past them. Songwriters Tommy Boyce and Bobby Hart snuck in one of the most subversive Vietnam War commentaries of the era with the song "Last Train to Clarksville." Not all rock bands were taking on political and social issues at the time, but the Monkees did it repeatedly. Dolenz was even ordered to soften the lyrics to his amazingly surprising "Mommy and Daddy" because he went too far. He refashioned it as a protest against the treatment of the indigenous people of America, but still made it reverberate to encompass larger ills.
The Monkees even got away with subversive shenanigans on the series. Nesmith and Frank Zappa changed clothes so Mike could call his TV band's music insipid pop. The episode "The Devil and Peter Tork" confronted network censorship. Back then you couldn't use the word "hell" as an expletive on TV. Captain Kirk broke that directive by saying "let's get the hell out of here" on the Star Trek episode "The City on the Edge of Forever" marking the first time hell was used as profanity on television since Route 66's 1966 episode "Legacy for Lucia." When the Monkees did it in 1967, the word was bleeped, and it gets bleeped repeatedly, but the gag ends with Mickey exclaiming how frightening it was that you couldn't say the word on TV. The boob tube brand's ironic marketing magnetism also translated to movies. Nicholson only named his film "Head" so he could promote his next project as coming "from the people that gave you Head."
Dolenz and Jones said they felt duped by the material they were handed for Changes, the ninth and final album by the Monkees. The songs weren't earworms that got stuck in your head so much as saccharine you couldn't get off the roof of your mouth. The last session Jones and Dolenz played was on Sept. 22, 1970, when they recorded "Do It in the Name of Love" and "Lady Jane." They lost the rights to use the name Monkees in 1971.
Jones released a solo album in 1971. Nesmith's mom invented White Out and he pioneered music video production. The members reunited and disbanded in different formations over the years for recordings, tours and TV appearances. Jones and Tork have both died, but Dolenz and Nesmith continue making music. Dolenz was a regular DJ at the wane of the golden age of the great NYC oldies station WCBS-FM. He had a story for every song, and could explain what was happening musically in a variety of styles. They are not much different from any other band of the era, and they are far better known as musicians than they are as actors. As actors they're typecast as musicians, as if instruments are all they can play.
"The Monkees weren't about music, Marge," Dr. Zweig, voiced by Anne Bancroft on The Simpsons, comforted Marge after remembering a traumatic lunch box experience in the season 6 episode "Fear of Flying." "They were about rebellion, about political and social upheaval." In the end, though, The Monkees were all about the music, and they advanced it as much as any pop band at the time who weren't called The Beatles. Listen to the band.