News
Watch Pink Floyd Concerts Free Online
Explore Pink Floyd history with some of their greatest concerts, which you can watch for free while you're behind The Wall.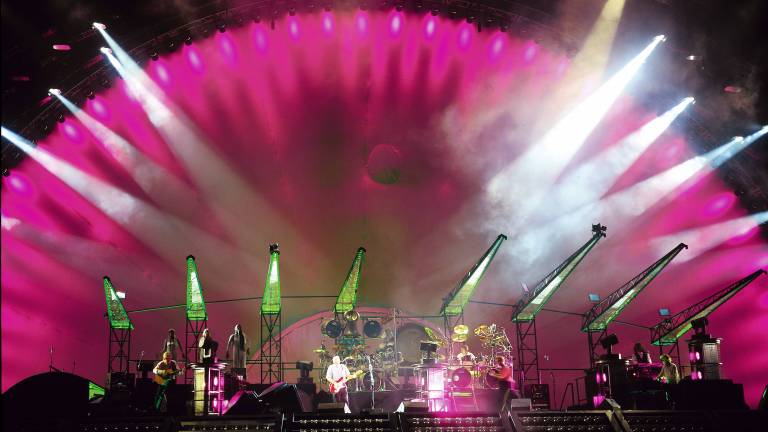 "Sitting in a bunker, here behind my wall…in perfect isolation, here behind my wall…"
So go the lyrics to "Waiting for the Worms" from Pink Floyd concept album The Wall. And these days, well…we're all sitting behind our walls with not much else to do but wait. And if you're craving the communal experience that only a live rock n' roll concert can bring, you're gonna be waiting a long time from the look of things. But fortunately, a number of artists have been stepping up to help us pass the time, by making some of their greatest live shows available for everyone. And now Pink Floyd joins the team, as the legendary rock band has begun releasing a series of their concerts via their YouTube channel for all to see.
The band has been releasing official material and music videos on the official Pink Floyd YouTube page every Friday for quite some time now. But April 17 marked the first time they released a full concert. Specifically, the concert film Pulse, recorded at Earl's Court at the conclusion of their massive Division Bell tour in 1994. You can watch a "restored and re-edited" version of Pulse in full for free right here. But the band will dig even deeper into its archives for future Floyd Friday releases.
Next up? April 24 brings the spectacular and eerie 1971 film Live at Pompeii, which sees the core four Pink Floyd members performing in an abandoned Roman amphitheater in Pompeii, Italy in the shadow of Mt. Vesuvius. As several versions of this film have been released over the years, it should be noted that this is the version from The Early Years box set.
May 1 will bring An Hour With Pink Floyd, a long treasured bootleg that finally got the official release treatment via the aforementioned The Early Years box. Recorded in 1970 at KQED-FM, it's a rare look at the band during an era where they were still a few years away from their Dark Side of the Moon success. Showcasing some of their more tuneful early efforts, it's a perfect companion piece to the more progressive and dark Live at Pompeii, recorded the following year.
And the on May 8, we're going back to Pompeii, this time for David Gilmour Live at Pompeii, which saw the greatest living rock guitarist return to the scene of one of the band's most celebrated moments. If you haven't seen it, it's a moving watch and a gorgeous concert film.
The new concerts will arrive at 5 pm UK time for the next few weeks. And who knows? If we're all still "behind the wall" after that, maybe they'll dig even further into their archives and reveal some gems we didn't expect to see. But if you really want to know, we can recommend some stuff that hasn't gotten official releases…yet…