News
Lucifer Season 5, Part 2 Sets September Production Return
Netflix's Lucifer sets a late-September date to resume production for Season 5B, having been on hiatus since March.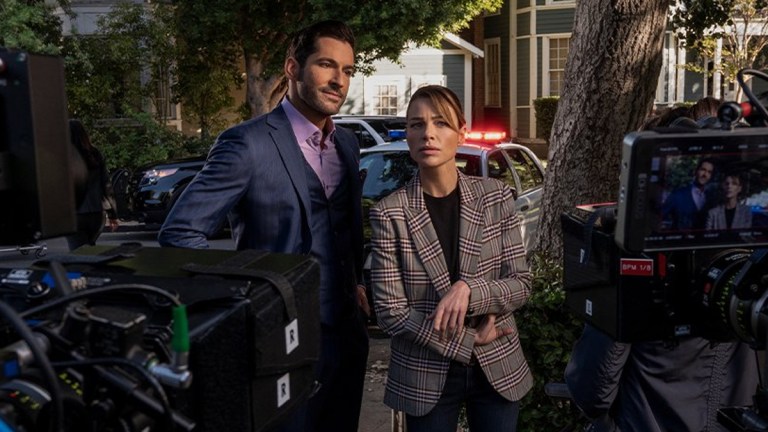 Netflix's Lucifer may have recently premiered the first half of its split fifth season, but things have been stagnant behind-the-scenes ever since production was shut down due to the pandemic way back in March. That, however, is about to change, with the reveal of a solid date on which cameras will once again roll.
Lucifer Season 5, Part 2 is scheduled to resume production at Warner Bros. Studios in Burbank on Thursday, September 24. While a release date for the eight-episode Season 5B portion has yet to manifest, the production date, as reported by TV Line, provides a North Star of sorts for an estimate. With safety measures likely nullifying any effort to rush things, a 2021 release date seems feasible at this point, seeing as the 5B finale will be immediately tackled. Additionally, as already known, production on Season 6 (the final season,) will quickly commence after said finale wraps.
Regardless of how long fans ultimately have to wait for the arrival of Lucifer Season 5B, it will likely feel too long. That's because Season 5A ended with a colossal cliffhanger moment that (tip-toeing around spoiler territory,) provided the series with a divine intervention for which viewers have been waiting ever since the series started. Yet, the moment in question was the culmination to an eight-episode first-half defined by the theme of ambivalence and loss of personal identity for each of the show's main characters—Tom Ellis's Lucifer, Lauren German's Chloe, Lesley-Ann Brandt's Mazikeen, D.B. Woodside's Amenadiel, Kevin Alejandro's Dan and Aimee Garcia's Ellla.
Indeed, in keeping with the direction started with the show's debut as a Netflix-exclusive streaming offering with last year's Season 4, Lucifer Season 5 continues to take the former Fox crime procedural down a path more finely-focused on the compact realization of character arcs, relegating its formerly dominant murder-of-the-week format to a side-plot that exists merely in service to character development. It's a strategy that generally seems to work for fans of the series, for whom the characters themselves—adapted from Neil Gaiman's The Sandman comic series, which is also set for a Netflix series—have really resonated with the fandom, who proved to be the passionate catalyst for the show's Netflix resurrection upon its cancelation from Fox after Season 3.
The early casting news for Lucifer Season 5B (again, tip-toeing around spoiler territory,) reveals intriguing additions, notably Dennis Haysbert as God, and—by a coincidence we daresay is divine—Supernatural's God portrayer, Rob Benedict, who's been cast to play a French mercenary destined to have some confrontations with Lucifer, Chloe and their LAPD cohorts. While plot details for the back-half are still sparse, it should be noted that the episodes were originally written as the overall climax for the series until Netflix recently went and renewed the series for Season 6. However, as resident show director Richard Speight Jr. (an alumnus of Supernatural,) provocatively teases to The Wrap, "If I've learned anything from Supernatural, it's that finales don't mean a whole hell of a lot," implying limitless possibilities for Season 5B, despite another series climax set for Season 6.
Regardless, Lucifer Season 5B will—barring any unforeseen setbacks similar to fellow Warner production The Batman—leave its proverbial pandemic-pushed purgatory by the end of the month, which can only be good news for the fans.