Features
Lucifer Season 5 Soundtrack: Complete Details and Playlist
Though fans will have to wait a bit longer for the musical episode, the music on Lucifer continues to shine.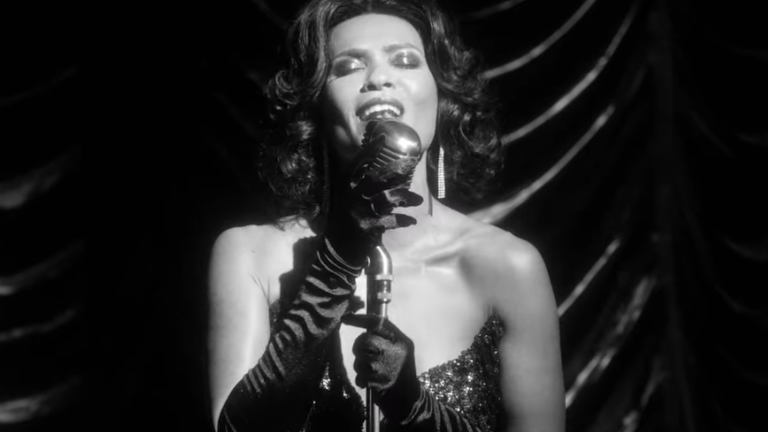 Whether it's the Devil sitting down at the piano in his penthouse or Lilith belting out a tune in a 1940's club, music has always played an integral role in the Lucifer gestalt. With a full blown musical episode planned for the second half of season five, and the noir homage "It Never Ends Well for the Chicken" already in the books, it's time to reflect on some of the fantastic musical choices showrunners Joe Henderson and Ildy Modrovich have made.
Series lead Tom Ellis (Lucifer) has sung on multiple occasions during the show's five year run, and in an interview with DaMan, he could barely contain his excitement for the upcoming musical episode. "It was by far and away the most fun I have had doing anything on a set ever! Singing and dancing makes me very happy."
While we wait for the season's conclusion, let's take a look at the musical breakdown for the first eight episodes of Lucifer season 5.
Episode 1 "Really Sad Devil Guy"
"Shake That Bottle" by Deorro, Hektor Mass
Lee parties on a multi-million dollar yacht.
"With Me – Edit" by Uplink, Reece Lemonius
Chloe and Maze get their groove on at Lux.
"No Limits" by Royal Deluxe
Lucifer takes Lee to Dirty Doug's poker game.
"All Wet" by Bosco Rogers
Chloe and Maze find themselves in the middle of a high stakes poker game.
"Tiger in a Cage" by Danny Ayer
Lee reveals his killer, and Chloe holds a winning hand.
"Meet in the Middle" by Mr. Irrelevant
Transitional scenes
"Higher" by Bhavior
Dan and Amenadiel try to catch the killer.
"Champions" by Fire Choir
Lucifer is ready to bring Lee's story to an end.
"Happy Together" by King Princess, Mark Ronson
Multiple scenes of various characters close out the episode.
Episode 2 "Lucifer! Lucifer! Lucifer!"
"Atomise" by Temples
A murder takes place on what appears to be a space station.
"Are U Ready?" by Robert Edwards
God's sons have a sit down chat.
"Warrior" by Las Palmas
Chloe puts her driving skills on display as Michael hangs on.
"Feels so Good" by Freja Nyberg
Linda confronts Amenadiel.
"When I Get My Hands On You" by The New Basement Tapes
Sensing something's not right, Chloe comes on to Michael.
"On the Run" by Timecop1983
Amenadiel and Michael have it out at Lux.
"Darkside" by Oshins, Hael
At the episode's end, Amenadiel understands that Lucifer's needed more on Earth than in Hell.
Episode 3 ¡Diablo!
"System of the Clown" by Martin Tillman, William V. Malpede
Lucifer leaves Amenadiel in the Circus Room.
"Are You Ready?" by Kat Meoz
Lucifer and Chloe reconnect at the precinct.
"We Are Legends" by Valley of Wolves
Lucifer and Chloe go on the set of a television show.
"Don't Let Me Down" by Stella and the Storm
Chloe and Lucifer check out a motel.
"So What (Tim Hox Remix)" by Jay Pryor
Linda and Maze bond over an episode of ¡Diablo!.
"Bandung Hum" by Black Rebel Motorcycle Club
Michael and Lucifer fight at the penthouse.
Episode 4 "It Never Ends Well for the Chicken"
"The Hurry Up" by The Heath and His Orchestra
Trixie shows up alone for game night.
"I Want to Be Evil (feat. Lesley Ann-Brandt)" by Lucifer Cast, Lesley-Ann Brandt
Lilith performs at the Garden Club.
"Someone to Watch Over Me (feat. Tom Ellis & Lesley Ann-Brandt)" by Lucifer Cast, Lesley-Ann Brandt, Tom Ellis
Lilith and Lucifer perform a duet at the Garden Club.
"This Is Ours" by Peter Sivo Band
Lilith tells Lucifer about her life changing decision.
Episode 5 "Detective Amenadiel"
"Candy" by Iggy Pop
Lucifer walks with Chloe on the beach.
"Personal Jesus" by Depeche Mode
The LAPD team arrives at the crime scene.
"Glorious" by Louis II
The nuns at the convent are questioned.
"Paradise" by Anderson Rocio
Maze goes to Lilith's apartment.
"This Year's Love" by Jasmine Thompson
The Devil and the detective talk and kiss.
Episode 6 "BluBallz"
"The Realness Lucifer Mix" by Pexxa
A couple is interrupted having sex.
"Recon" by Bodytalkr Feat. Lil Big Head
Maze and Ella talk as Chloe & Lucifer arrive at the studio.
"Resonance" by Modulation
Chloe, Ella, Linda, and Maze head to Lux.
"Flo" by Modulation
Chloe asks Linda about her time with Lucifer.
"Tether Me" by Galleaux
Lucifer and Chloe finally sleep together.
Episode 7 "Our Mojo"
"Are You Ready" by Grand Mystic
Maze and Amenadiel at the precinct.
"Power" by Sons of Legion
Lucifer and Chloe receive couples therapy.
"Electric Lady" by Wine Lips
Maze challenges Amenadiel to a fight.
"Bad" by Royal Deluxe
The LAPD team examines the evidence.
"Round and Round" by Cannons
Maze begins to open up to Amenadiel.
"Inside" by Chris Avantgarde, Red Rosamond
Dan shoots Lucifer at the penthouse.
Episode 8 "Spoiler Alert"
"The End of the World" by Sharon Van Etten
The cold open finds Lucifer falling to the ground after being shot.
"The Untold" by Secession Studios
Maze and Lucifer fight.
"One Hundred Strings" by Secession Studios
Amenadiel takes on his brother Michael.
"Persecution" by Secession Studios
Lucifer and Maze join the fight in session.
"Lucifer's Waltz" by Secession Studios
The celestial family fight continues until dear old Dad steps in.