Features
The Rings of Power Star Responds to Negative Season 1 Feedback
Exclusive: The Rings of Power star Morfydd Clark opens up about the reaction to season one of the Lord of the Rings series.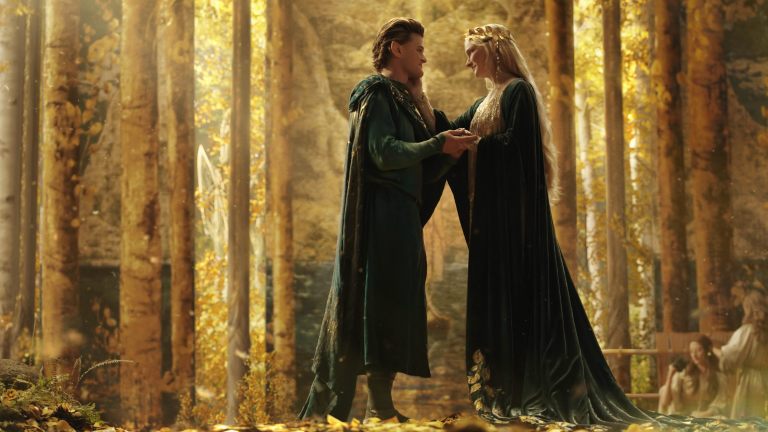 While Amazon Prime Video's Lord of the Rings: The Rings of Power managed to wrap filming on its second season amid an ongoing writers strike that's delayed productions elsewhere, the show hasn't really enjoyed the victory lap it hoped in 2023. A tepid response to season 1, both from fans and critics, has put even more pressure on a show that was already carrying massive expectations on its shoulders due to both its beloved source material and its reportedly $1 billion price tag.
In April, viewership data released by THR revealed that only 37 percent of US and 45 percent of international audiences actually watched the first season of The Rings of Power all the way through, a less than desirable result for a show that is said to be the most expensive ever produced. It suggests that, while early episodes attracted a large audience, the majority of viewers on both sides of the pond lost interest in the show long before the season finale that set up what season 2 will be about.
At the time, Amazon Studios chief Jennifer Salke responded to THR's story by saying that the "desire to paint the show as anything less than a success — it's not reflective of any conversation I'm having internally." In her statement, she also promised a second season with "more dramatic story turns," calling it "a huge opportunity for us. The first season required a lot of setting up."
In other words, Salke and Amazon seem acutely aware of one of the biggest issues fans and critics had with the first season: the slow, barebones, and exposition-heavy story. It's safe to say that Lord of the Rings fans expecting the epic battles and larger-than-life villains found in the Peter Jackson movies were left sorely disappointed by this TV reimaging of Tolkien's world. Yes, you can see every single cent of The Rings of Power's substantial budget on screen — in its impressive sets and costume design, in the digital effects and pyrotechnics of later episodes — but perhaps Amazon put a little too much emphasis on recapturing the look and feel of the Jackson movies and not enough on plotting. Despite a very talented cast that absolutely owned Tolkien's characters (as well as the original ones created for the series), there sometimes just wasn't enough for the peoples of Middle-earth to do on The Rings of Power season 1.
When Den of Geek sat down with Rings star Morfydd Clark in May to talk about the first season and what's next for Galadriel in season 2, she briefly shared her thoughts on the show's reception thus far, including how she feels about some of the negative feedback.
"I think you create art for it to be critiqued. It doesn't really exist as a piece of art if it's not there to be looked at and discussed," Clark says. "I've been in a few horror films, and I've really loved the conversation about that. I think it's kind of the same with fantasy, it taps into different parts of different people. So it's been really interesting, actually. My sister's very online and sends me the bits that she thinks I'll find really interesting about people's discussions of what they got from [The Rings of Power]."
Whether it's receiving accolades or criticism, Clark is happy to see the show now being judged on its own merits, as opposed to some of the more dubious arguments raised against the series last year, including racist and misogynistic backlash targeting members of the cast before the series had even released.
"I do think there is a big difference between critique and abusing people," Clark tells Den of Geek. "I'm really proud that the show is cast the way it is and that there's diversity in our cast. And it's been wonderful now to have people critiquing it as a piece of art."
Season 2 will of course present new challenges for the series. If The Rings of Power ever hopes to bring back those early (record-breaking) season 1 viewership numbers, the second season will have to make good on Salke's promise of "more dramatic story turns." Of course, with Sauron finally revealed, a pissed off Balrog loose in Moria, and the forging of the rings well underway, season 2 should have no shortage of those.
Lord of the Rings: The Rings of Power is streaming now on Amazon Prime Video.