News
Loki Season 2 Episode 2 Release Time and Recap So Far
The God of Mischief will be back on Disney+ soon enough to deal with an emerging crisis at the TVA in the second episode of season two.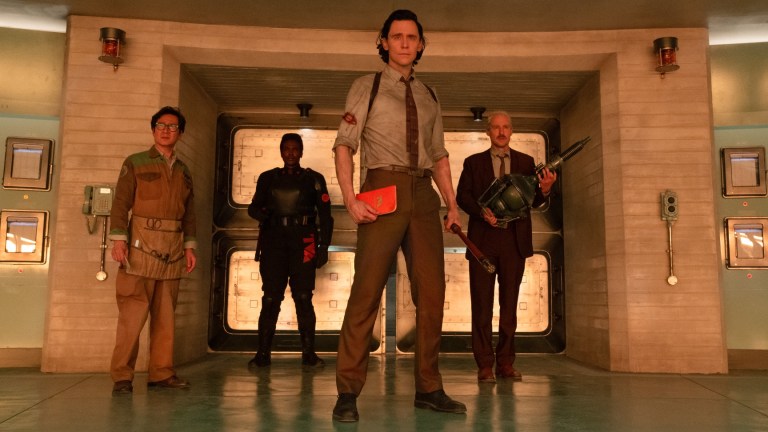 This article contains spoilers for Loki season 2 episode 1
Loki (Tom Hiddleston) is back, and so is the highly anticipated second season of his MCU Disney+ series! Season two is dropping weekly on the streamer, with Marvel fans left craving more after episode one's trip back to the past, present and future of the TVA.
In the first instalment, we caught up with Loki as he jumped between time periods, seeing a past TVA that worshipped He Who Remains. Mobius (Owen Wilson), Hunter B-15 (Wunmi Mosaku), and Casey (Eugene Cordero) had no idea who Loki was during this era, but they immediately sensed he would be a problem, so Loki had to hotfoot it out of there! Luckily, he came back to the present soon enough, but he wouldn't stay there for long, and Loki and Mobius had to pay a visit to TVA engineer OB (Ke Huy Quan) to get some help.
To be sure, Mobius and Loki almost met their doom while attempting to fix Loki's chronic time-slipping with OB. Mobius was told that if he failed, his skin would be peeled off! He cares about his friend Loki so much that he risked it anyway. Mobius managed to keep his skin in the end, but it didn't look like much fun interacting with the TVA's wild temporal loom. Let's hope Mobius wasn't too badly affected by the radiation out there.
As the team's plan to save Loki from time-slipping unfolded, the God of Mischief also took a worrying trip to the future, where he saw a TVA in meltdown and a cheery version of Sylvie looking for him. She emerged from an elevator near a old school telephone, which was ringing endlessly. Loki was unable to question Sylvie further or answer the ringing phone, as an unseen person suddenly pruned him just in time to be saved by OB and Mobius in the present.
In a post-credits scene, we saw Sylvie arrive in Broxton, Oklahoma in the 1980s via a branched timeline, and order everything off the McDonald's menu, including some brand-new chicken nuggets.
When Does Loki Episode 2 Come Out?
Loki episode 2 will be available to watch on Disney+ in the US on Thursday, Oct. 12 at 6pm PT/9pm ET and in the UK on Friday, Oct. 13 at 2am BST.
What to Expect in Loki Episode 2
In episode two of Loki, it's likely that we'll see Mobius and Loki try and figure out where Sylvie's gone, and attempt to fix some of the worrying issues that have cropped up in the TVA since the rebirth of the multiverse.
It also looks like General Dox has her own plan to deal with the fallout from Sylvie killing He Who Remains. When we last saw Dox and her team, they were leaving quickly through various time doors inside the TVA. We know that she isn't happy with the TVA-approved plan to finally stop pruning branches on the timeline – could Sylvie's Broxton branch be in danger?
Marvel's Loki is now streaming on Disney+