News
Liam Cunningham Has a Message for the Game of Thrones Spinoff Snow: 'Better Call Davos'
Exclusive: Liam Cunningham chats about the prospect of returning to Westeros in Kit Harington's Snow, and how the legacy of Game of Thrones endures.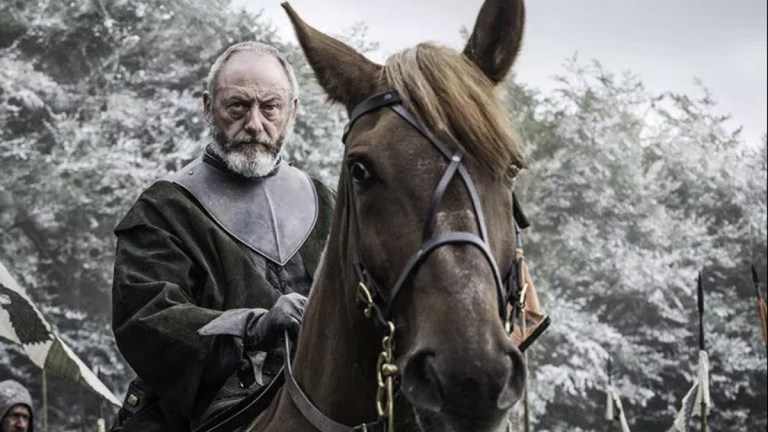 What is dead may never die. These are the words of Game of Thrones' Ironborn, a relentless Viking-like culture who never says "when" while a horn of ale is being poured. Yet it also speaks to our current moment in pop culture where television shows don't end; they multiply.
Sometimes this can be a good thing, too, as glimpsed by the generally euphoric reaction to the first Game of Thrones spinoff to make it to the air last year, HBO's epic House of the Dragon, which recently was just nominated for best TV Drama of the year by the Primetime Emmys. However, it is unlikely to remain the only Game of Thrones spinoff to enter HBO waters, with multiple prequels actively in development… as well as an outright sequel which is being developed by no less than Kit Harington, aka Jon Snow.
Among fans, there's been a flurry of anticipation and debate about Snow, the working title of Harington's proposed follow-up to the ending of Game of Thrones, which saw Jon banished (freed?) to live ostensibly as a member of the Night's Watch beyond the ruins of the Wall. However, one of Harington's old castmates is decidedly open to joining Harington in that frozen waste: Liam Cunningham, a.k.a. Ser Davos Seaworth.
When we caught up to Cunningham before the SAG-AFTRA strike, we had sat down to chat about his new Dracula reimagining, The Last Voyage of the Demeter. But inevitably Game of Thrones and Snow came up.
"I did send [Kit] a text saying, 'Better Call Davos,'" Cunningham says with a laugh and a knowing wink to Better Call Saul when asked if he'd be interested in appearing in Snow. "I haven't heard anything back." By Cunningham's telling, he really doesn't know much about the series other than what he's read in the trades. "You probably know more than I do." But in regard to all the spinoffs, he does eventually add with a chuckle, "I wish them the best to whoever's involved in it, and if the check is big enough, I might even show up again!"
Cunningham's answer is intriguing since it follows on what's been a diverse set of reactions from actors who played surviving (and in some cases not-surviving) characters on Game of Thrones. For instance, Maisie Williams did not comment on whether she thinks Arya Stark would return to Westeros in Snow, but did tell People, "We had such a rich show, and there's so much story to tell." Meanwhile the Mother of Dragons herself, Emilia Clarke, seemed ready to put Game of Thrones behind her when she told Extra, she doesn't expect Daenerys Targaryen to be resurrected. She also said, "Kit, I love you! I'm going to watch that one because of you, or I am gonna tell you I did."
Actual details on the series remain relatively scarce since it was officially confirmed by THR in June 2022, but what's known is the series is apparently in active development and will feature Harington as star, executive producer, and at least a co-creator. Also in June of last year, author George R.R. Martin revealed on his blog that the show has his blessing and he helped give some guidance to Harington when the actor (and other unrevealed writers/producers) approached him about it.
Yet whatever becomes of Snow, it seems the legacy of Game of Thrones is already secure. This became only more apparent last year when, despite many fans claiming they were done with Westeros after a contentious series finale, House of the Dragon turned into one of the biggest TV events of 2022.
While speaking with Cunningham, we noted how the show's legacy has seemed to survive an initial round of social media backlash when Game of Thrones ended in 2019.
Says Cunningham, "I think Game of Thrones is one of those things that after each decade, people are going to discover as if the previous decade had forgotten it. I think it's going to be rediscovered. I think it's a bit like Dracula. Dracula gets rediscovered and reinterpreted every few years. The original Game of Thrones was a phenomenon. Nobody could have predicted that it would turn into some kind of cultural phenomenon, and they're very, very difficult to design. You build it, and they come or they don't come. In that case, they came in droves."
He ultimately likens it to Star Wars: "Star Wars has been going on forever, and some of them have been great quality, and some of them not so great. It's a world that people are fascinated with, and long may it continue."
We will have more of our discussion with Cunningham about The Last Voyage of the Demeter later this week.