News
Law & Order Season 22 Will Make History in One Surprising Way
Law & Order, Law & Order: SVU, and Law & Order: Organized Crime are coming together for a historic first in the long-running franchise.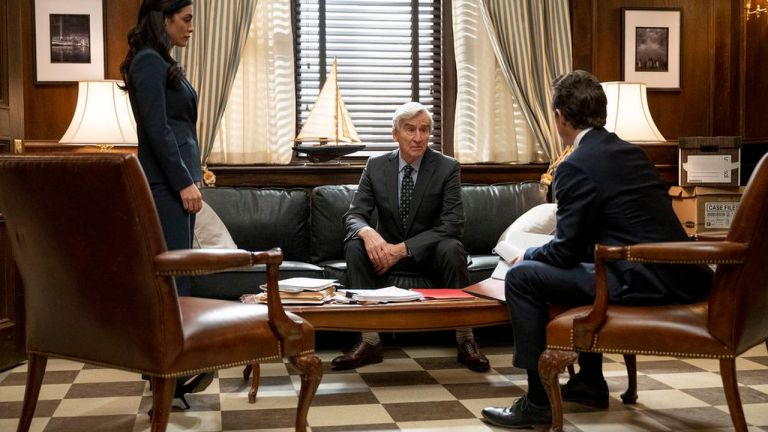 Fans of NBC's Law & Order franchise are in for a treat this season — Law & Order, Law & Order: SVU, and Law & Order: Organized Crime will be joining forces for the series' first ever crossover event on Sept. 22.
This historic three-hour event will serve as the season premiere for all three series, starting with Organized Crime at 8pm ET and followed by SVU at 9pm ET and Law & Order at 10pm ET, and will also kick off NBC's 22-23 TV season. In an interview with EW, NBCU head of scripted programming Liza Katz said the event is "a tribute to all the Law & Order fans who've been watching this iconic brand for four decades on NBC." She also described the three-part Law & Order premiere as "such a historic event" for the network.
It's true: this moment really is history-making for the long-running police procedural franchise. While there have been some character crossovers between SVU and other series (including other NBC shows Chicago Fire and Chicago P.D.) in the past, a television event of this magnitude is unprecedented in the Law & Order universe. Even though Law & Order is entering its 22nd season, SVU its 24th, and Organized Crime its third, the series have never crossed paths in such a big way in the franchise's decades-long history.
In an interview with TVLine, Law & Order showrunner Rick Eid said that unlike previous crossovers, this one was "structured and produced [on an epic scale]" and instead of simply being a handoff from one show to the next, everything within this crossover is so intertwined that "it's really one story that involves all the characters from the different shows." To further emphasize how connected this storyline will be, Deadline reports that there will not be title sequences or credits in between episodes, instead the episodes airing at 9pm and 10pm ET will dive straight back into the story sans the franchise's famous dun-dun.
The crossover, titled "Gimme Shelter," begins with the murder of a young girl. During their investigation of the shooting, Law & Order detectives Frank Cosgrove (Jeffrey Donovan) and Jalen Shaw (newcomer to the franchise Mehcad Brooks) quickly discover that this isn't a typical homicide. Former SVU partners Capt. Olivia Benson (Mariska Hargitay) and Det. Elliot Stabler (Christopher Meloni), the latter of whom now stars in Organized Crime, are called in to help with the investigation. The evidence they uncover leads to the involvement of Law & Order DA Jack McCoy (Sam Waterston) and ADA Nolan Price (Hugh Dancy), who have been seeking justice against an international crime ring that may be connected to this case.
While other character appearances are currently under wraps, one character who is will be coming back for the crossover, however, is Det. Kevin Bernard (Anthony Anderson). While Law & Order returned for its 21st season earlier this year over a decade after season 20 ended in 2010, and was quickly renewed for season 22, Anderson only signed on for one season of the revival. His exit will be addressed in episode 2 of the upcoming Law & Order season, after the crossover.
The three-hour Law & Order event premieres Sept. 22 at 8pm ET on NBC and will be available to stream on Peacock Sept. 23.