News
Killing Eve: Carolyn & Geraldine Finally Talk in This Exclusive Clip
We have an exclusive clip from Sunday's all-new episode of Killing Eve!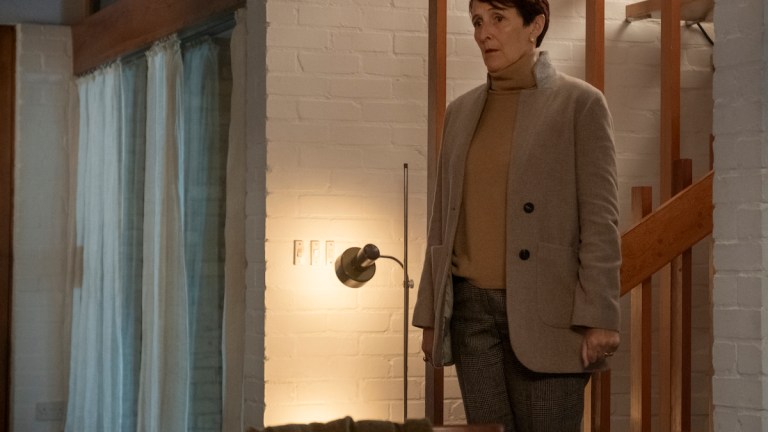 Killing Eve Season 3 is going much too fast! This Sunday, we will get the sixth episode of the eight-part season, ominously titled "End of Game." We must savor this. And by "savor," I mean watch this exclusive clip from the episode…
The scene features Carolyn (Fiona Shaw) and daughter Geraldine (Gemma Whelan) preparing for dinner. Carolyn is making pork pie. Geraldine just got back from the grocery store (pre-COVID-19 style) with the ingredients for vegetable stew, and is upset her mother changed dinner plans without letting her know. They fight, but it's not really about the dinner, which Geraldine, either far more emotionally intelligent than her mother or simply more willing to work on their relationship, points out. It's about the fact that, with Kenny gone, they are the only two people left in their family, and Geraldine wants their relationship to be more than a tolerating of one another. Does Carolyn?
We won't know until watching Sunday's episode! That's where the clip ends. I know this isn't the most seemingly dramatic of clips. It doesn't feature Villanelle killing someone or Eve daydreaming about her assassin girlfriend, but it's pretty damn riveting. These are two actresses who are extremely good at what they do, seemingly about to address a situation that has been simmering for most of the season. One of Killing Eve's strengths is the way it juxtaposes the absurd with the domestic. In past seasons, the "domestic" has most commonly been represented by Eve and her life, but Carolyn's home life has filled much of this role in Season 3, and it's working for me.
Presumably, "Carolyn and Geraldine decide what to have for dinner" is not the major plot of Sunday's Killing Eve episode, but the hour's official description does hint that "Carolyn finds out information is being withheld/kept by those close to her." Could she be talking about Geraldine? Or is there someone else who has been keeping things from her? Konstantin seems like another likely suspect, but also someone Carolyn wouldn't be particularly surprised to learn has his secrets from her—that's part of the status quo of their relationship. We will have to wait and see. For now, you can check out the full official description of Sunday's episode below…
"As the investigation continues, Carolyn finds out information is being withheld kept by those close to her. Eve finds a lead which might bring her closer to Villanelle. Meanwhile, Villanelle has had enough and decides on a different path. Konstantin's loyalties are split."