Features
Killing Eve Season 3 Bus Scene Explained
We chatted with Killing Eve Season 3 lead writer Suzanne Heathcote about that epic bus scene in "Meetings Have Biscuits."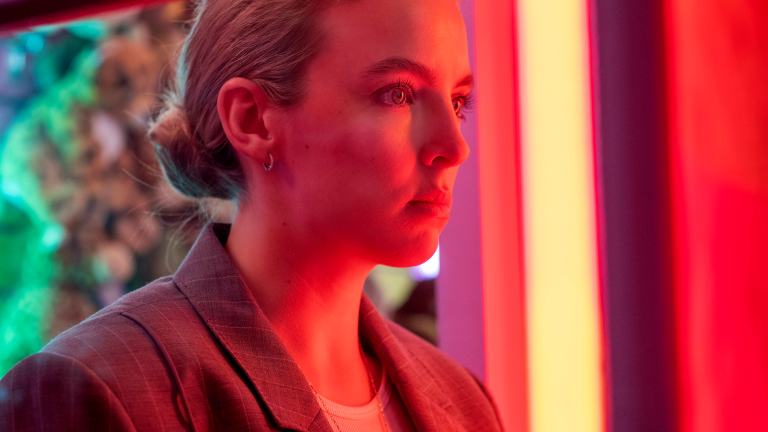 This Killing Eve post-mortem includes spoilers for Season 3, Episode 3.
It's not so often that we get to see the two Killing Eve leads together on screen. Much of the draw of the spy-assassin drama is the cat-and-mouse game between Eve (Sandra Oh) and Villanelle (Jodie Comer), and a cat can't chase a mouse if they are already together.
Still, watching a drama that is ostensibly about the complex relationship between these two women in which the two women never see one another wouldn't work either, so every once in a while, Eve and Villanelle meet and, more times than not, it means fireworks. This was definitely the case for Eve and Villanelle's unexpected bus rendezvous in Season 3's "Meetings Have Biscuits," their first meeting since Villanelle shot Eve and left her for dead in the Season 2 finale. We chatted with Killing Eve lead writer Suzanne Heathcote about how the scene came together…
"It's all about trying to keep things as unpredictable as possible, especially when you're in a third season," says Heathcote. "So, in the first two seasons, there was a meet halfway in the fifth episode. I was conscious right from the start that we didn't want to do that. They could have met earlier or later but essentially that we needed to something different with them together. We just felt that there was so much anger and frustration and hurt from both of them, and yet also want and desire, all the complexities of their relationship. It was more than you could articulate. You could try and write a five page scene where they explain everything but actually it was sort of more than dialogue could really do."
There is a minimal amount of dialogue in the bus scene. Mostly, Eve and Villanelle tussle (or, more accurately, Eve physically attacks Villanelle and Villanelle lightly defends herself without ever actually causing Eve harm). It all leads to a kiss—Eve kisses Villanelle, if you were wondering. The kiss could be explained away as an attempt on Eve's part to get Villanelle to drop her guard long enough for a headbutt, but that reading feels like it would be doing this complex relationship and scene a disservice. As we see in the episode's ending moment, when Eve goes from desperately working to stop Villanelle's voice from coming out of the princess teddy bear to holding it up to her ear so she can listen to Villanelle's voice again and again, Eve is not totally immune to Villanelle's charms. She angry with her, sure, but that doesn't mean she doesn't feel other things for Villanelle, too.
There's an exciting randomness to Eve and Villanelle's encounter. While it was obviously planned by Villanelle, the viewer doesn't know it's going to happen, which aligns our point-of-view with Eve. Past that, the fact that Villanelle just appears during one of the most mundane parts of Eve's daily routine no doubt instills the fear and excitement in Eve that Villanelle could appear at any time, at any place.
"There was something about the bus that just felt so specific to London and to Eve's daily commute and so random," says Heathcote. "You know, there's people there, you see someone on the bus and it's the last place Eve would expect to see her. There was just something delicious in that.
Of course, there's an unexpected quality to the encounter for Villanelle, as well. While the assassin may know the meeting is going to happen (because she makes it happen), she has no way of knowing how Eve will react. When Eve kisses Villanelle, it definitely catches Villanelle off guard. Comer plays Villanelle's post-bus reaction as one of wonder, joy, and excitement. She wasn't expecting that from Eve, and that no doubt makes her want Eve even more.

"I remember talking to Sandra about it," recounts Heathcote of the bus scene coming together, "and we really discussed the scene at length and just that it was that initial reaction from Eve. Villanelle believes she's in control at that moment and Eve, again, is so angry at herself as much as at Villanelle for what has changed her life to such a huge degree. But, like everything, it's very complicated that relationship. That is just shown in that physicalization of that scene."