Features
Killing Eve Season 3: Who is Geraldine?
We talked to Gemma Whelan about new character Geraldine, who first appears in Killing Eve Season 3.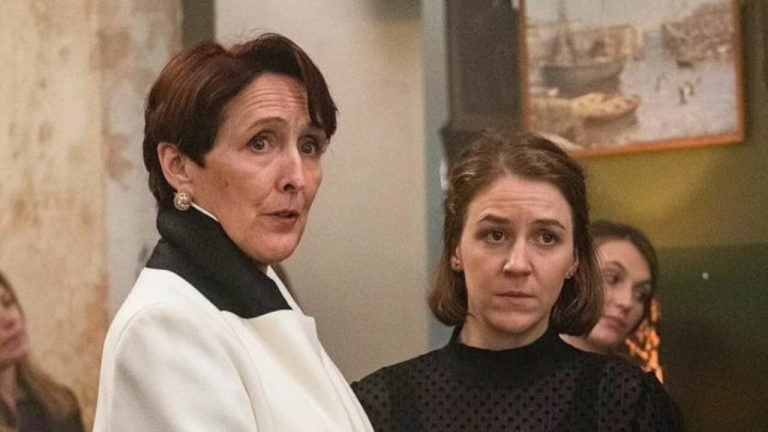 This Killing Eve article contains spoilers through Season 3, Episode 2.
Killing Eve Season 3 has brought a slew of new, supporting characters to populate this world, but few are as intriguing as Gemma Whelan's Geraldine, aka Carolyn Martens' other child who, before "Management Sucks," we'd never heard of.
In any other show or perhaps with any other character, the third season introduction of an adult child who'd never before been mentioned might feel like a clunky ret-con, but Carolyn is the kind of person who doesn't cry at her son's funeral, so it doesn't seem outside of the realm of possibility that she has a daughter she's never mentioned before.
"She's quite a bit emotionally available I suppose," says Whelan of Geraldine, when Den of Geek chats with her about the new character, "and she kind of weirdly found her way in life … it's probably quite the opposite for her mother, who is a colder woman. So, yeah, it's interesting to see how their dynamic plays out."
While Geraldine may seem like an open book, there is quite a lot about her character we don't know, as she is only just introduced in the second episode of Season 3, at her brother Kenny's funeral. Whelan has questions too, as it's unclear what Geraldine's relationship with brother might have looked like, or even when they lost saw one another prior to his sudden death.
"It's quite a tricky sort of field to navigate," says Whelan, who is more sure of what Geraldine's relationship to her mother looks like. "She's grieving in her own way, and her mother is grieving her own way,. And I think perhaps that Geraldine is also grieving because she actually doesn't really have a relationship with her mother, and she's desperately trying to make that happen. There's a lot going on for Geraldine. I think she feels like she's got to be the strong one because she's really desperately trying to make Carolyn open up and talk about her feelings and not bury them."
As Killing Eve continues to exist in this post-Kenny reality, it's unclear what Geraldine's role will look like, though Whelan was able to give us a few hints…
"She's quite a homebody," Whelan teases. "I suppose because they're grieving, and she's trying to make home better, and make her relationship with her mother better. Of course, we don't know where she's come back from, but she's obviously a bit adrift, and probably doesn't have anywhere to go. So a lot of her time is spent at home trying to sort of make it nice, and be there for her, and try and patch her relationship with her mother, and grieve together, and bond. I think her focus really is sort of home-centric for those reasons."
It also sounds like Geraldine will be spending some time with Konstantin, as Whelan mentioned having "quite a lot of stuff" with Kim Bodnia, who stars as the Twelve handler in the series. Many have theorized that Konstantin, whom it's implied Carolyn has slept with in the past (Kenny found a box of their love letters in Season 2), might be Kenny's father. Could he be Geraldine's biological dad, as well or rather than? Whatever the answer to that question, it feels like there is another shoe waiting to drop with this character.
As with any Killing Eve character, it's tempting to theorize if there might be more to Geraldine than meets the eye. After all, she is Carolyn Martens' daughter and you don't just cast Gemma Whelan, an actress who demonstrated just how complexly cutthroat she can go as Yara Greyjoy in Game of Thrones, to just putz around the house. Could there be some major plot twists in store involving Geraldine's character? We'll have to wait and see.