Features
Killing Eve Season 3 Lead Writer Breaks Down That Clown Kill
Head writer Suzanne Heathcote spoke to Den of Geek ahead of Killing Eve season 3 to share the spoiler-y scoop on the clown kill scene.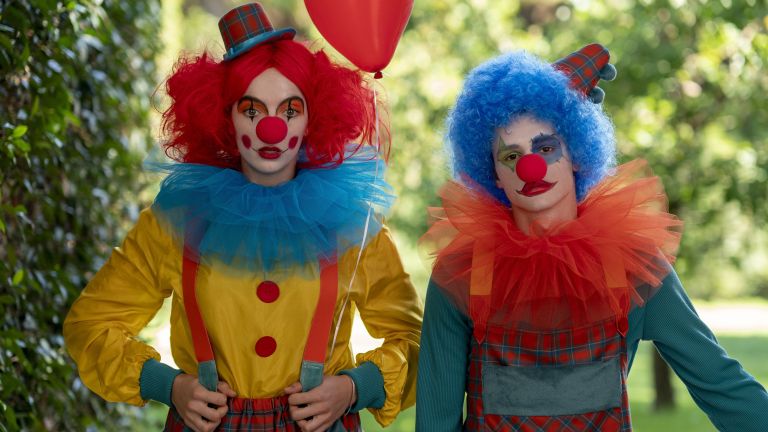 This article contains spoilers for Killing Eve Season 3, Episode 2.
"I remember coming up with different ways of killing-" …is probably a perfectly normal thing for Suzanne Heathcote, the head writer of Killing Eve's third season, to say. Rarely an episode of the BBC America spy-assassin drama goes by without Villanelle (Jodie Comer) perpetrating some kind of elaborate murder. Den of Geek spoke to Heathcote, the woman in charge of planning those on-screen murders, ahead of season 3 to get the spoiler-y scoop on the jaw-dropping clown kill scene, which so typifies Killing Eve's playful-macabre vibe…
Villanelle has worn plenty of memorable fits, from the beguilingly stylish suits and that poofy dress to oddball getups like children's jammies and lederhosen. She's also known for her over the top, intricate-yet-clean kills. But nothing prepared us for Villanelle as a petulant clown at a children's birthday party-slash-put-upon mentor to newbie assassin Felix (Stefan Iancu).
As part of Villanelle's deal to come back to The Twelve, she wants to be made a Keeper, a position higher up than former assassin/current mentor Dasha or even papa bear Konstantin. But management doesn't come easy, even for a perfectionist like Villanelle. So our favorite assassin spends an episode babysitting and molding the young mind of a fledgling killer in the form of Felix, a slight young man who took to murder because people were bullying his boyfriend.
The pair find themselves going after a target at a packed birthday party, making bad balloon animals and wearing clown shoes, a full face of makeup, and (for Villanelle's part) what has got to be the most stylish clown wig ever made. The overall effect lies somewhere between eerie, adorable, and unrecognizable, especially when Villanelle and Felix are first shown next to one another.
Heathcote thinks it was Anna Jordan, the episode's writer, who originally came up with the clown idea for this episode. "We knew we wanted something slightly off kilter. There's something about clowns, clowns are eerie anyway," says Heathcote.
While it momentarily feels like V is forming something like a human connection with Felix, much like the one that was teased with the young boy in the hospital to whom the aforementioned pajamas belonged in Season 2, she shows her true colors in the end. When Felix fails to make a clean kill, Villanelle takes matters into her own hands and abruptly kills him – about as messily as he was trying to kill their target. All while the two assassins are wearing clown costumes, with children playing right outside.
Heathcote says that it was also Jordan who was responsible for crafting the character of Felix: "We [the writers' room] knew sort of roughly who he was, and she really went and fleshed him out brilliantly."
Heathcote offers some further insight into the writing process for season 3, sharing, "I would make it the writer's homework. So I would just say, 'OK, come in with four really interesting ways to kill someone.' God help me if anyone comes up and looks at my Google search, it's quite terrifying. Then they just pitched them to each other. If something really made them laugh or gasp, it got a reaction, you were sort of on to something." The clown killing must have garnered quite the reaction in the room, because it not only made it into an episode, but also into preview photos and fan art.
Once again, Villanelle and Killing Eve have struck the chord of delightful dissonance between Villanelle's appearance or demeanor and her overall purpose. Like using a dead person's hand like a doll or puppet to say "bye bye!" or petulantly knocking a little girl's ice cream over right after killing someone, using the guise of a kids' birthday clown to carry out not one but two murders manages is sillily horrifying.
"Particularly at a children's party, there's something so contradictory in what's happening in the environment," Heathcote sums up. "It just seemed delicious."