News
Disney+ Orders R.L. Stine Horror Comedy Series Just Beyond
Just Beyond, R.L. Stine's horror graphic novel series, is coming to Disney+ as a TV series adapted by Seth Grahame-Smith.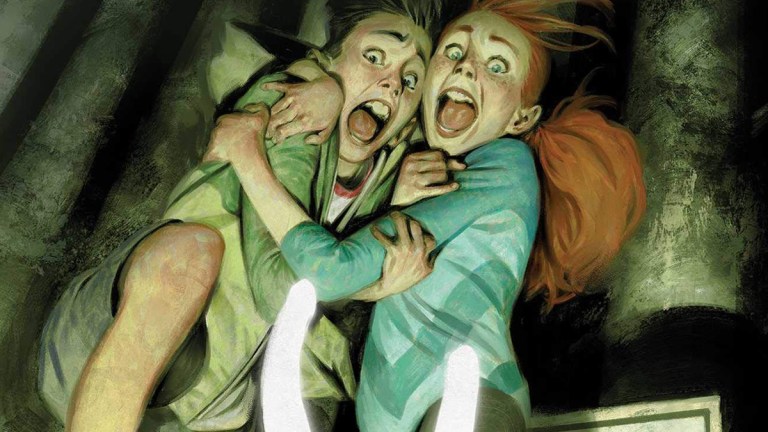 Disney+ has ordered a horror anthology series for its streaming lineup… albeit nothing existentially-bleak like Black Mirror or even conventionally-nightmarish like Creepshow—after all, this is a Disney platform. Thus, subscribers will eventually be treated to Just Beyond, an adaptation of the comedic-horror graphic novels from iconic Goosebumps creator R.L. Stine.
Just Beyond will manifest on Disney+ as an 8-episode anthology series, placed under the creative purview of writer and executive producer Seth Grahame-Smith. A perennial player in the world of subversive (adult-aimed) horror, Grahame-Smith will be joined by executive producer David Katzenberg and an assembling writers room to adapt Stine's four-volume middle-grade anthological graphic novel series, which features artwork from Kelly & Nichole Matthews, published by BOOM! Studios.
As Grahame-Smith lauds of the Just Beyond gig in a statement:
"I grew up watching Twilight Zone reruns and the original Amazing Stories with my parents. I've always wanted to make a genre anthology series that families could enjoy together, and do it in a way that delivered for kids and adults alike. R.L. Stine has been a part of millions of childhoods, and Disney+ has already proven itself as a place that knows how to make high-quality shows for the whole family. I couldn't be more excited to be working with both of them."
As Stine himself enthusiastically chimes in, recollecting his previous Disney collaboration:
"Back in the day, we had a Goosebumps HorrorLand attraction at Walt Disney World. It was one of the thrills of my life. Now I'm thrilled to be back with Disney for the TV series based on my graphic novels. Writing Just Beyond for BOOM! Studios has been a joy from the beginning, and I'm so happy to have the wonderful screenwriter Seth Grahame-Smith bring the series to life on Disney+. How lucky can I be?"
Indeed, Stine has a lot for which to be enthusiastic these days, seeing as his multi-movie-adapted mothership franchise, Goosebumps, was recently ordered as a revival series over at Sony Pictures Television. Plus, the long-mooted movie trilogy based on his Fear Street novels are, by most accounts, still moving forward, and he's working on a book series based on classic 1980s parody trading card pop culture phenomenon Garbage Pail Kids. Thus, Just Beyond is merely the Mouse House-facilitated icing on a literary empire cake already worth billions.
With Grahame-Smith in the creative driver's seat for Just Beyond, the series gets the scribe who wrote Tim Burton's 2012 Dark Shadows reboot movie, and parlayed his bestselling novels Abraham Lincoln: Vampire Hunter and Pride & Prejudice and Zombies into screenplays, released in 2012 and 2016, respectively. He also ventured beyond his genre to co-write—amongst four other credited scribes—the 2017 animated spinoff feature, The Lego Batman Movie. Moreover, he's spent the past few years teasing his apparent attachment to a Beetlejuice sequel script, which—should it ever get off the ground—would serve as a reunion with Burton.
Regardless, Just Beyond is yet another recent addition to the Disney+ scripted backlog (the most recent of which was Nat Geo's The Right Stuff series), clearly designed to expand the platform's topical diversity beyond its signature mega-hit in Star Wars spinoff The Mandalorian. – Not that anything with Baby Yoda is particularly lacking, anyway.