News
Goosebumps to Get New Live-Action Series
Goosebumps is headed back to the small screen, with Scholastic teaming with Sony Pictures TV for a new series.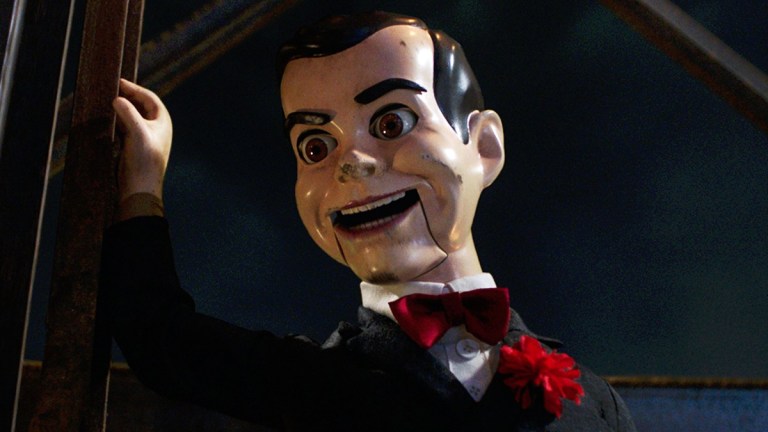 Goosebumps has never gone away as a franchise, as evidenced by the recent movie adaptations, but the generation of '90s kids (especially a certain meme-inspiring girl with braces,) who grew up with R.L Stine's literary horror phenomenon likely still best associate its live-action presence with the 1995-1998 Fox Kids television series. Now, those halcyon days of family-friendly scares are set to return, with the news that a new series is in the works.
The publisher's production arm, Scholastic Entertainment, is teaming with Sony Pictures Television to conjure a new Goosebumps live-action television series, reports Deadline. The team has tapped prolific producer Neal H. Moritz—who worked on Sony-originated film outings in 2015's Goosebumps and 2018 sequel Goosebumps 2: Haunted Halloween—to develop the series for generations new and old.
As Scholastic Entertainment president and chief strategy officer Iole Lucchese lauds of the collaboration in a statement:
"Goosebumps has been keeping kids and families on the edge of their seats for nearly 30 years and we're very excited to partner with Sony Pictures Television and Neal H. Moritz to bring the enduring brand to life in a fresh new way for today's generation. From the world-famous book series to a full-scale licensing program and even live-action movies starring Jack Black, Goosebumps remains wildly popular and we look forward to presenting new adventures to give fans even more Goosebumps."
Moritz will serve as an executive producer on the series, joined in that capacity by Lucchese, along with Scholastic SVP & General Manager Caitlin Friedman and Originals Head of Television Pavun Shetty.
As Moritz chimes in on the series announcement:
"I loved making the Goosebumps movies and can't wait to bring even more of R. L. Stine's incredible stories to life through a high-end television series that speaks to both adults and kids alike."
The Goosebumps franchise launched back in 1992 with the release of Stine's first book, Welcome to Dead House, which would be followed by myriad entries that were mostly anthological standalone stories by nature, but sporadically showcased recurring threats, most notably the franchise's de facto mascot, evil dummy Slappy, along with an array of returning kid protagonists for frequently-revisited signature storylines like the Haunted Mask and HorrorLand. The branding, having notably expanded with the aforementioned television series and now two feature films, has become a multimedia empire worth around $2 billion.
Moreover, while Goosebumps wasn't all that prevalent in the pop culture panorama during the years that immediately followed its 1990s heyday, the 2015 revival film proved that it possesses staying power and a potent nostalgic draw, grossing $158 million worldwide, followed by a 2018 sequel that grossed $93 million worldwide; a smaller take that still proved profitable off a budget of $35 million, which represented a significant cut from the first film's $58 million chest.
The new Goosebumps television series will also represent a return to the small screen for Stine's work after spending the past few years working on two film adaptations of his other literary horror franchise, Fear Street. Indeed, he initially followed up the classic Goosebumps show with The WB's 2001-2002 series, The Nightmare Room, followed years later by Hub's 2010-2014 offering, R.L. Stine's The Haunting Hour (which, to clarify, had 30-minute episodes). While Stine served as writer and executive producer on those shows, it's not yet clear if he will return for Goosebumps' revival, likely as it seems.
While it's still early on in the process, and details are scant, we'll keep you updated on the new Goosebumps offering as the news arrives.