Features
ITV's Stonehouse Drama Left Out Blunder That Helped To Lose 1970 Election
MP John Stonehouse, played by Matthew Macfadyen, famously faked his own death, but some say his war on pirate radio stations also cost Labour the 1970 General Election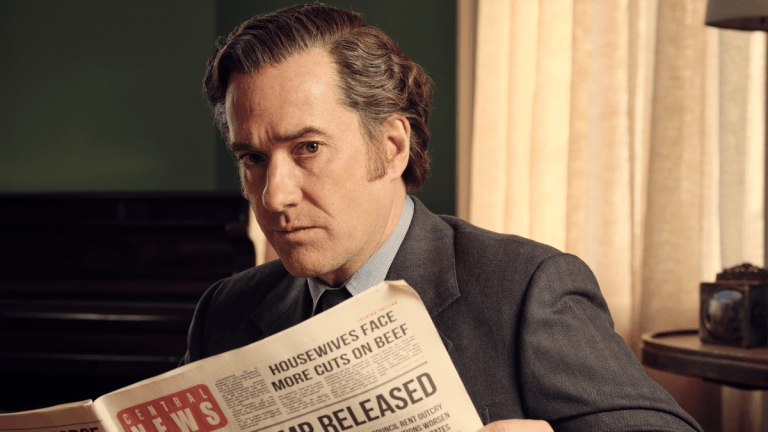 SPOILER WARNING: This feature contains spoilers for the whole series of Stonehouse
When it comes to the battle of the best 2023 dramas, ITV has come out swinging with Stonehouse, its gripping retelling of the true crime antics of MP John Stonehouse. Stonehouse has everything: an outrageous true story full of twists and turns, a stellar cast including Matthew Macfadyen as Stonehouse, Keeley Hawes as his wife Barbara, and Kevin McNally as Harold Wilson, plus an unexpected lightness of touch that provides proper laugh-out-loud moments.
Macfadyen is captivating, at times hilarious and – against all odds – very likeable as the bumbling, petulant cheat Stonehouse. Not only does this drama cover him famously faking his own death and fleeing to Australia, we also see his other career lows, including accidentally being recruited as a Czech spy, stealing the identity of a recently-dead constituent, and making a disastrous job of representing himself at his own trial.
But there's one John Stonehouse story the ITV drama doesn't tell, and as blunders go it's a big one, even for him – the story of how his war against pirate radio stations may have cost Labour the 1970 General Election, an election that Harold Wilson was thought likely to win.
Pirate Radio Vs The Labour Party
By the time he called the election in early 1970, prime minister Harold Wilson had appointed John Stonehouse as Minister of Posts and Telecommunications. This landed Stonehouse squarely in the middle of an ongoing bitter battle between the Labour Party and pirate radio stations including Radio Veronica and the much-loved Radio Caroline.
These unlicensed radio stations, which operated from boats outside the UK's territorial waters to avoid being subject to UK law, had been furious when Wilson's government introduced the Marine Broadcasting Offences Act in 1967, essentially making their broadcasts illegal and taking Radio Caroline and her like off air.
Then, in February 1970, Radio North Sea International began broadcasting to the UK from the Dutch coast, much to pirate radio fans' delight. In a surprise and daring move a month later, the ship upped anchor and settled off the coast of Essex, once more putting it in legal hot water.
Stonehouse received a memo urging him to prosecute North Sea International under the new 1967 law, to send a message 'that we mean business', and the station also caused complaints when it emerged its broadcast was interfering with emergency coast guard communications. But his department soon realised the law was surprisingly hard to enforce, as no one (not even the Royal Navy) had the right to board a vessel on the high seas.
Stonehouse Starts Jamming
In April, John Stonehouse made the historic decision of 'jamming' Radio North Sea International, essentially sabotaging the broadcast with a loud tone to put people off listening. You can hear an example of how this sounded here:
This controversial move had never been taken before (even in wartime), and many saw it as censorship. A fierce game of cat-and-mouse ensued, with the radio station trying to avoid the jamming, but Stonehouse's department continued to thwart their efforts at every turn.
Election Payback
Then, five days before the General Election, Radio North Sea International was suddenly back on air as Radio Caroline International, after coming to an arrangement with the founder of Radio Caroline to use its name to fight back against the Labour government in the run up to the election.
They went large with their campaign, riding 'Free Radio' buses through London with messages denouncing the jamming, getting fans to distribute leaflets raising awareness of what they saw as unlawful censorship, and targeting key marginal constituencies in London and the South East.
Radio Caroline International broadcast non-stop anti-Labour propaganda, and – as you can hear in this song spoofing the Dad's Army theme tune –  it's clear they blamed Stonehouse as much as Wilson for the jamming, singing the line: 'Mr Stonehouse starts to jam at 5.21, when he goes home at 2AM his dirty work is done':
Two days before the election, Wilson's government authorised the use of the most powerful transmitter in Europe – kept for national emergencies – to continue jamming the radio station.
Using the name Radio Caroline International apparently did the job: teenagers whose beloved pirate radio had been taken away from them in 1967 were now eighteen and allowed to vote for the first time, and many of these marginal southern seats were surprising Conservative gains. Despite being 12% ahead in some polls, Labour lost the election and the Conservatives ended up with a 30-seat majority.
The Beginning of the End For Stonehouse?
As Stonehouse shows, this election defeat was a turning point for John Stonehouse, as he fell from Wilson's good books and was booted out of the Shadow Cabinet. In fact, this really was where his fall from grace started in earnest, setting off a series of events that make him one of the unluckiest men in politics. He's no longer useful as a spy, his businesses start to suffer, his influence fades, and the walls start closing in. It's only then that he starts to get desperate. Perhaps if he'd decided against jamming Radio North Sea International, he'd never have ended up faking his own death? We'll never know for sure, but it's a fascinating story.
Stonehouse is available to stream on ITVX