News
It's a Sin's Doctor Who Crossover Pays Tribute to Remembrance of the Daleks Actor
A Doctor Who scene in Russell T Davies' It's a Sin episode 4 is "a little smile" towards actor and AIDS campaigner Dursley McLinden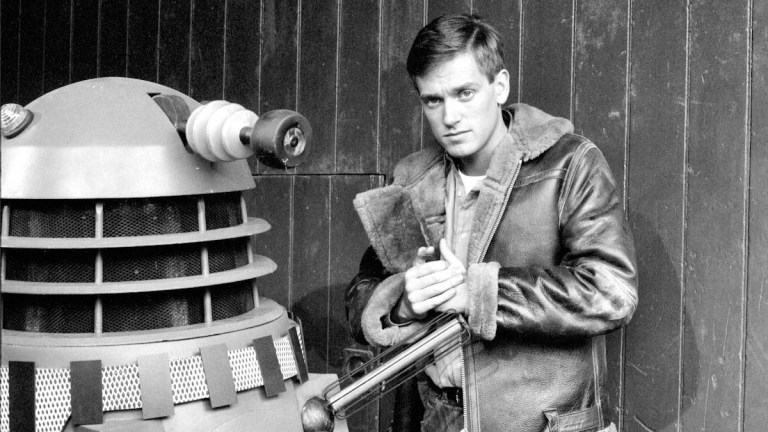 Warning: Contains spoilers for It's a Sin episode 4
All five episodes of Russell T Davies' blistering 1980s-set AIDS drama It's a Sin are a tribute to the lives of gay men lost to the virus, but one scene in particular was written in specific recognition of an individual. Speaking to Doctor Who Magazine, Davies describes a moment in episode four as "a little smile" towards actor Dursley McLinden. "I was really desperate to do it," said Davies. "I did it for Dursley."
The scene features series lead Olly Alexander as actor Ritchie Tozer, who's playing a part in a fictional 1988 Doctor Who serial. Dressed in a futuristic uniform and holding a blaster, Tozer's character Trooper Linden leads a team defending an under-attack space station. "Remember," he tells his soldiers, "if they get through, we lose the crystal, and if we lose that, it's the end of the world."
The 'they' in question: classic Daleks, operated by who else but Nicholas Pegg and Barnaby Edwards. The scene is a Davies classic – wondrous fun that turns poignant in a heartbeat. It was written to honour the memory of McLinden, who played RAF sergeant Mike Smith in Seventh Doctor adventure 'Remembrance of the Daleks'. Davies says that It's a Sin's fictional serial is named 'Regression of the Daleks' in allusion to that adventure.
Like It's a Sin's Ritchie Tozer, Dursley McLinden grew up off the British mainland (fictional Tozer's from the Isle of Wight, McLinden was from the Isle of Man) and made his acting career performing on stage in plays and musicals, and on TV. After testing positive for HIV, McLinden became a campaigner for West End Cares, a fundraising organisation and part of AIDS charity Crusaid. As noted in his obituary in The Independent, McLinden's last professional performance was in The Phantom of the Opera on the night before his 30th birthday, 10 weeks before he passed away from AIDS in 1995.
Davies had met McLinden at the 30th birthday party of mutual friend and stage actor Jill Nalder, on whom Davies based It's a Sin's Jill Baker (played by Lydia West). The former Doctor Who showrunner recalls that the actor was one of the first people he'd met who'd appeared in the classic British sci-fi. "He became very wonderful in his AIDS activism when he was ill, but to me he was that boy from 'Remembrance of the Daleks'. That's why I knew I had to write a Dalek scene in It's a Sin."
Read more from the interview in this month's Doctor Who Magazine, and take a look here at SFX Magazine's terrific 1980s homage cover.
All episodes of It's a Sin are available to stream now on All4
Subscribe to Den of Geek magazine for FREE right here!