Features
Doctor Who: 13 Brilliant New Stories from Russell T Davies, Steven Moffat and more
Chris Chibnall, Steven Moffat, Russell T. Davies and Neil Gaiman have penned new Doctor Who stories for fans…
"I've written the end of the world 100 times," says legendary Doctor Who writer and former showrunner Russell T. Davies (quoted on the BBC website), "but I never imagined everyone just sitting at home."
However, thanks to the global crisis that is Coronavirus/COVID-19, this is exactly the situation that people around the globe currently find themselves in – we're staying at home as much as possible, wondering when normal human life will be able to kick back into action, and taking part in an endless stream of Zoom-based quizzes.
Amidst all this strangeness, the Doctor is offering a glimmer of hope. Current Doctor Who showrunner Chris Chibnall has rallied the ranks of Doctor Who writers past and present, egging them on to share new stories about that eccentric alien with the blue box.
Chibnall is quoted on that same BBC webpage as having told Davies, "we need the Doctor more than ever these days", and thankfully, everyone's favourite Time Lord is right here…
Doctor Who and the Time War
It turns out that Davies had a few pages of utterly riveting Time-War-concluding content sitting on his laptop, which Steven Moffat asked him not to publish a few years back (because the final days of the Time War ended up defining Moffat's era as showrunner, what with The Day Of The Doctor special and all of its tie-ins).
Now that the real world has gone weird, coupled with the fact that the main Doctor Who series has suggested possibilities and permeations beyond what we thought was possible (even for the Doctor!), Davies finally got permission to share his brilliantly surreal idea about how the Time War came to a close.
Mocked up by designer Richard Atkinson to look like the final pages of a Target novel, the story appeared on Davies' Instagram page (see above) in an eye-catching format. You can also read it on the BBC website, if you don't fancy clicking through that Instagram post.
Revenge of the Nestene
The aforementioned 'Doctor Who And The Time War' story was billed as a prequel to 2005's 'Rose' episode, tying into a mass fan rewatch of the NuWho opener, and Davies also had a sequel up his sleeve.
This story, as the title suggests, picks up just after 'Rose' and shows that the Doctor and Rose's anti-plastic solution didn't fully wipe out the Nestene Consciousness, whose Auton foot soldiers terrorised a shopping centre in the episode proper.
Once again mocked up into a tie-in book style by Richard Atkinson, you can read the pages of 'Revenge Of The Nestene' by clicking through the Instagram post above (or you can click over to YouTube to watch Jacob Dudman's dramatic reading).
Judi Dench IS the Doctor
During a fan-pleasing rewatch of the epic two-parter that ended Doctor Who series four, 'The Stolen Earth/Journey's End', Davies offered a whole massive thread of Whovian insights on Twitter.
The cliffhanger that bridged that two-parter – the surprise reveal the David Tennant's Doctor appeared to be regenerating, which eventually resulted in his handy spare hand morphing into a human version of the Doctor with a bit of Donna thrown in – sparked loads of comment from Davies and the fans.
Davies also shared an idea about how he would milk this scene even more if he could do it all again: he'd cast a massive star like Judi Dench or Ian McKellen to play the newly-regenerated Doctor for one scene, before coming back to the hand and carrying on the episode as normal. Imagine that!
Deleted Davros
Another idea that didn't make it into the televised cut of 'The Stolen Earth/Journey's End', Davies penned a whole backstory flashback segment for Julian Bleach's Davros back in the day.
You may have already heard about this if you've read Davies and Benjamin Cook's brilliant Doctor Who making-of book, The Writer's Tale, but now these pages of deleted Davros have made it online – complete with illustrations – for all the world to see.
You can click into the Tweet above to read about Davros' backstory, which would've given new viewers much more information about the character. Ultimately, it was cut for budget reasons, but this scene is still fun to look back on now. And if you click into Davies' Twitter thread, you'll find even more nuggets of nerdy goodness.
Farewell, Sarah Jane
A real tear-jerker, this one. On the same day that the big rewatch of 'The Stolen Earth/Journey's End' was going on, Davies engineered a touching tribute to the late, great Elisabeth Sladen and her unforgettable performance as Sarah Jane Smith that spanned both eras of Doctor Who and her own spinoff adventures.
'Farewell, Sarah Jane' is a short film that was shared on the official Doctor Who YouTube channel (see above), with Jacob Dudman reading Davies' script with a few cameo appearances from actors/characters whose lives intersected with Sarah Jane's space-faring antics.
Shared nine years on from Sladen's sad passing, this tribute is genuinely touching and it is sure to hit all of her fans with an emotional wallop. Grab a Kleenex, clear the next 13 minutes of your schedule, give it a watch and have a good cry.
Neil Gaiman looks in on the Ponds
The YouTube video embedded above is something that Doctor Who may not have done if it wasn't for these strange lockdown times: for the first time since Amy Pond and Rory were zapped back in time by a Weeping Angel (and the Doctor couldn't go and save them because REASONS), fans have been given an official-ish glimpse at the Ponds' new life in olden times New York.
Arthur Darvill reprises his role as Rory in this video message, which sees the oft-killed companion recapping his incredible travels using the only smartphone camera that exists in this era. The script was penned by Neil Gaiman and the video features a brilliant little cameo from Karen Gillan.
We're not quite sure if we can call this canon, since it appeared on the fan-run Doctor Who Lockdown account rather than the Beeb's official channels, but hey, it feels real as a viewer. And that's what counts, right?
See also: The Raggedy Doctor, published via Doctor Who Lockdown, penned by Steven Moffat and voiced by Caitlin Blackwood
Things she Thought While Falling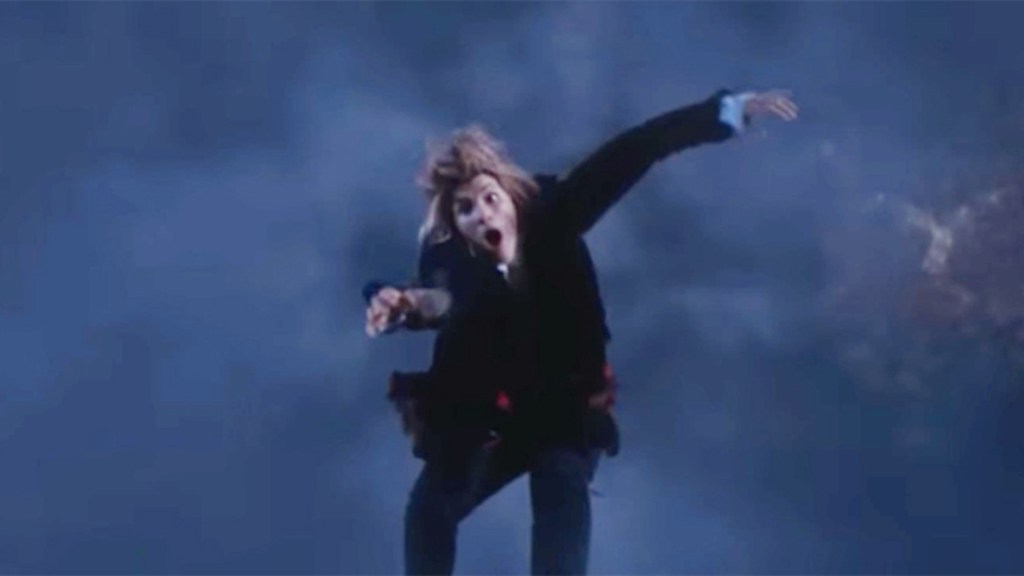 Published on the BBC website, Chris Chibnall has penned a short story about all the things that rushed through the brain of Jodie Whittaker's Doctor in a very short span of time: specifically, it's the gap between the Doctor falling out of the TARDIS in the series 10 finale and smashing through a train carriage roof in the series 11 opener.
An insight into how quickly thoughts fizz around in a Time Lord noggin, this story is packed with humour and explains a few things about the 13th Doctor's arrival on the scene. How did she survive that fall? Did she actively target that train carriage? If you don't already know, you'll find out here!
The Doctor gets a message from Susan
If you've been hoping for the Doctor's granddaughter, Susan, to pop up in Doctor Who again – here she is! The original companion has popped up in a short story, 'Press Play', which was penned by Pete McTighe (who has written 'Praxeus' and 'Kerblam' so far in the Chibnall era).
This is another one that you can read on the BBC website. It opens with Jodie Whittaker's Doctor discovering an old message on the TARDIS, and Tighe even supplies a sort-of-dialogue that's 'spoken' by the TARDIS itself! And it's always nice to see a modern Doctor referring to Susan.
Doc and the fam can't go outside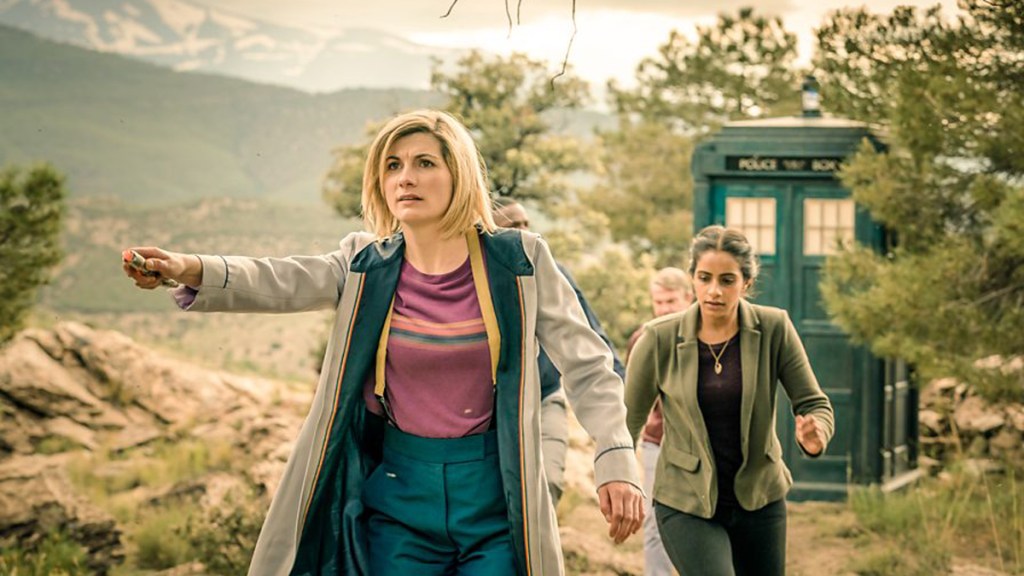 Another 13th Doctor story that's worth checking out on the BBC website, 'The Shadow Passes' was penned by Paul Cornell (whose most recent episodes for the main show were the brilliant Tennant-era 'Human Nature/Family Of Blood' two-parter).
Here, Cornell writes for Whittaker's Doctor and her 'fam', with all four of these current-era characters getting stuck in a lockdown-style situation and having to make their own fun. It starts with some indoor games that the Doctor doesn't really know how to play, but builds to some insightful and deep conversations between the incumbent Team TARDIS.
Graham's big West Ham day out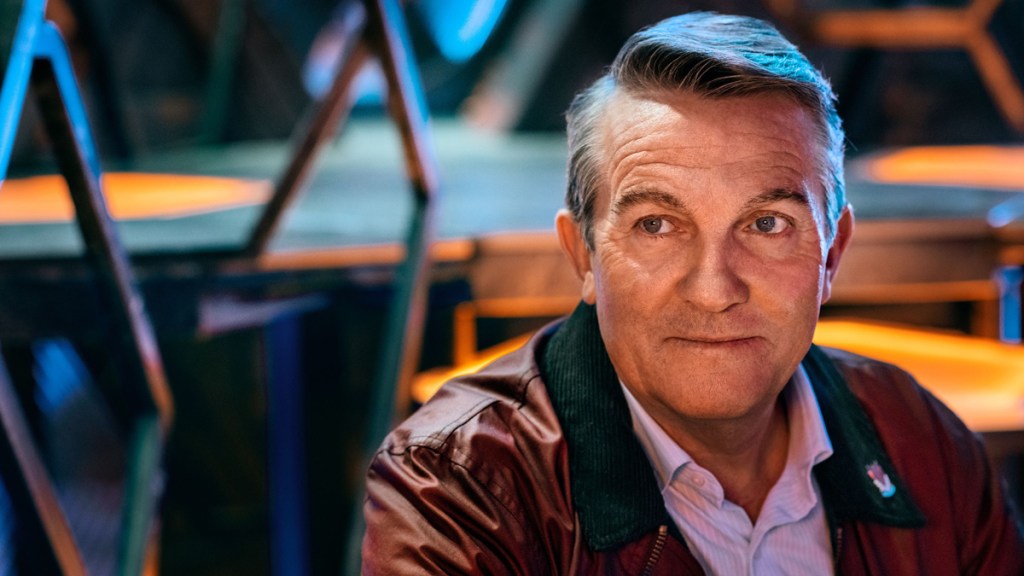 Many football fans would love to time-travel back to a point in history when sporting events could still go ahead, and that's exactly what Bradley Walsh's Graham does in this short story on the BBC website.
Penned by Joy Wilkinson, 'The Simple Things' kicks off with Graham wishing he could go back and see Bobby Moore in action. He gets a bit more than he bargained for, as the TARDIS crew ends up crossing paths with an alien (natch) while Graham tries to get some historic footy action to kick off.
Steven Moffat writes for Jodie Whittaker's Doctor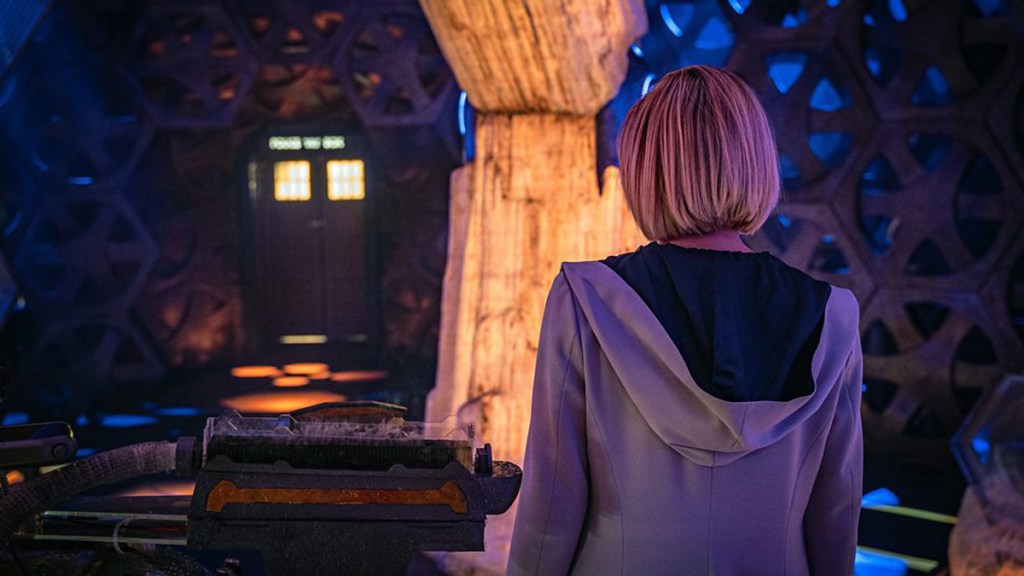 Russell T. Davies isn't the only former showrunner drafted back into Doctor Who during these uncertain times – Steven Moffat is at it too! In fact, Moffat's Tweet-a-long rewatch of 'The Day Of The Doctor' (the brainchild of Doctor Who Magazine's brilliant Emily Cook) started this whole Lockdown Who bonanza, and the grand Moff didn't stop there.
Adding yet another Doctor to the impressive roster that he's written for, Moffat penned a short story on the BBC website starring Jodie Whittaker's incarnation of the Doc. Entitled 'The Terror Of The Umpty Ums', it's a sweet little story that sees the Doctor get inside the head of a potential enemy who is trapped inside a children's home. This is Moffat, though, so everything isn't as it seems… obvs!
Thirteen's advice if you're feeling a bit scared
And finally, we have Jodie Whittaker herself appearing in a short live-action video, speaking directly to anyone that feels a bit scared during this whole lockdown thing. Prominent Doctor Who Tweeters, like Andrew Ellard, heralded this as one of Whittaker's finest moments in the role.
During some 'self-isolation' of her own, the Doctor is hiding from Sontarans when she hears that someone, somewhere is getting a bit distressed. She offers some simple advice to help you find your feet in the shifting sands of society today, providing the ultimate proof that the Doctor really is here for us in this time of need. Sob!
For even more free Doctor Who action, check out the whole collection of modern episodes on BBC iPlayer or jump into a free Big Finish audio drama. And look after yourself, folks!